Eeee gads this internet is awful! With a room right above the office, I was hoping for more. But, I guess I'm not here to be on the internet. But, our fans want to know how our day was. That would be you Grandma Suzy, Grammie Gwynne, and the tranny Granny. :)
So, today was awesome!!!!!!!!!!!!!
I was so worried that we only had 10 hours ad Disneyland and it would be enough. Well, it's never enough. There are 100's of things we could've done that we didn't, but for the most part, we got it what we wanted. They closed at 6 tonight, so we got there right at 8. You can tell, it wasn't very crowded yet.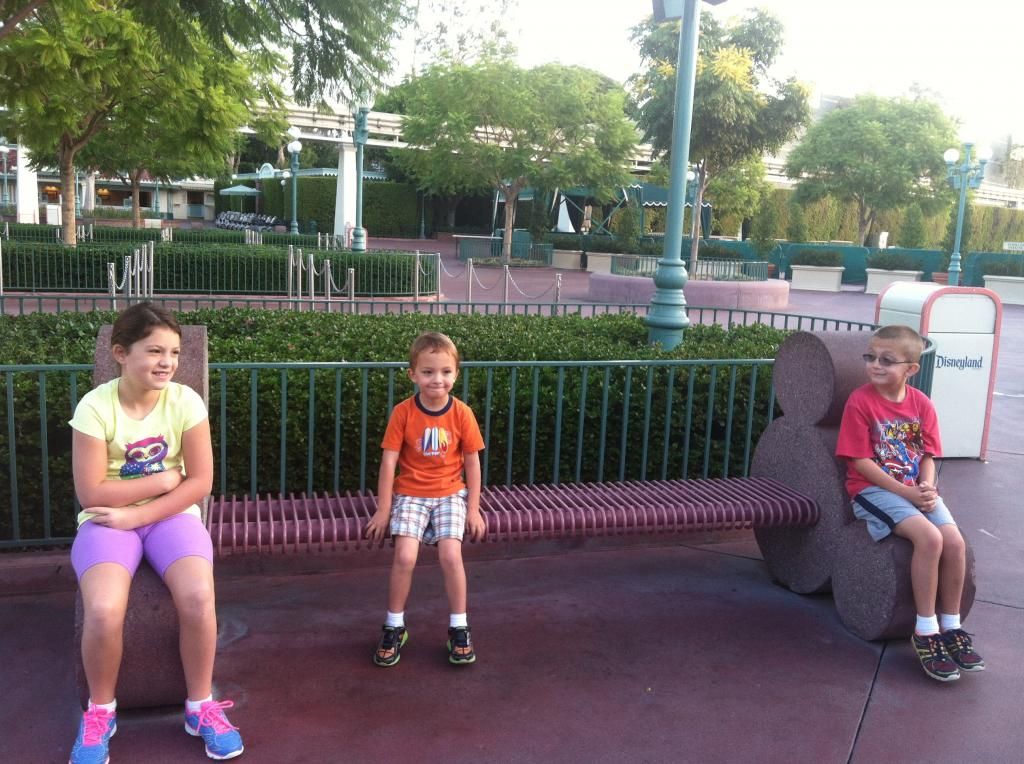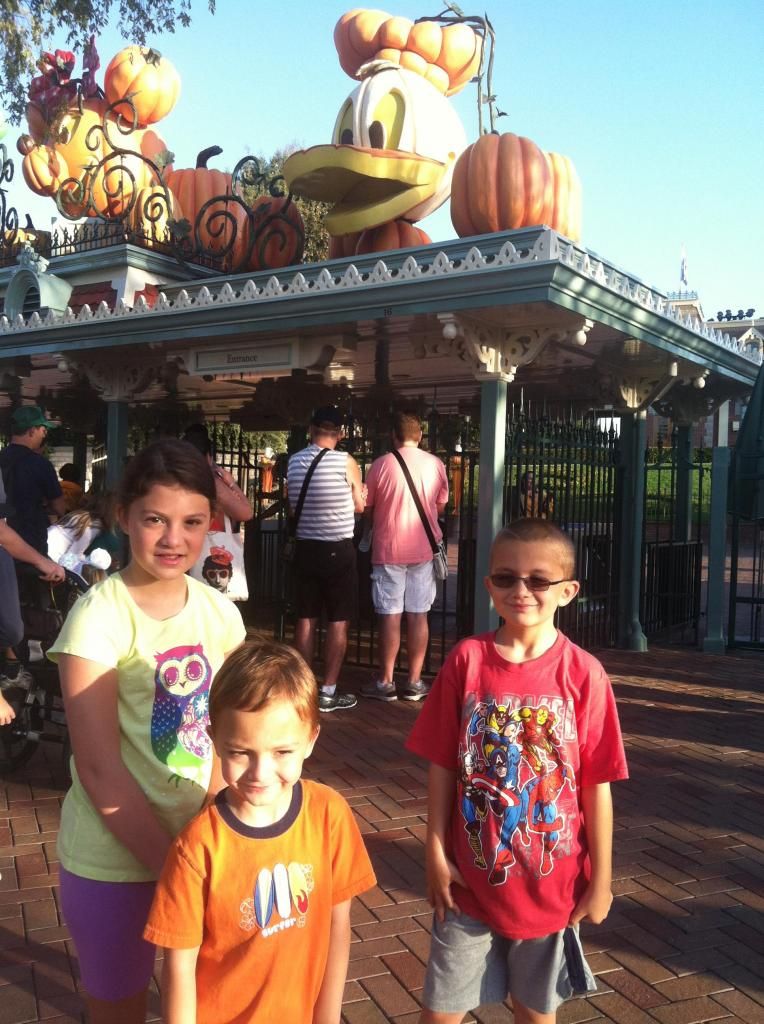 So, we headed right for Indiana Jones since it's closed a lot. Ben had never been on it because last time he wasn't tall enough. So, David took Em and Ben. Noah and I could've done something else, but we just hung out on the rocks watching the stray cats. I had read that there are hundreds of stray cats at Disney that come out at night and catch mice. Noah was mad that the kitty didn't want to play with him.
But, he wasn't made for long.
Some, Ninja Turtle fruit snacks cheered him up.
And kisses from Mom.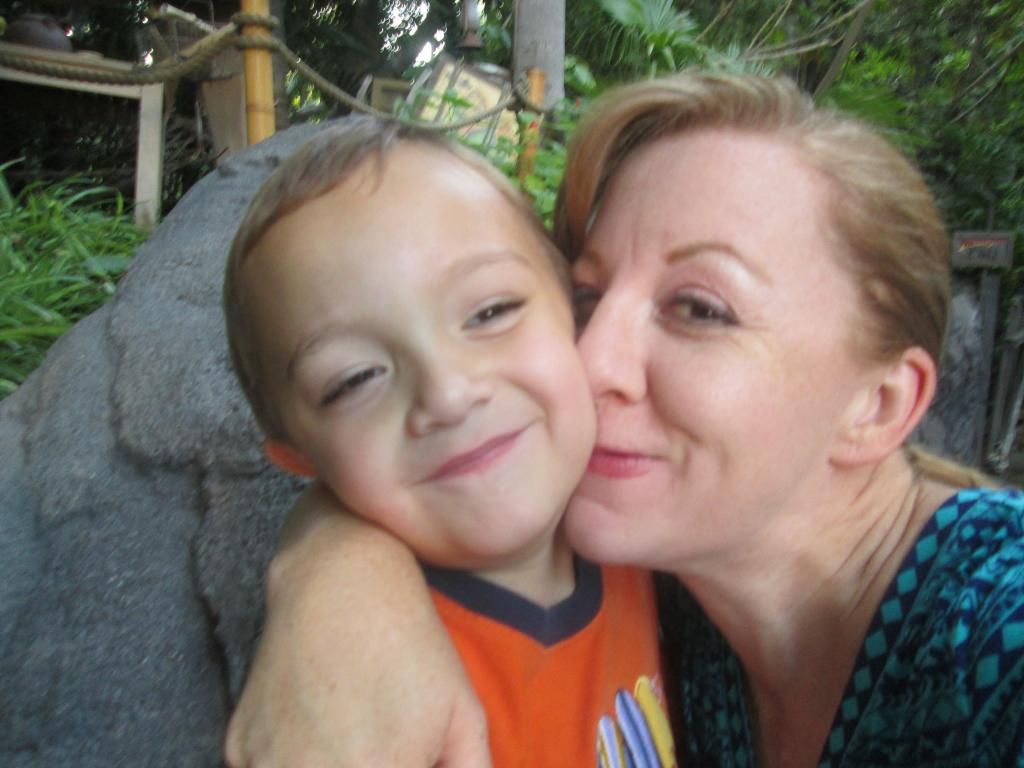 I know these pictures aren't the greatest. The quality isn't like my digital camera and they are a little blurry, but I'll tell you something. It was so nice leaving the big camera at the hotel. It was great to just grab my phone out of my pocket and take a photo. Way, way better than lugging that thing all over Disney.
Then, we went to Splash Mountain. We walked right on. Normally, there are tons of people in the loading lines. It was just us.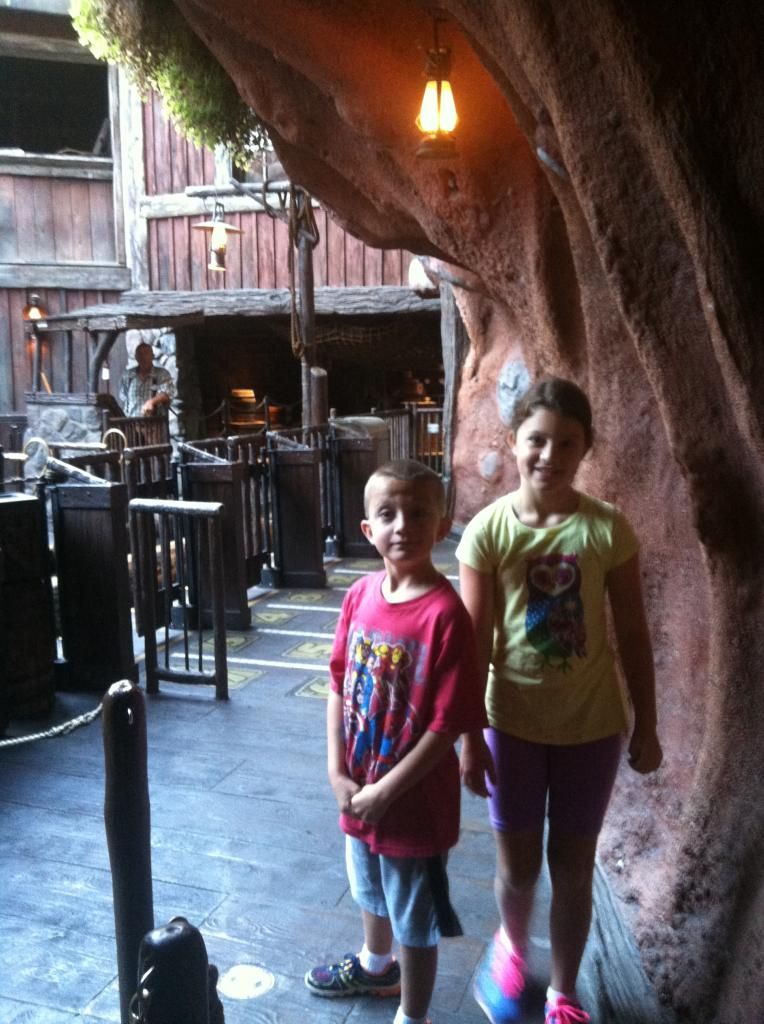 This is the photo from our ride. These always make me laugh.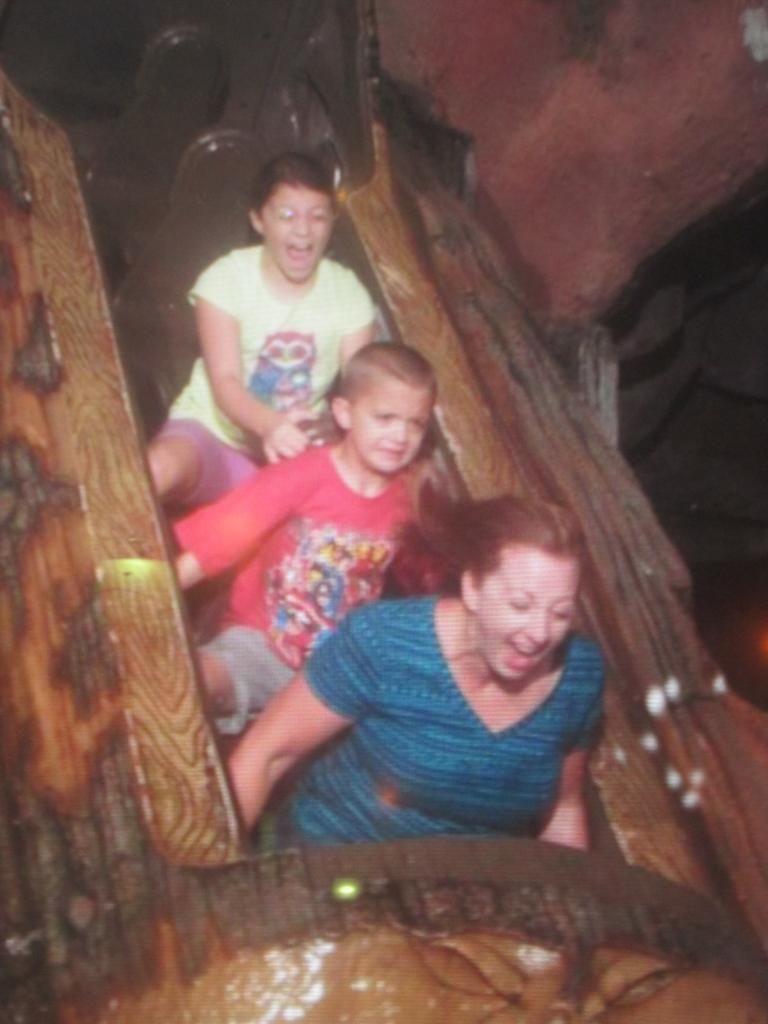 Then, we spent the day riding rides. It was so awesome, and my plan to avoid huge crowds worked perfectly. Most stuff was walk right on or 5-10 minutes. We waited 30 for Peter Pan and 30 for Nemo, but those rides are always about that long. No matter what. Everything else we pretty much got right on. By 1:00 we had done everything we really wanted to, so then we did our favorites again.
After Pirates of the Caribbean, we came out of the bathroom and turned and saw Jack and Sally from Nightmare Before Christmas. My kids LOVE that movie. I yelled to Sally that we love her and Jack turned and said, "so do I". It was cute.
Then, I realized the boys weren't out of the bathroom and they were going to miss them. But, they came a second later and Ben ran to catch up with them.
Sorry, the pictures stink. I just whipped out my iphone and was running behind Ben.
Then, while David took Ben and Emily on the bobsleds again, Noah and I rode the carousel.
He looked so cute. Again, it's blurry. He was moving. I was moving. But, he was having a ball.
Then, he wanted to ride the teacups. Oh good God, two spinning rides in a row.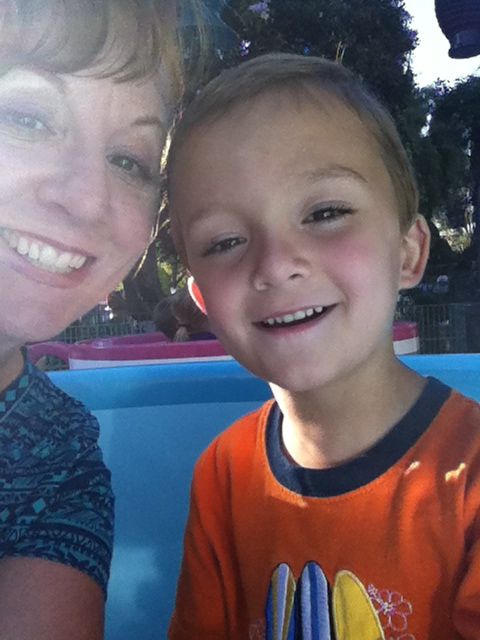 He was so sweet on this ride. We were spinning, and he thought he was making me go faster. I was acting like I was about to vomit, which didn't require much acting. He thought it was hysterical. And I thought, I always want to remember him in this moment. The sun was going down so the perfect golden light was on his face. He was laughing and when Noah laughs, his eyes smile and he's just about the most precious thing I've ever seen.
Then, we went on our last ride, Nemo. We were all tired, but Emily was really done. Her feet hurt of something that was causing girl drama. I don't know if I was like that when I was her age, but all I thought was girl, get over it. Unless, your feet are bleeding, suck it up. Her Dad bailed her out with a piggy back ride and he ran and got the car while we sat and we drove straight to Red Robin. I think she was 20% hurting feet and 80% tired and hungry. But, she found her smile in a milkshake.
It's always hiding in there. Next time, we'll look there first.
We had some chicken fingers and fries leftover which we boxed up. On the way home, we passed the bus stop outside of our hotel. Emily commented that the same homeless man was still there. We saw him last night on our walk. I had told her he was homeless. He probably sleeps in the grass outside our hotel every night and everything he owns is in that duffel bag. So, we decided to give him our leftover dinner. We all walked over and gave it to him. He was a nice man and was happy to have a meal instead of the snack size bag of Doritos that he had sitting there. I hope they remember that sort of stuff. We all need to give and receive goodness sometimes.
Tomorrow is a day at California Adventure. It doesn't open until 10:00, so we get to relax and take it easy in the morning. The only problem, it's suppose to be 97 degrees. It was 83 today and we thought it was hot. This ought to be interesting. Interesting or awful. I'm on the fence right now.