I've been very bad about writing lately. Sometimes, it's like that. Then, when I get a text or phone call or email or Facebook message from one of the Grandparents (ahem, Suzy) :) I know I've been slacking. So, here's a big round up of what's happened this last week.
I help at the kids school on Friday afternoons. I go in at noon and stay for 3 hours, doing an hour in each class. I do whatever the teachers need from filing to sharpening pencils to making copies to working with the kids. Last week, I sharpened so many pencils that the electric sharpener got too hot and stopped working. I will say this, my favorite pencil is now Target's Up & Up pencil. They sharpen like a dream. My #2 choice, see #2 since pencils are #2 lead is the Dixon Ticonderoga. They are good. The worst, say Office Works on them. I think they are from Office Max or Depot. They are always the ones that are totally broken with splitting wood. They take forever to sharpen. I will NEVER buy those pencils again. No matter what bargain I find. Is it sad that I know that much about pencils?
The school has what they call a P.A.W. program. The kids earn paper paws for doing things like, responsibility, caring, etc. Then, the paws all go in a drawing and names are drawn weekly for prizes. Last Friday, I was in Noah's class and his name got drawn for Kindergarten! Yea! He wasn't sure where the office was to get his prize, so I went with him. Then, he was also chosen by his teacher for this program called Character Counts where you get to go on a special walk with the Principal and her dog, Kaia. She is like the school mascot. Well, a coyote is, but you know what I mean. They also have a cat in library named Dewey. And birds in the front office. They say the animals help kids, and I couldn't agree more.
Noah was totally freaked out about this walk. I need my backpack. Where are we going? My class is the purple hall. I think he has a little PTSD from getting lost on the first day of school. I was glad I was there, and I just asked if I could go on the walk too. Noah was so nervous. Then, Kaia started doing tricks. Roll over, dead dog, up. And Noah was cracking up and petting the dog. That dog works magic I tell ya.
She can also go down slides!
What a fun way to reward kids. An extra 20 minutes of playing and walking a great dog.
That night, Emily and I went with the piano girls and their Moms and Mrs. Stacy to see a production of the sound of music. Now, we are small town, so I wasn't expecting much, but I was pleasantly surprised. The cast was great!
Here are the piano girls.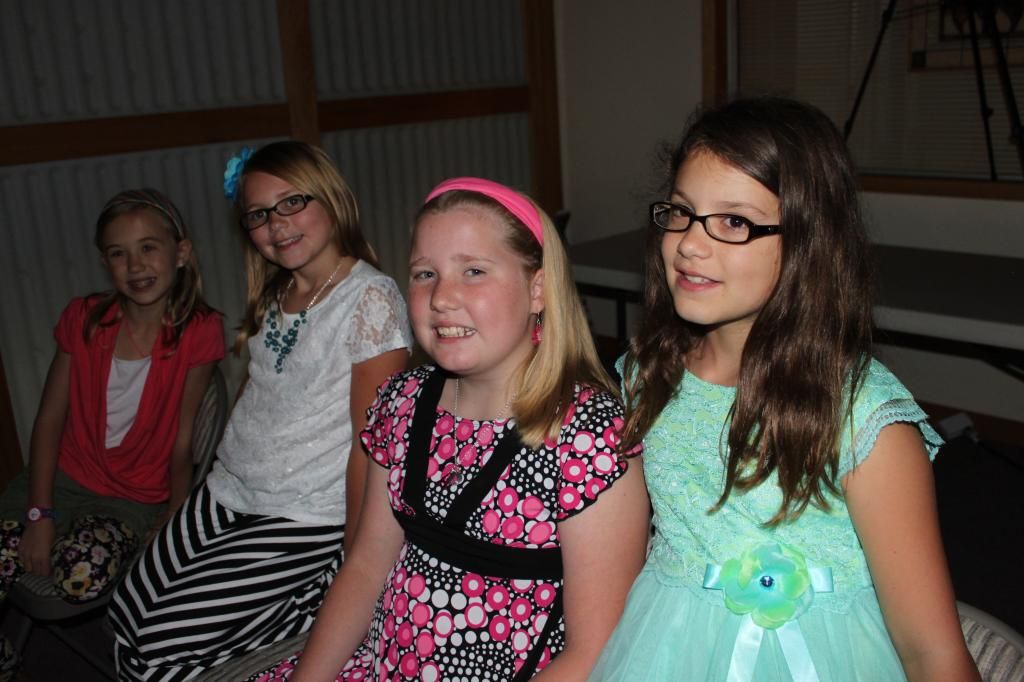 We have been going on lots of bike rides. Too bad the mosquitos are out in full force. Typically, we don't have them because it's so dry. But, it's been anything but dry here.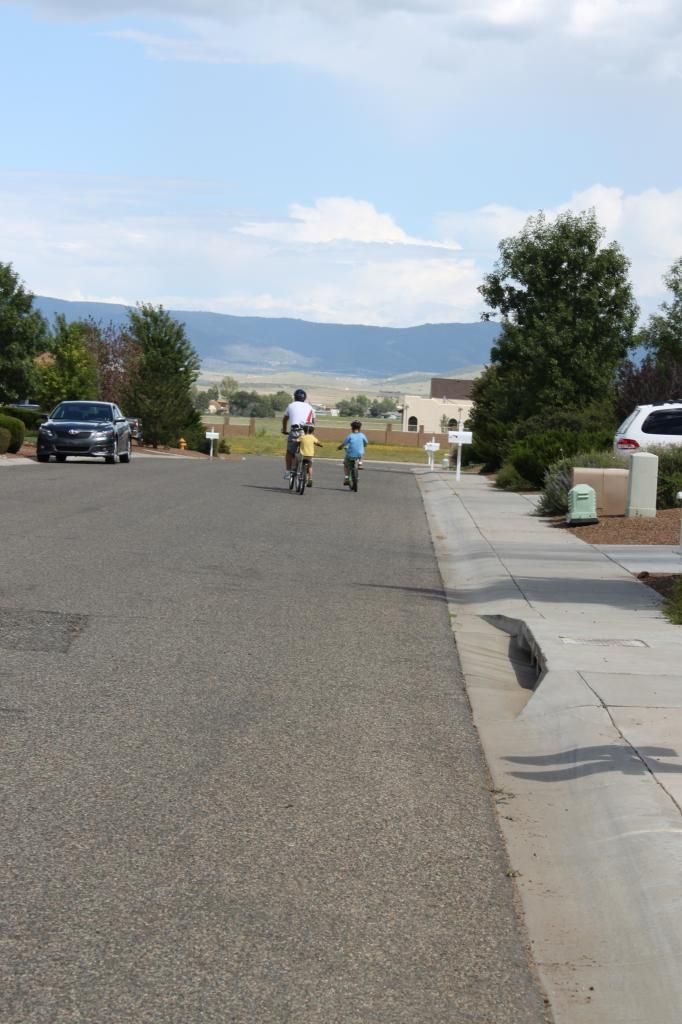 I don't know what it is about my kids, but they will argue over the silliest things. Emily goes to her special owl bathroom now every morning, but Ben and Noah head into my bathroom. Then, we hear Noah yelling because Ben got to the toilet first or Ben's at the sink he wanted to be at. We even have 2 sinks in the bathroom. Whatever.
This morning, I decided that was ending and gave Noah his own bathroom. I put his toothbrush, toothpaste and a special Buzz Lightyear cup for him to use to swish in the small bathroom. I told him in the mornings, he can only go in this one. Geez, three kids and they each have their own bathroom.
Noah came to get me to show me the note he put on his door, like Emily did. He said it says "Noah's bathroom, don't come in." He did pretty good!
Then, Ben said he wants my bathroom to become a Bat Cave since it's his bathroom now. He wants a bat signal above the bathtub and he wants to turn all the dental floss into grappeling hooks. What did I start?
Speaking of my smart little Noah, I wasn't sure how he'd be in school. But, he's proving to be a super smartie. They have to get through 6 items to pass Kindergarten, uppercase letters, lowercase letters, letter sounds, then 3 sets of site words. Noah completed his uppercase letters a few weeks ago, and his lowercase letters yesterday. He brought home the flashcards for sounds. Now, I hate sounds. I honestly, can't tell you what sound u makes. Forget about y and there are a few others that stump me. So, I have to have Emily with me when we go over these. Noah nailed them all yesterday. I couldn't believe it. We showed David last night and he got them all right again. I'm so proud of him. That means he's really paying attention in class and doing what he should.
So, that about sums up our week! Hope that makes the Grandparents happy....until next week. :)