Before I start on our travel day, I was looking at the pics I took and found this one of the kids from picture day. I uploaded a pic from my phone, but I like this one way better.
Now, back to my story in progress.
Our travel day was pretty uneventful which is how you want travel days to be with three young kids.
We hit the road at 10, and Noah asked us within 10 minutes if we were there yet. My Mom, who is staying at our house watching our dog, said we used to ask that 100 times. But, that I can understand. It was 1980. My kids have movies, Nintendo DS, tablet, iphones, cool air conditioning, and me serving snacks and making sandwiches for them. Did I ever mention that once when I was a kid, we drove to California in the back of my Dads pick up truck? We got a little ways and our station wagon broke down. So, we drove back home and the kids piled in the back of the truck and there we sat for 7 hours. My hair was in knots when we got there, but we didn't care. My Mom says we still asked if we were there yet 100 times through the sliding back window. My point being, my kids have got it made.
When we get to the windmills in Palm Springs, I know we are close.
The best thing that happened was my Mom was texting me along the way. She does that talk text stuff where it types what it thinks you say. So, she told me she just left the Yavapai Smoke Shop where she gets cigarettes. And her text read "I just left you have a pie smoke shop and I'm on my way to your house." The, she meant to say she was the traveling granny because she goes everywhere and it wroe tranny granny. David and I were dying laughing.
Anyway, we got to our hotel safe and sound and headed down to the pool and hot tub.
We got pizza delivered to the pool.
Then, we headed out to Joe's Ice Cream. This is by far the best ice cream we've ever had and we always go here at least twice when we go to Disneyland. They opened a new location, so we just had to walk a half mile down the road. It is so so good.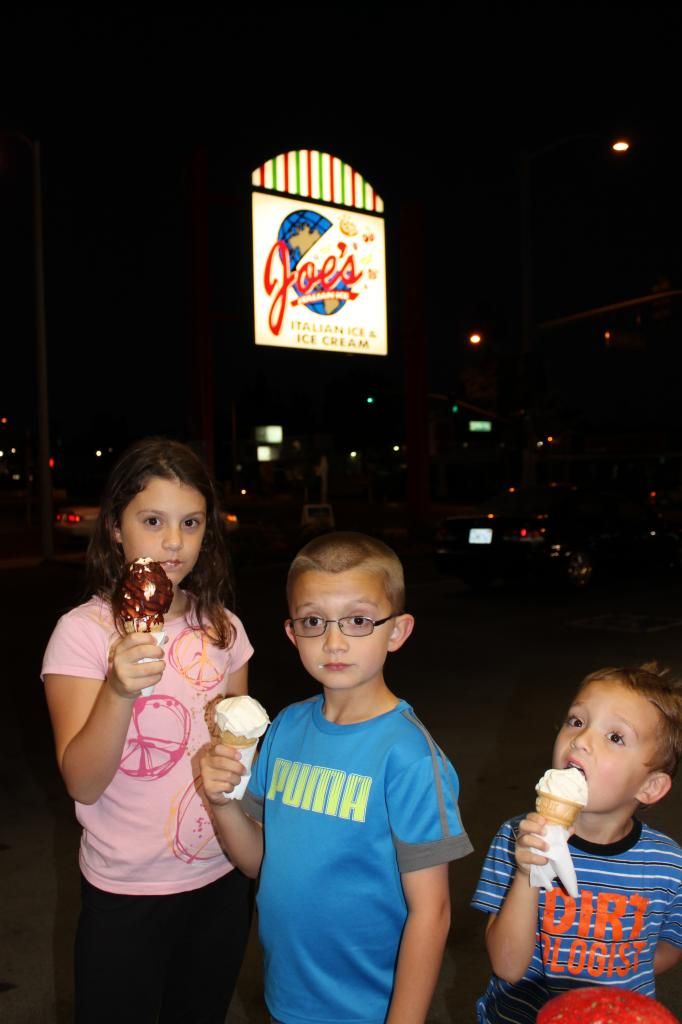 It took me an hour to pack back packs and get sandwich meat and stuff ready for tomorrow. We always take in lunch. We just don't do well with chicken fingers and fries for too many days in a row. We are hitting Disneyland early tomorrow. It opens at 8 and closes at 6, so we are hoping to get lots in since it closes so early. Fingers crossed the lines aren't bad. That's the whole reason we pull the kids before their Fall Break. Because next week, everybody from Phoenix flocks over here in droves. I mean it's a 6 hour drive and a tank of gas and you are at Disneyland and the beach! You can't go wrong. Cali never disappoints.