Today we headed to breakfast at our hotel. This is what it looks like from the outside. Wood everywhere. It's pretty.
Then, we started off with a dip in the hot tub. We are staying at the Fox Hotel and their hot tub looks like an underground cave. You can view it from the top, like this.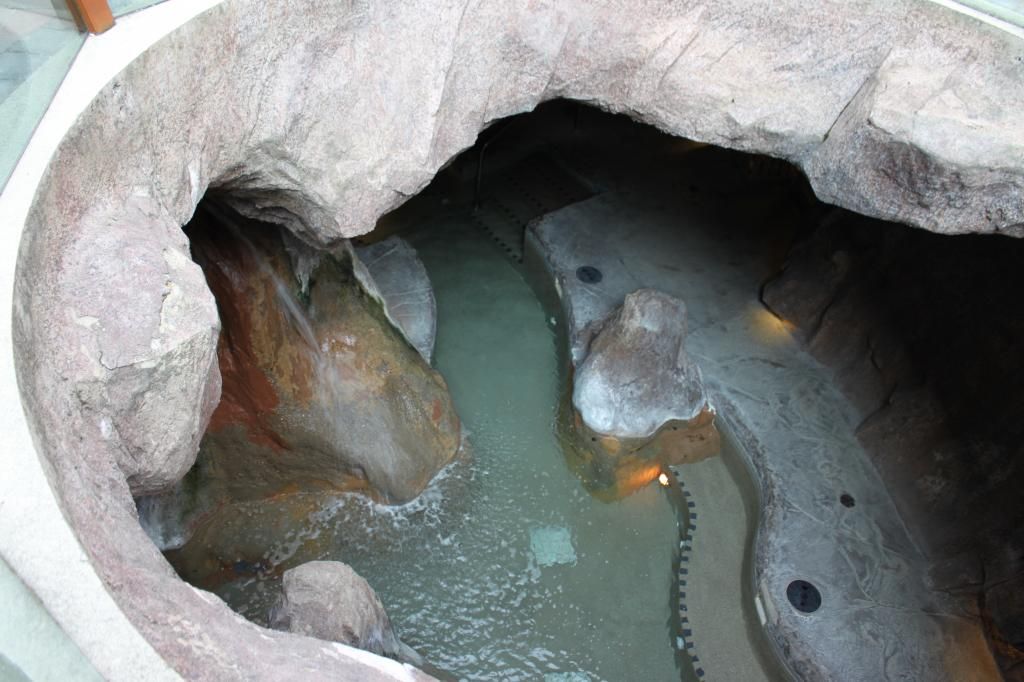 And this is the view from inside.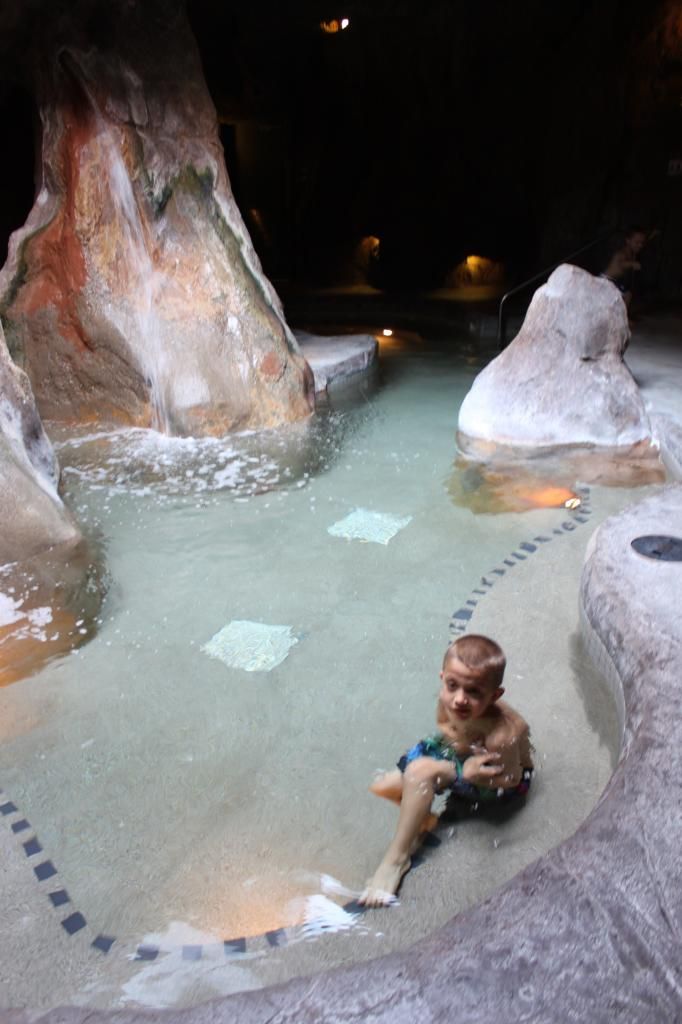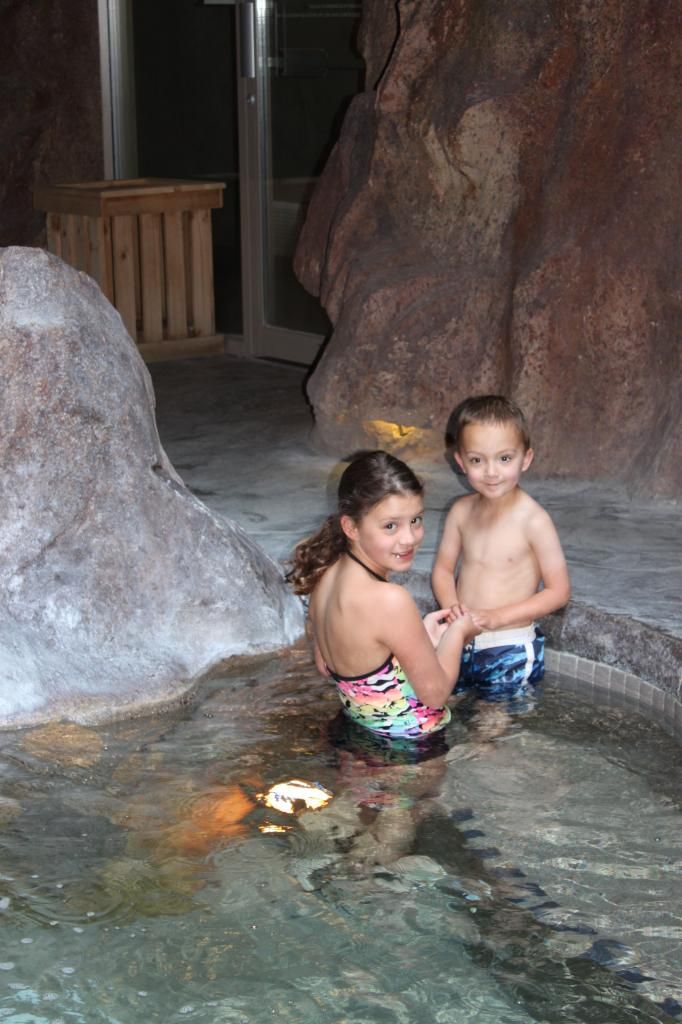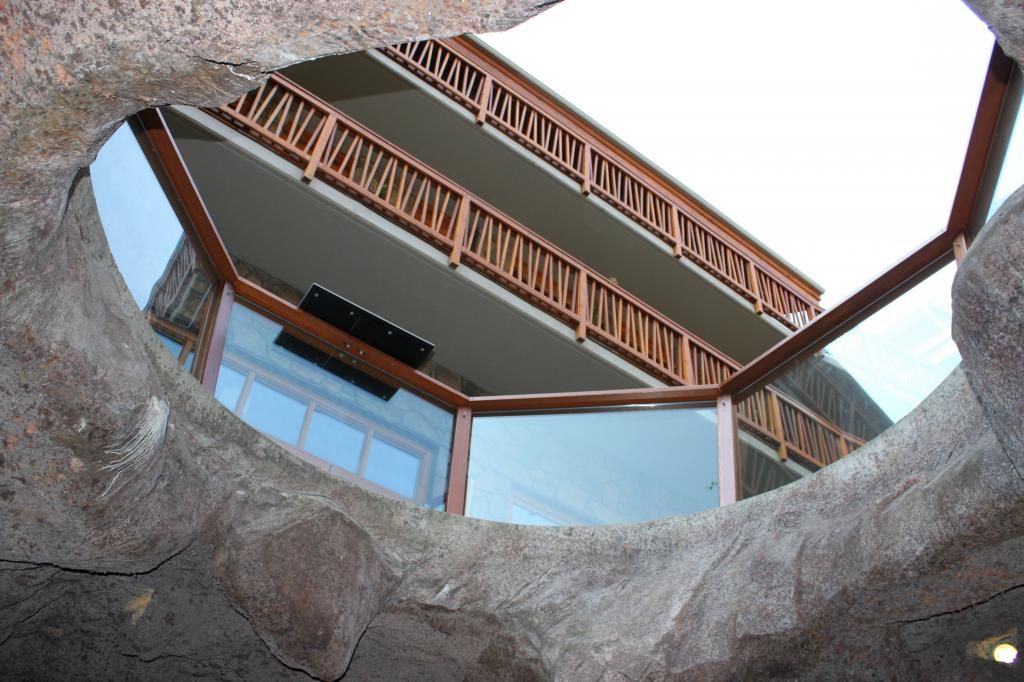 The kids are playing hide n seek.
It was lovely, but there were some mosquitos down there. Now, we are from dry as a bone Arizona where mosquitos are rare. We don't like them. At all. So, after swatting a few, we were out of there on ready to start our day.
We drove straight to Lake Louise. There are fires going on in Banff somewhere. We don't know where, but it's kind of hazy out. But, it's not affecting anything we are doing. Rather have haze than rain! Well, I'm sure the firefighters would rather have the rain, but as tourists, rain is a no bueno. When I saw the pictures I took, the smoke looked way worse than it did in person.
I've seen pictures of Lake Louise and always wanted to go there. Let me just say, it's just as breathtaking as you think it will be. When we walked up, it's just a WOW moment. Unlike anything I've ever seen. I got a little teary eyed.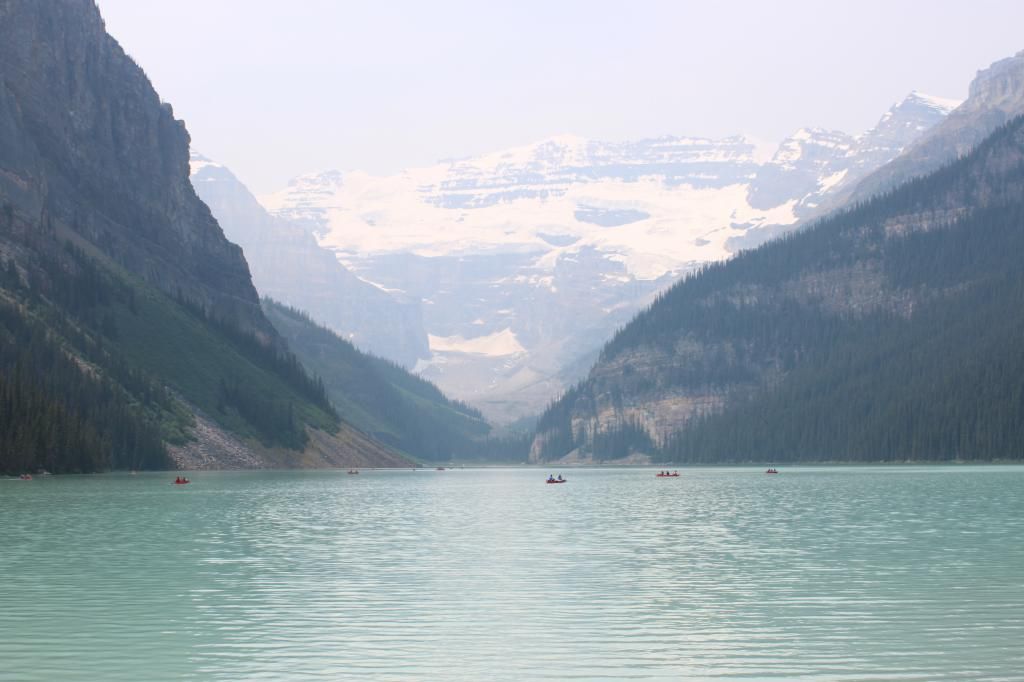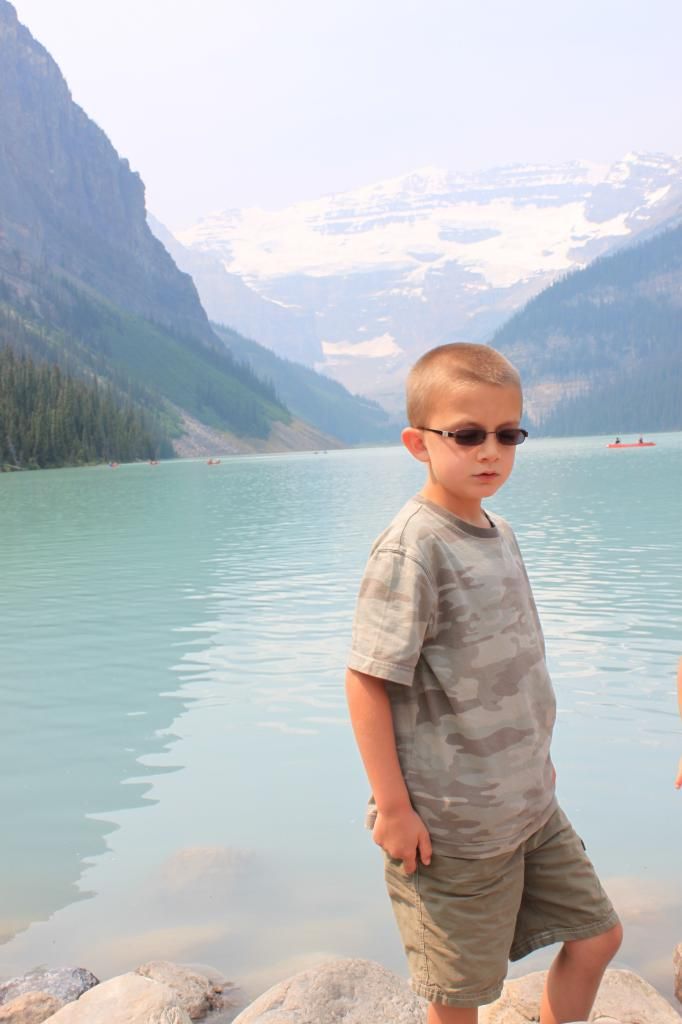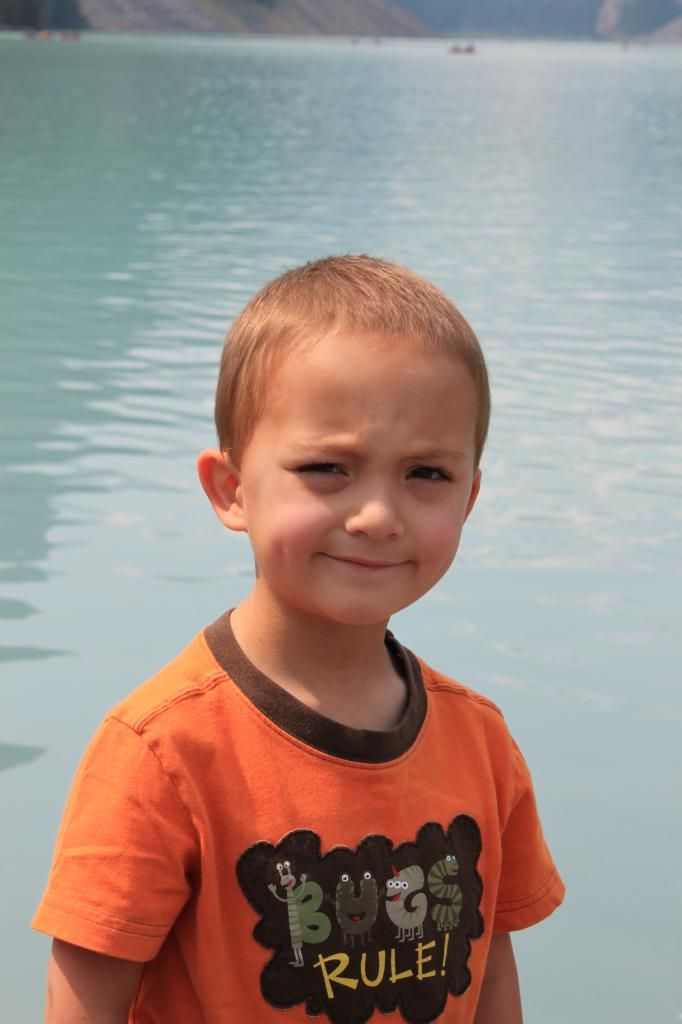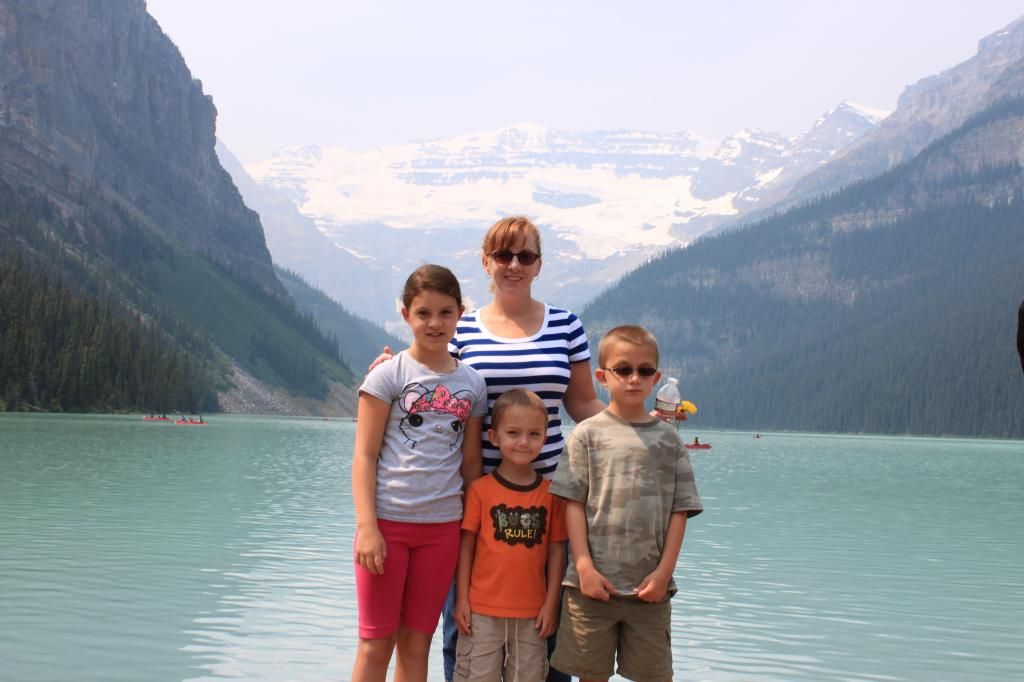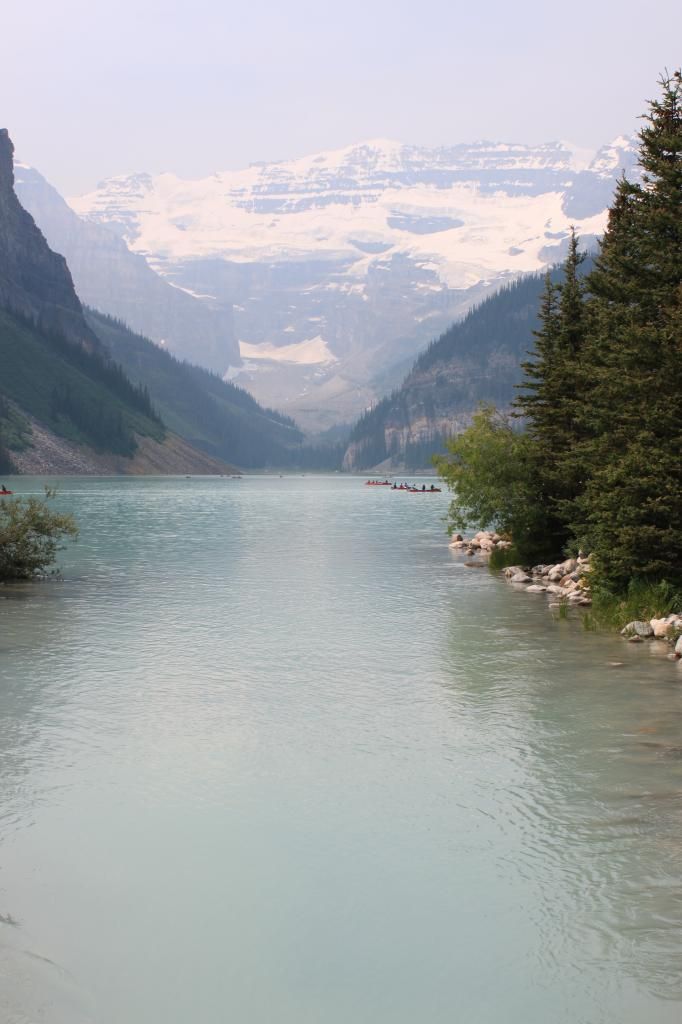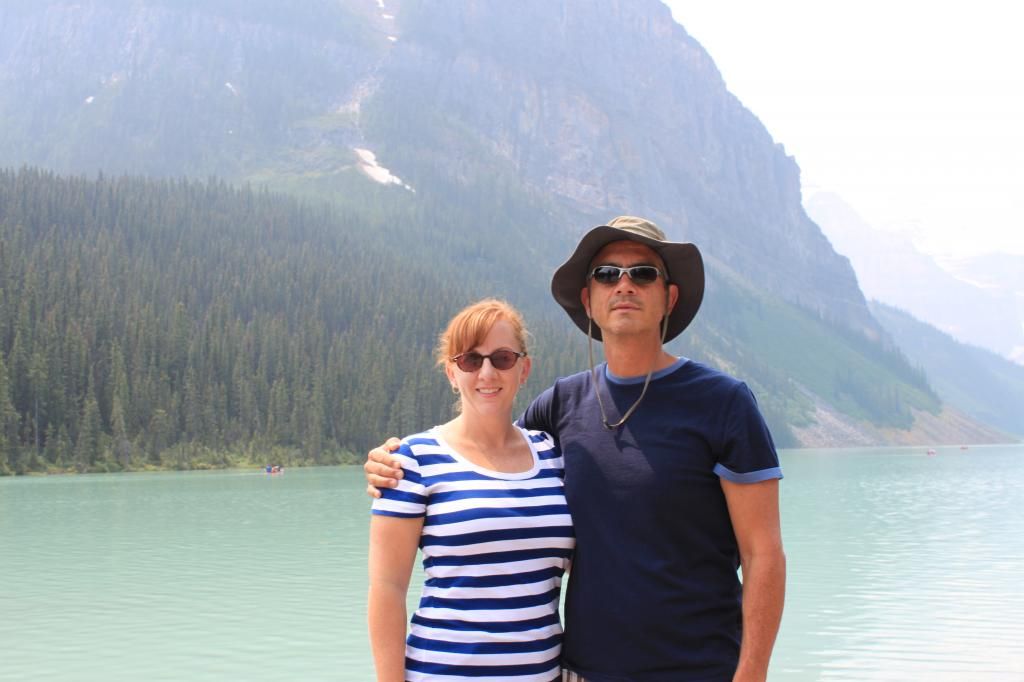 The kids thought it was neat, but are not as impressed with all the sight seeing. They'll get it one day, and luckily, I'll have 1,000 pictures to show them! What you can't tell from these photos and what I never realized is that there are thousands of people around. Tons of people and cars all over the place. They could easily use 10 times the parking. CRAZY!
Then, we drove over to Lake Moraine. It was just as crazy. They could've used about 500 more parking spaces there. We got lucky and got a parking spot. We had packed a picnic lunch, so we had a lovely meal overlooking the water. While David ran the cooler back to the car, the kids and I met a black bear.
And found a payphone. I had to explain what it was. The kids thought it was soooo cool.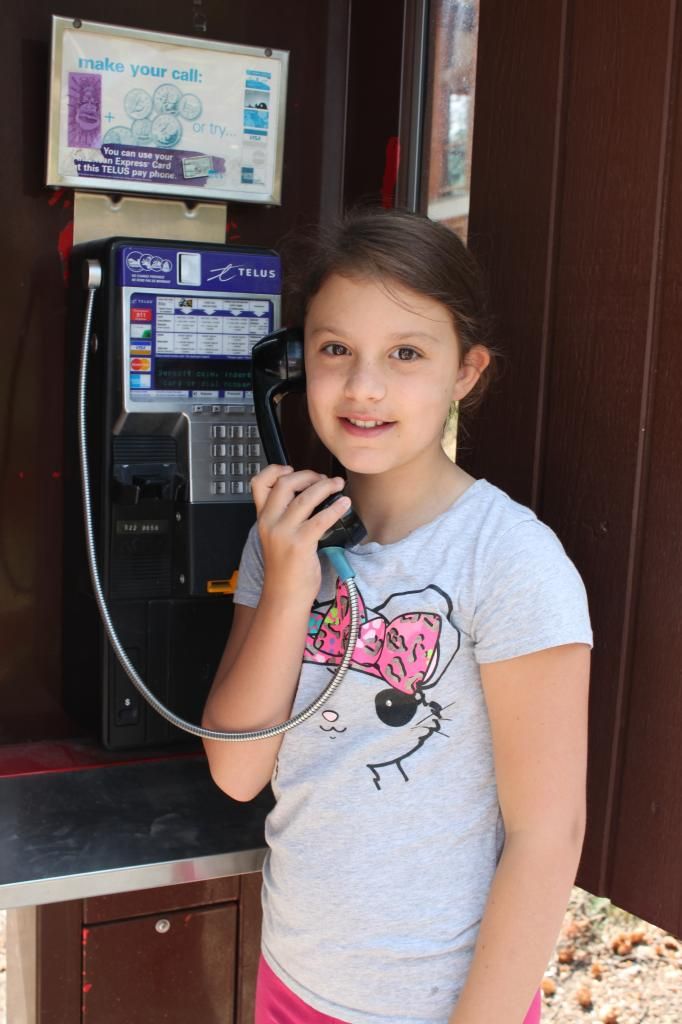 Lake Moraine is just as stunning. And so is my girl...
The water was about 50 degrees. David said it made you go numb instantly which is why Ben looks like this.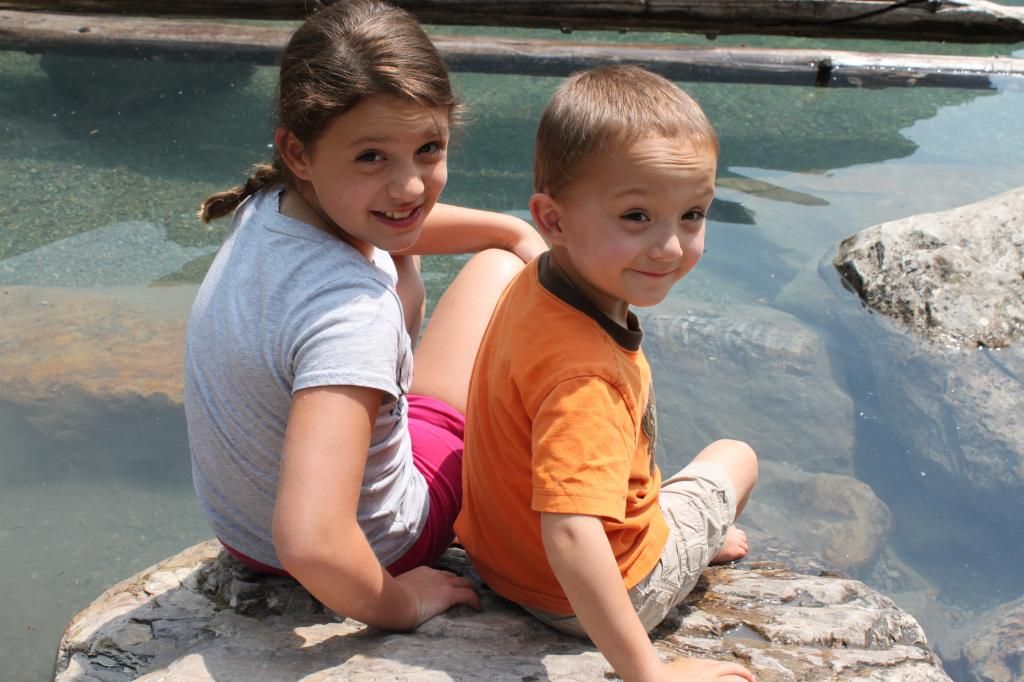 We took a little hike to the top of some mountains. The forest is so pretty.
This looks really dangerous, but that was land under her feet.
See, Lake Moraine doesn't disappoint.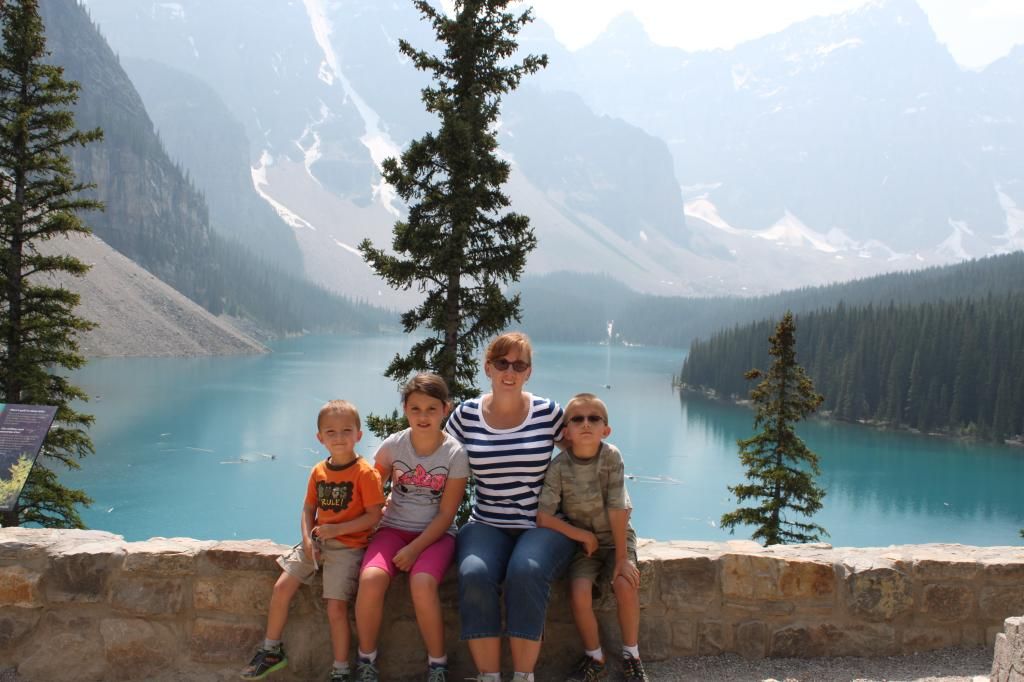 Literally, it looks like a fake photo backdrop.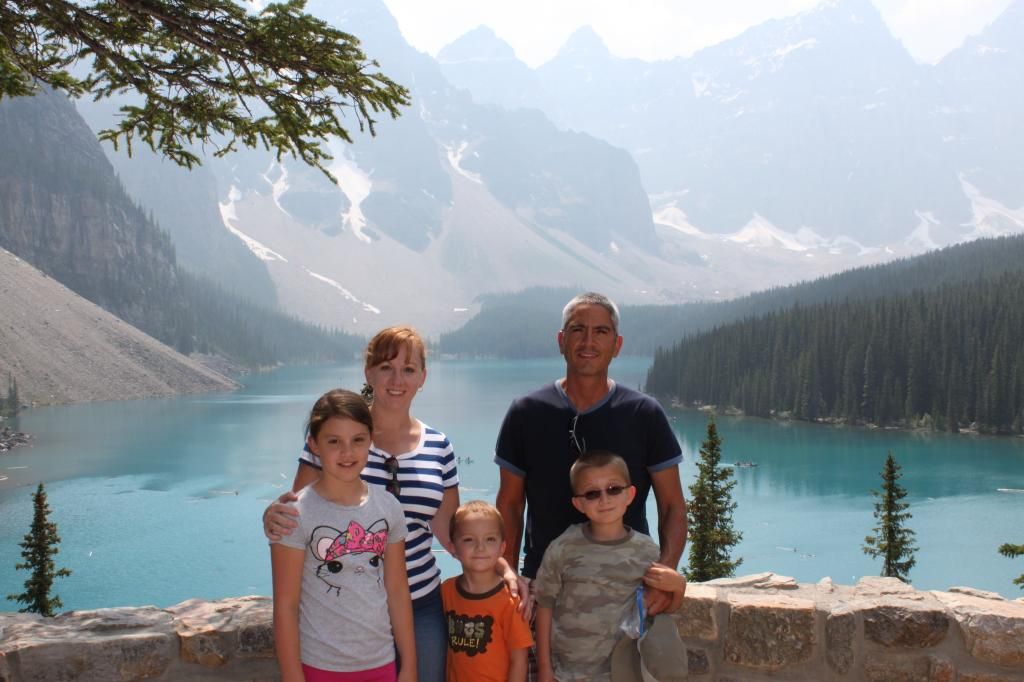 We came back to the hotel and relaxed for a few hours. Then, we drove to see the Empress Hotel. This is a $500 night hotel. Too rich for our blood, but really pretty.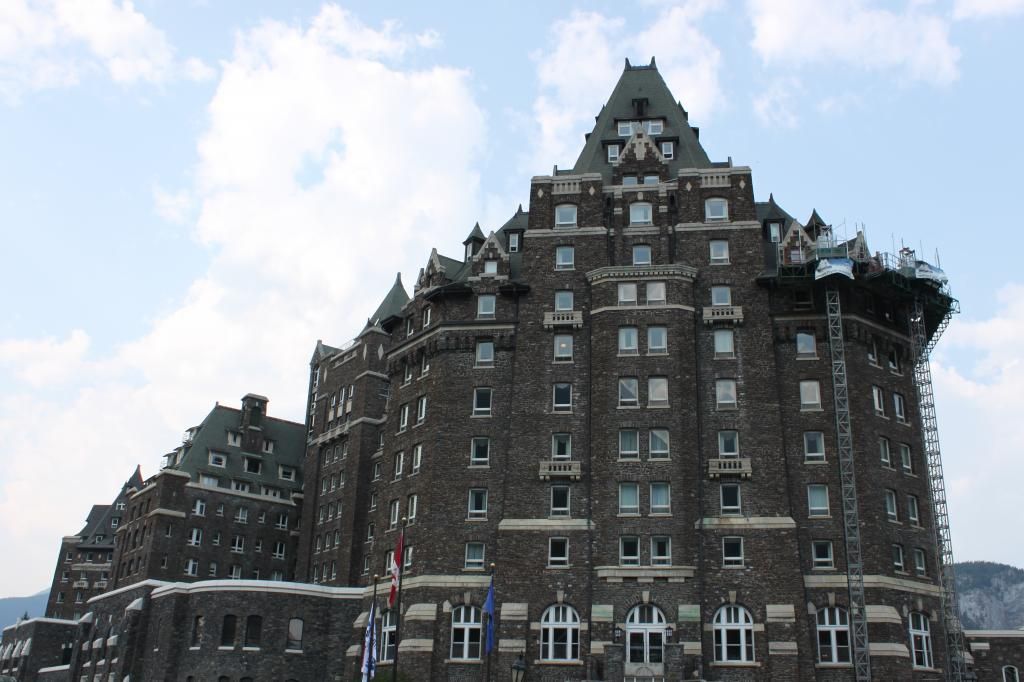 We went for dinner and on the way home, this deer was just eating some dinner.
It was not afraid of people or cars and we sat and watched him for 15 minutes. Some people just drove right by and didn't notice. It was amazing.
Then, we noticed he had a friend in the yard next door who hopped over the fence to join him.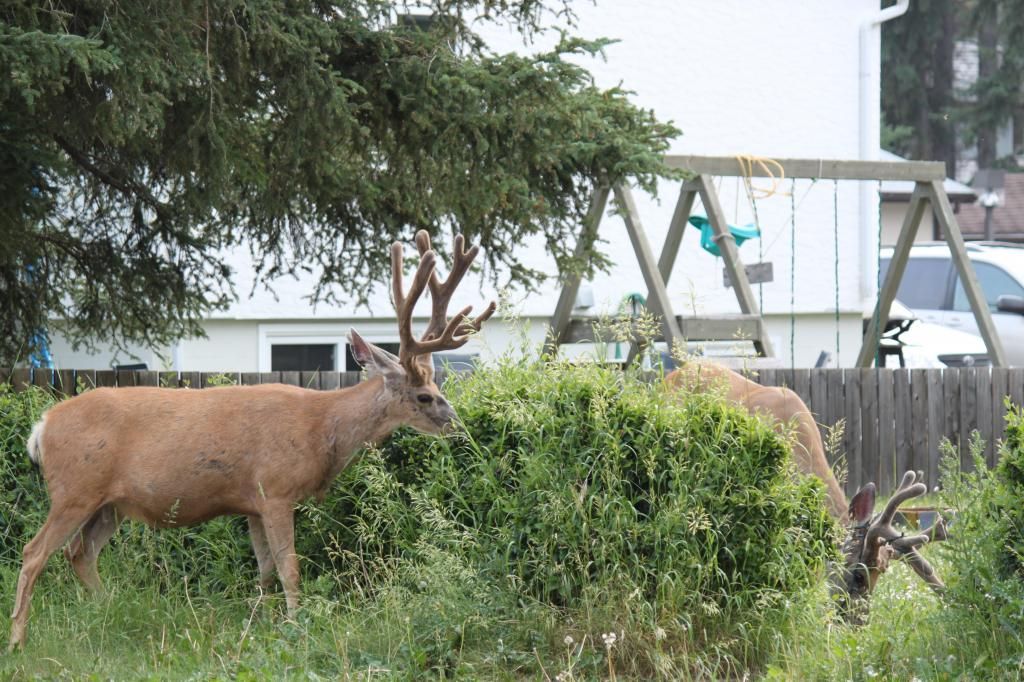 And when we saw his head, we realized he had a string of Christmas lights on him.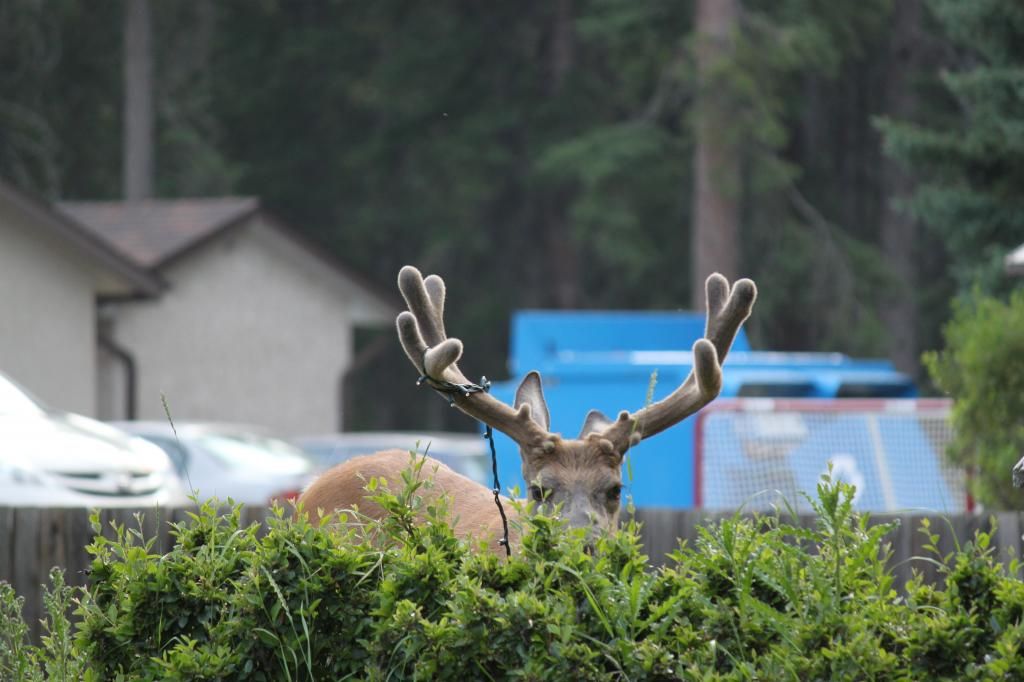 The kids thought the deer were super cool. It was the perfect end to a great day.
Tomorrow, we are on to a new town 3 hours away. We'll pass through 3 National Parks. I'm getting my camera charged right now. My kids are complaining about the amount of pictures I take. And, I realize that I've turned into my Mother. (love you, Mom.) I tell them that I was just liked them and used to hate that Granny took so many pictures. Now, I look back and love all the memories she captured. (Thanks, Mom!) They'll love it one day too!