I woke up quickly this morning to the sound of Ben puking. Well, it was a dry heave, and I told him to run to the toilet. He made it and puked a little. Uh oh, no bueno. This always happens though. Last year, it was me. People wonder why David and I sleep with our kids on vacation. This is why. We tried to go back to sleep, but he went to puke again about an hour later.
He wasn't throwing up much. He had no fever. Nothing else was wrong with him. So, we set off as planned. About an hour into our trip, I was glad Suzy packed him so baggies. He really lost his cookies. Well, Cocoa Puffs. Around the Canadian border, Noah and Emily looked like this.
Ben looked like this.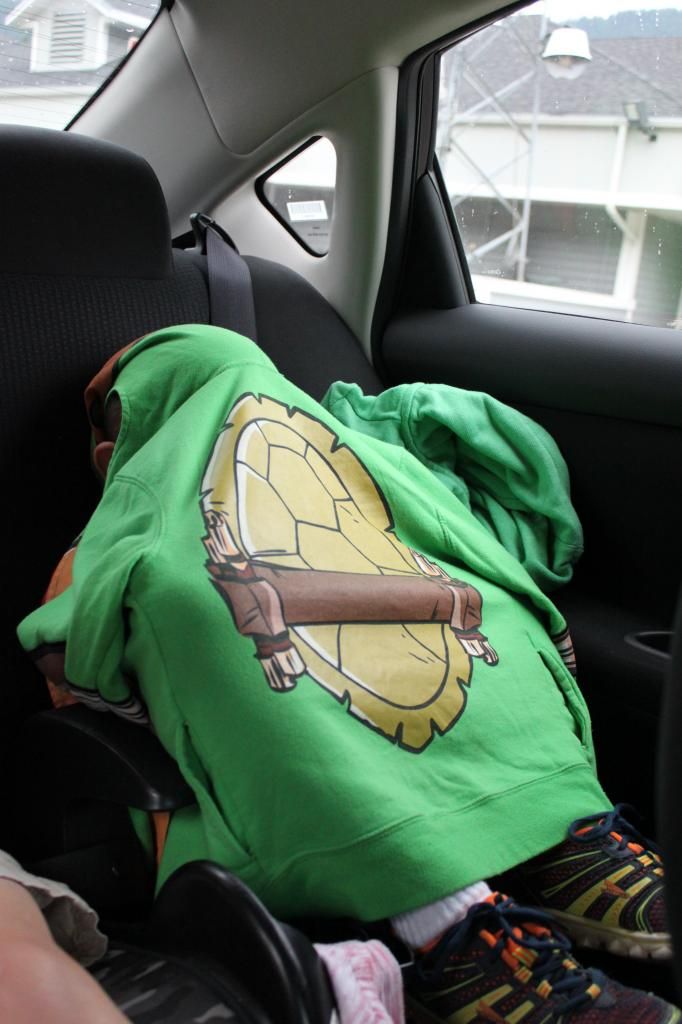 He couldn't keep down water without it coming back up on him. Poor guy.
The drive was beautiful. Unlike anything I've ever seen. Mountains for days, and forest so think that you can't see 2 feet deep. Seriously stunning.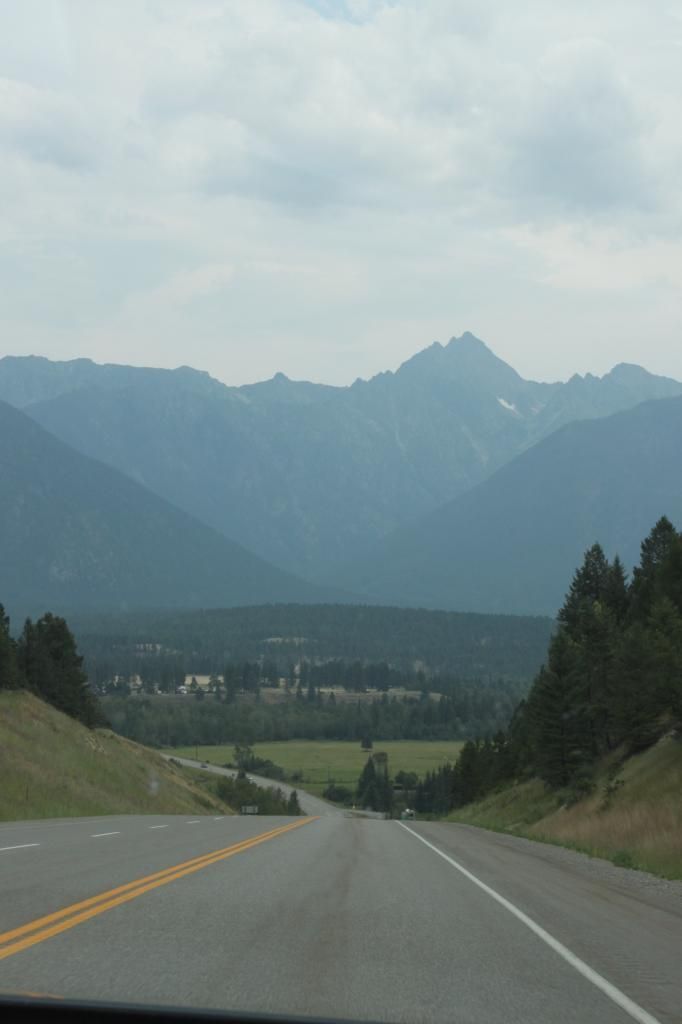 Here's David with the Colombia Lake. It empties into the Pacific in Oregon.
Then, we stopped at a rest stop and walked to the scenic lookout. Ben was throwing up the few french fries he had for lunch while I took this picture of Em and Noah.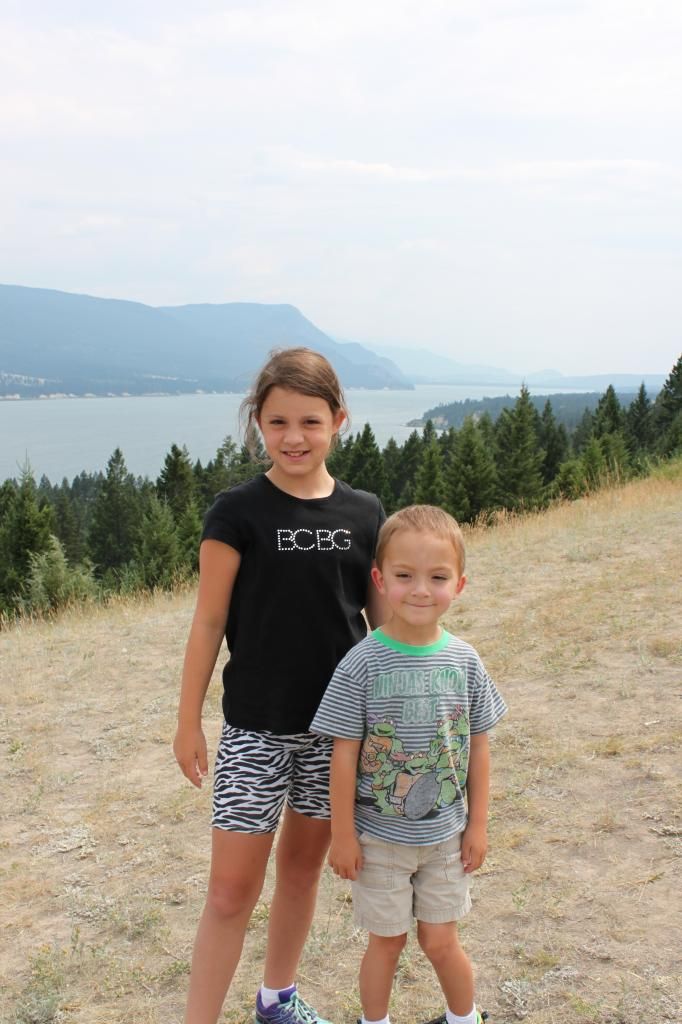 When I see this pic, I don't even look at anything but how sad Ben looks.
David and Noah exploring.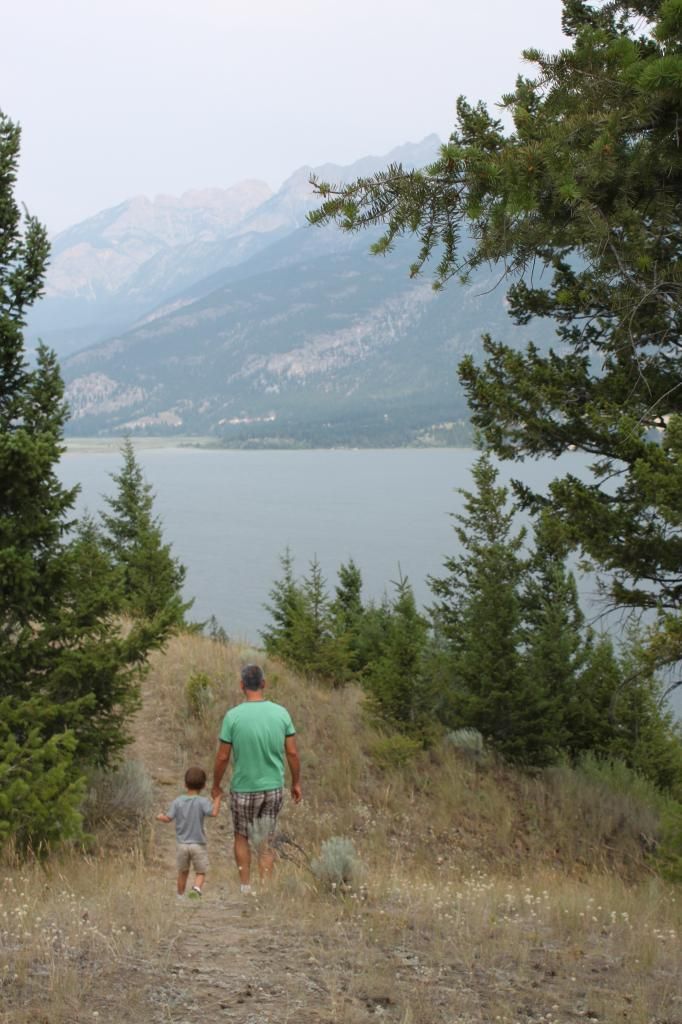 We got back in the car and got stuck in an hour long 2 mile back up of traffic due to an accident. It sucked. But, not as much as driving by and seeing the infant carseat on the side of the road. Hopefully, everybody was okay. Ben asked several times if we were to the hotel yet. We think he may have had some motion sickness which being in a car for 6 hours is just about the last thing you need.
After we got through the traffic, we had to drive through Kootenay National Park. The fist stop is Radium Hot Springs, and I thought that was the perfect way to get out and relax a little. Ben had probably thrown up 8 times by now. I told him the hot springs have medicinal properties and it might heal him.
This was the water flowing from the mountain into the hot springs.
It looks like a pool, but has no odor or taste or anything. There was a hot one and a cold one. We did the hot one first. You know, to heal Ben.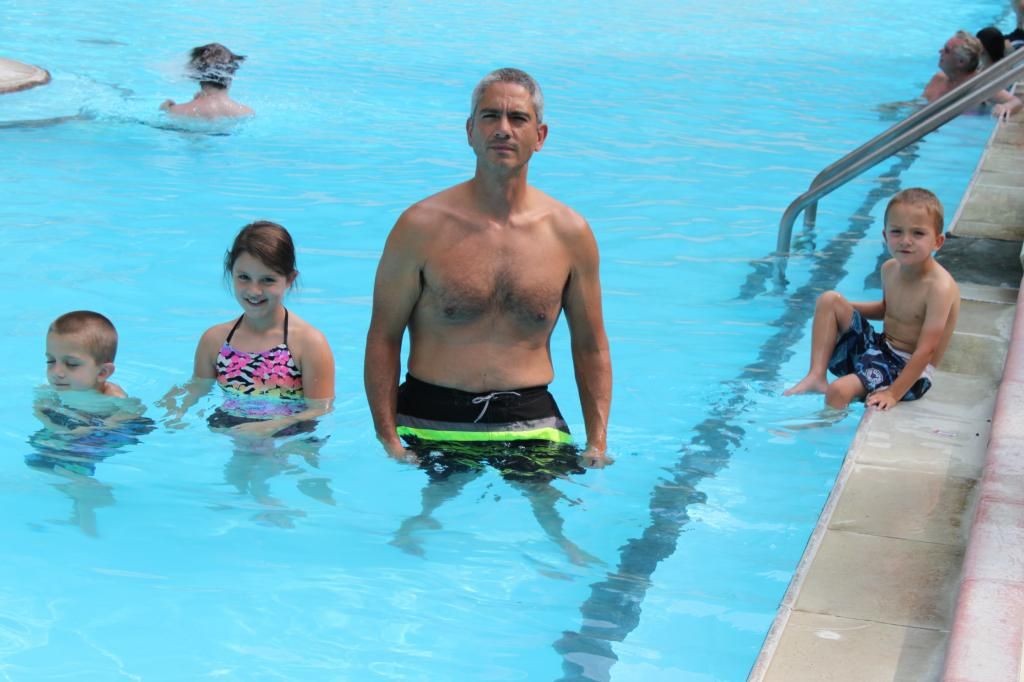 Then, we went to the cold pool.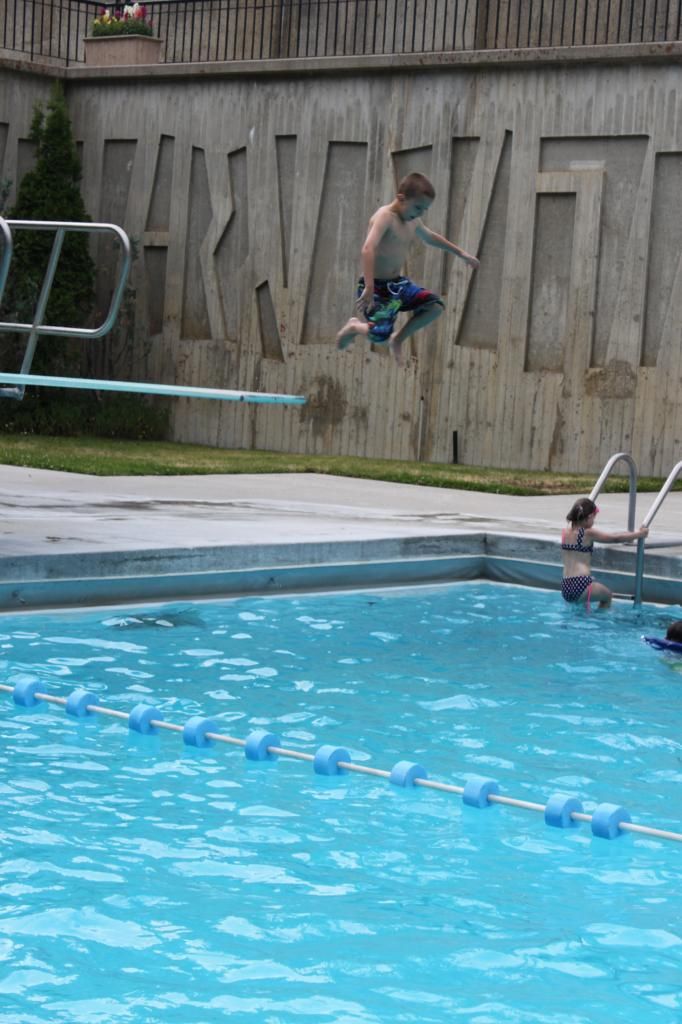 Here's Noah on the slide. It was so pretty around the pools.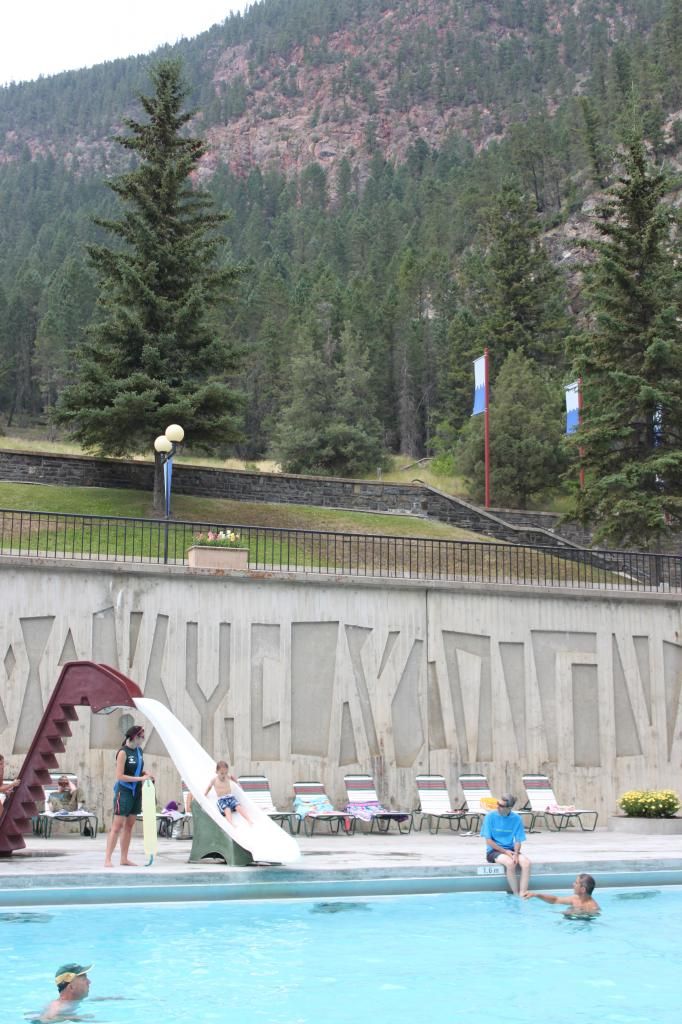 This was a really cool poster of how the springs used to look over 100 years ago.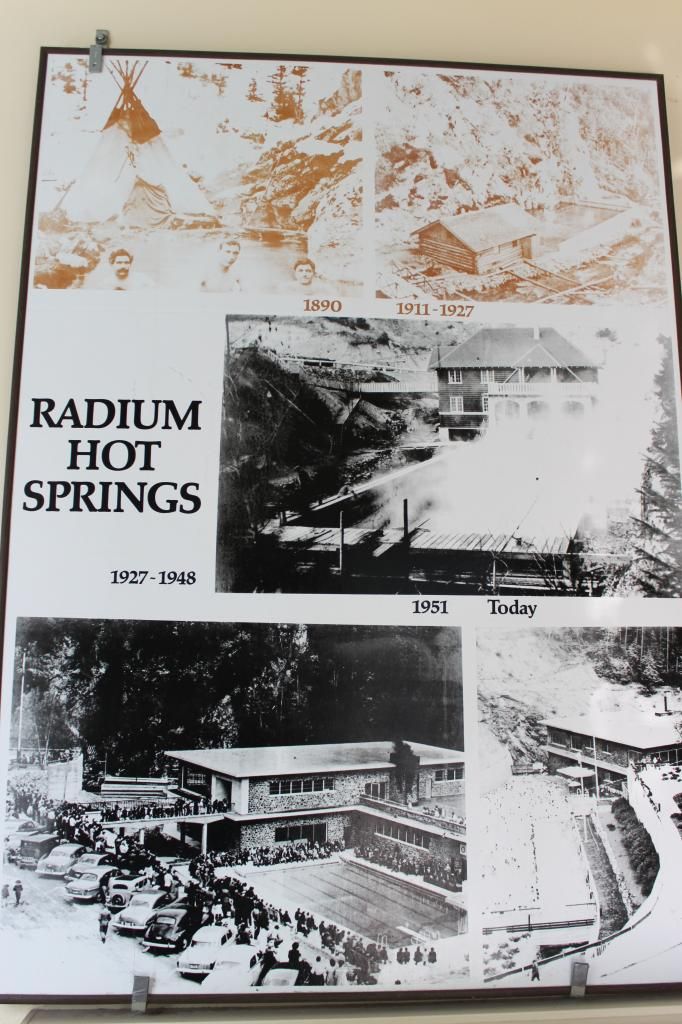 We weren't sure if the hot springs had a medicinal effect, but they definitely had a sedative effect. All three kids were out! Since we were in the National Park, I let Ben sit in the front, so he could recline back and hopefully, not feel as sick. He was asleep up there.
We stopped at Numa Falls. So, so pretty.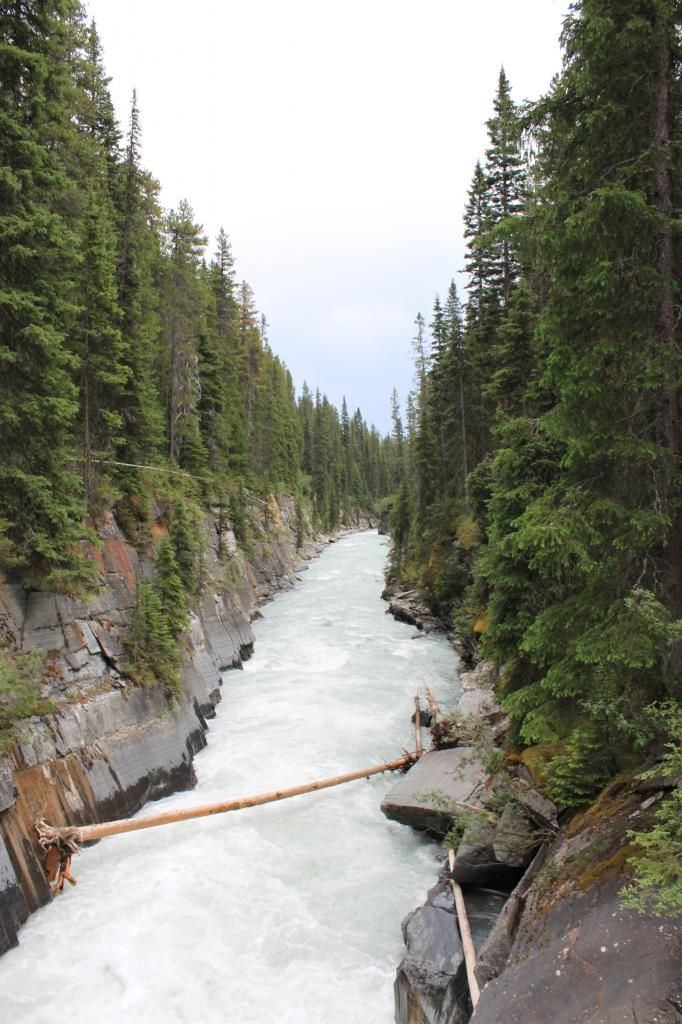 Ben got out and wanted to see the falls. He ate some goldfish crackers before this and kept them down!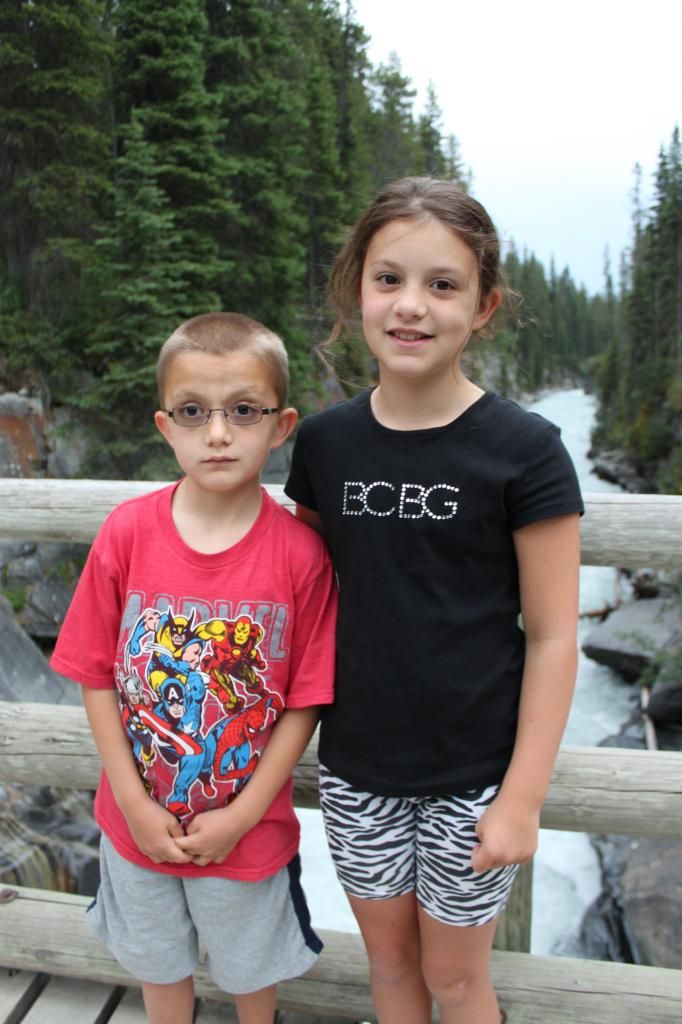 Our last stop was at Marble Canyon and we hiked a little down the trail.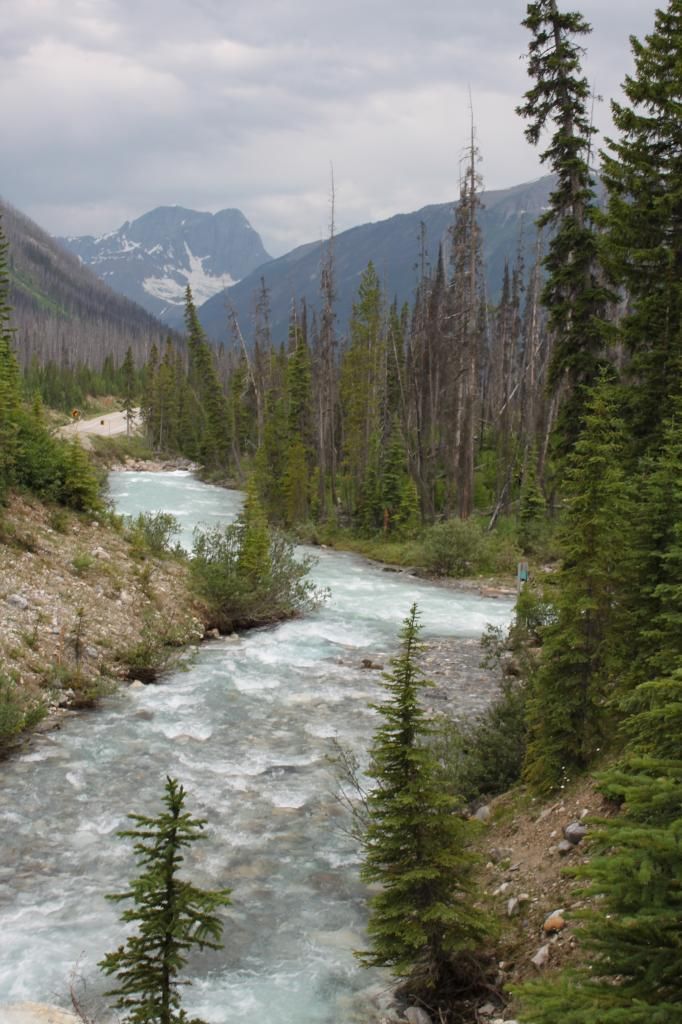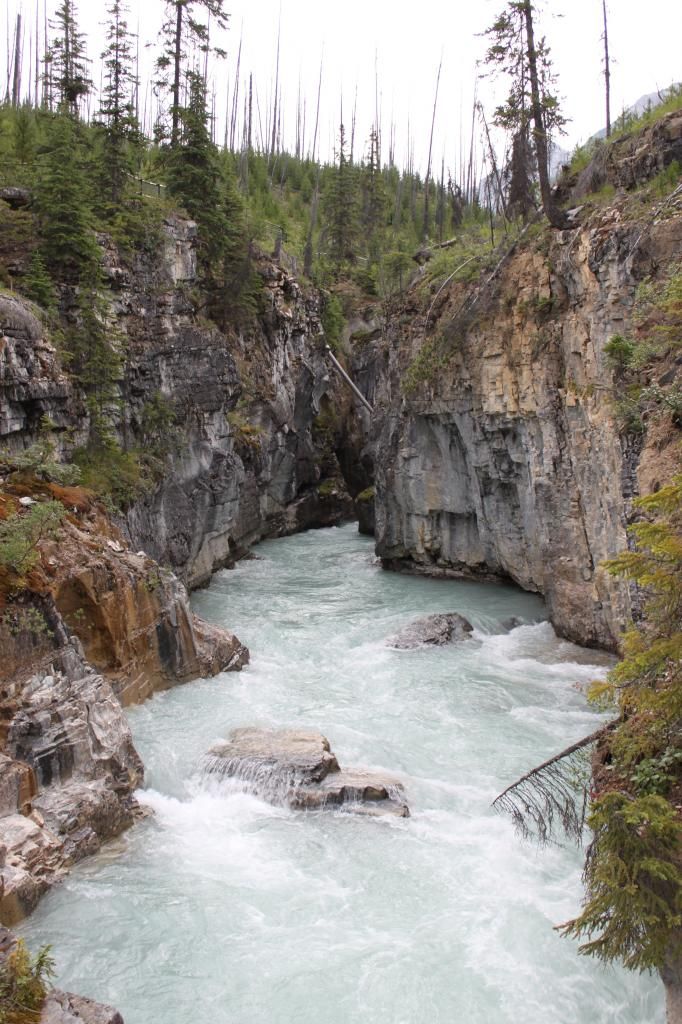 The water was such a pretty blue.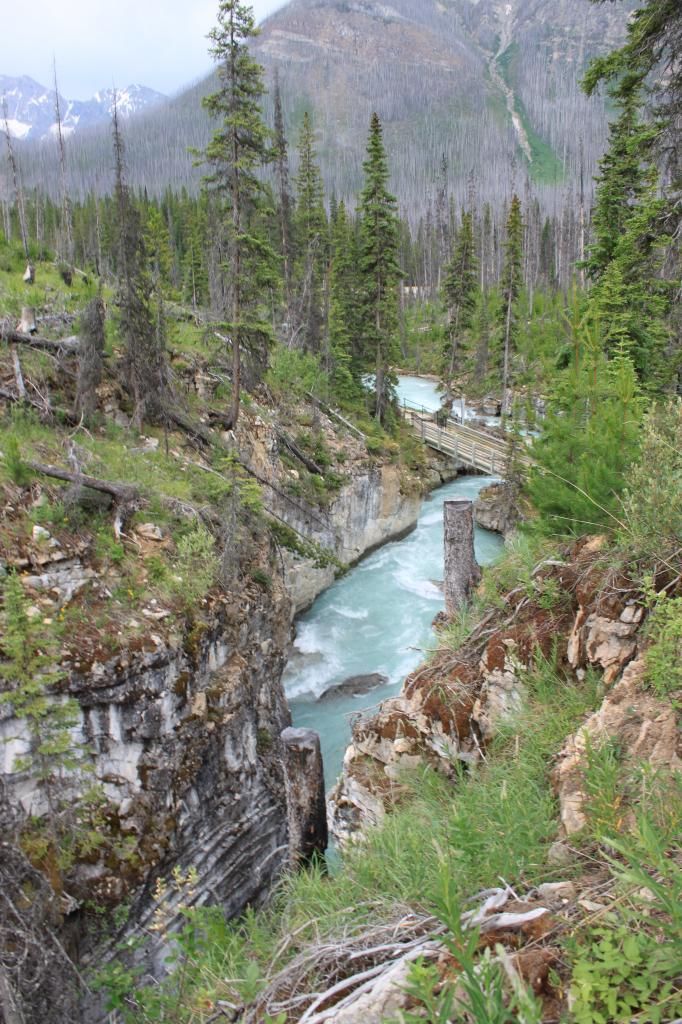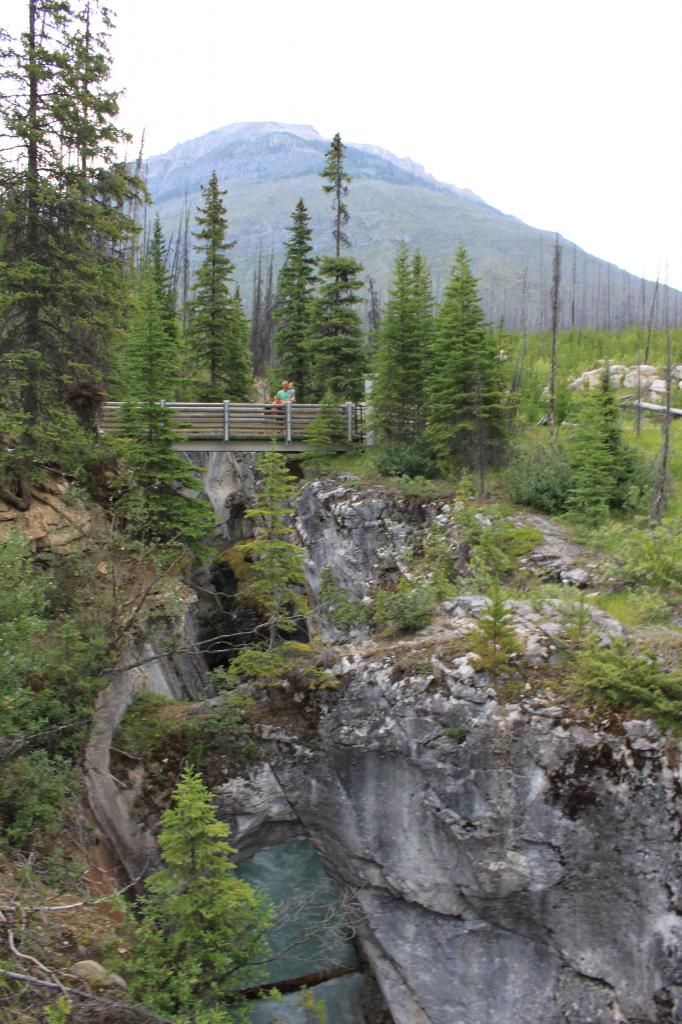 Then, we were off to Banff. Our last 30ish minutes. We had read about these wildlife overpasses at the hot springs. They literally have miles and miles of fence on the side of the highway and it directs wildlife to these overpasses. They've reduced people hitting animals by like 85-95%!
Isn't this mountain cool? It was kind of sideways.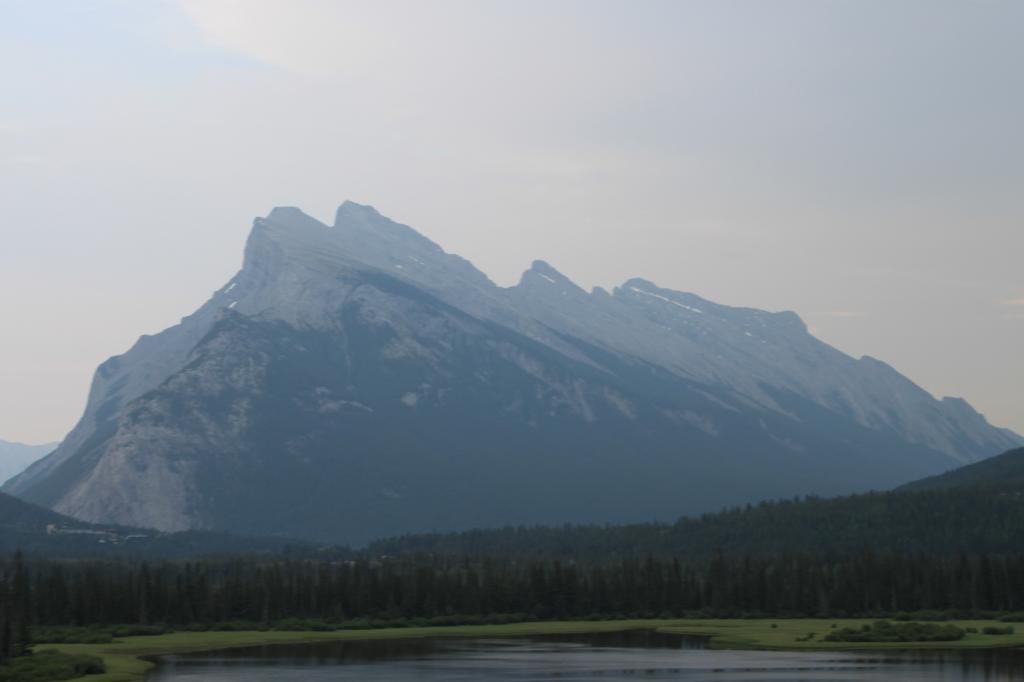 We got to our hotel and were exhausted. The good news is it appears Ben is all better! We also gained an hour when we got here, so it's super late. We were hungry and tired and are glad tomorrow is a chill day. We plan to drive around Banff and explore the National Park here. And visit the hotels cave hot tubs!