The first thing out of Noah's mouth this morning was jet ski. Oh brother. We ate breakfast and he went right out and sat on it.
We try to tell the kids that you don't need to be going 60 mph this entire trip. We have 14 hours in the day, enough time to enjoy some of everything. Luckily, they are still young enough that they do enjoy other stuff. While breakfast settled, David took out the kayak.
Then, Noah took it out. He actually did really good.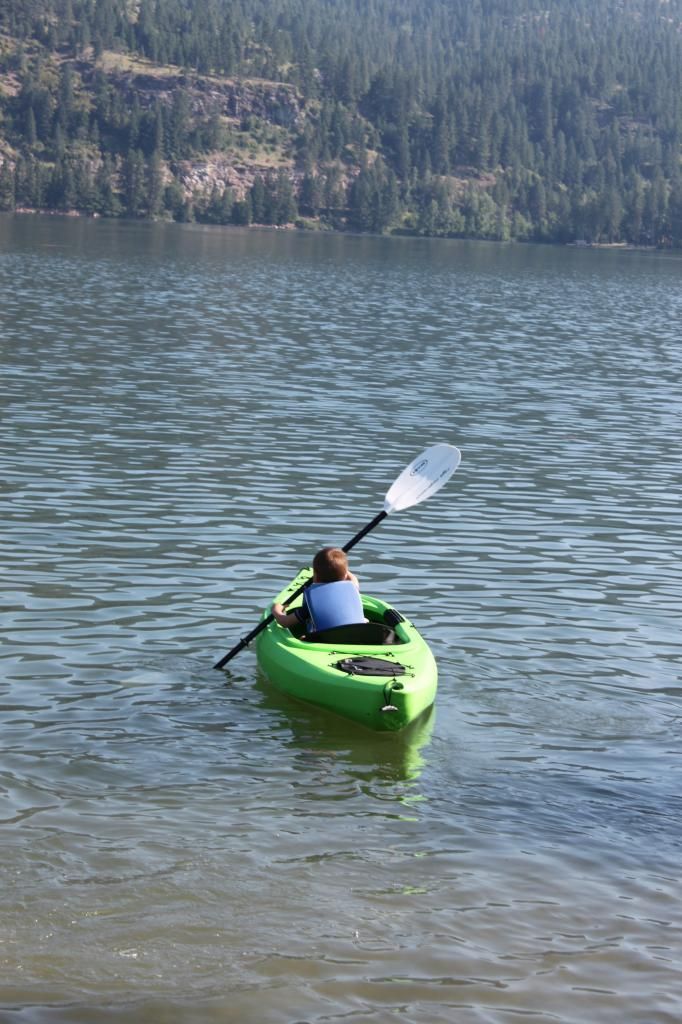 Then, he yelled for David to help him. You can't tell from these pictures, but he was only about 20 feet from shore.
David saved him.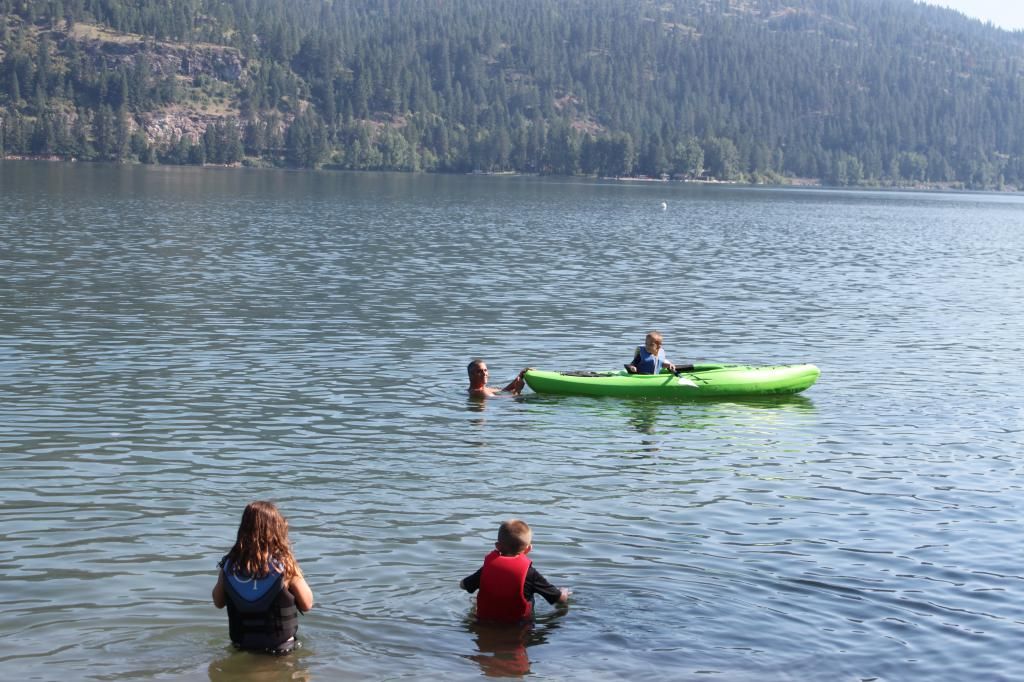 There was more throwing.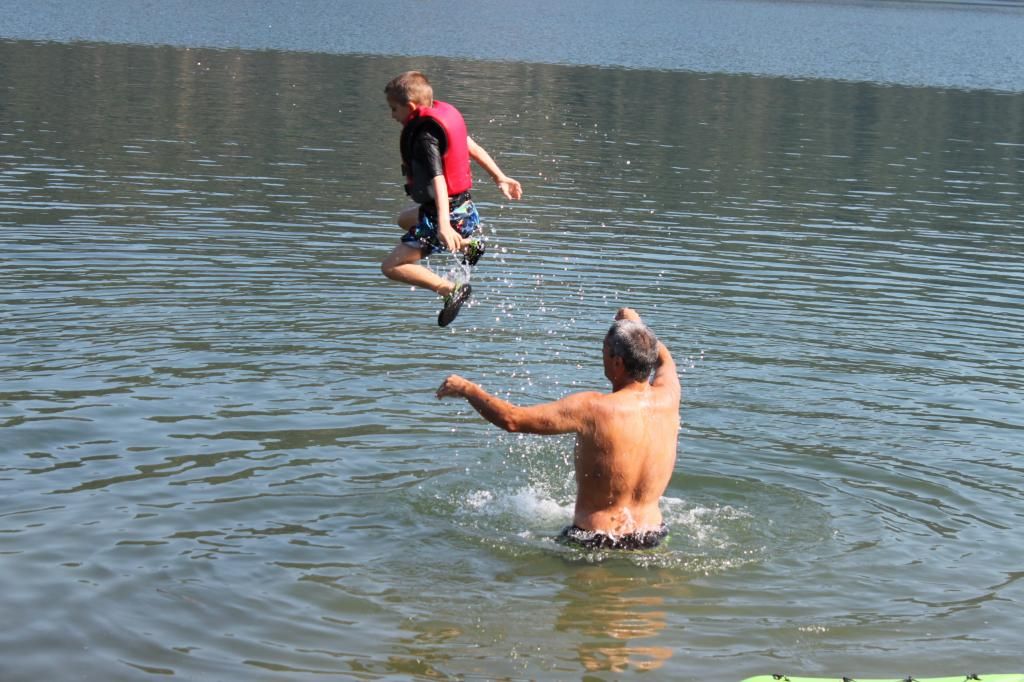 Then, David took the boys out.
Grandma Suzy took Emily out.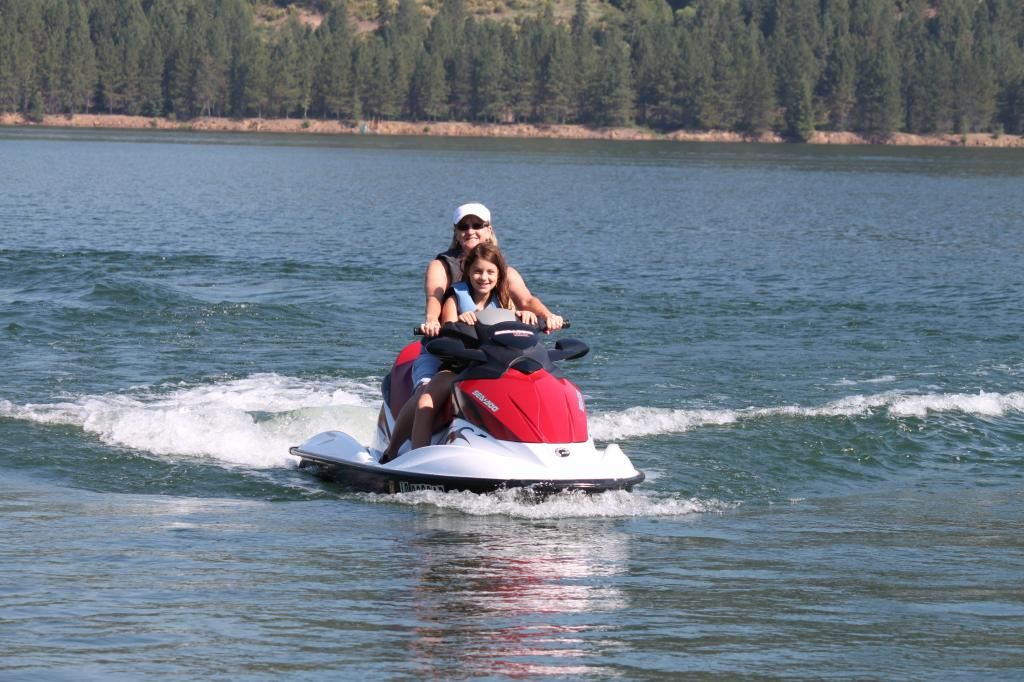 And here I am on the paddle boat. That's more my style. Making the kids work while I relax. Except they wussed out quickly and I was left peddling us all home.
I took the kayak out alone first to make sure I wouldn't tip.
It wasn't as hard as I thought it might be, so Noah got in with me. The canoe is HARD. This was much easier.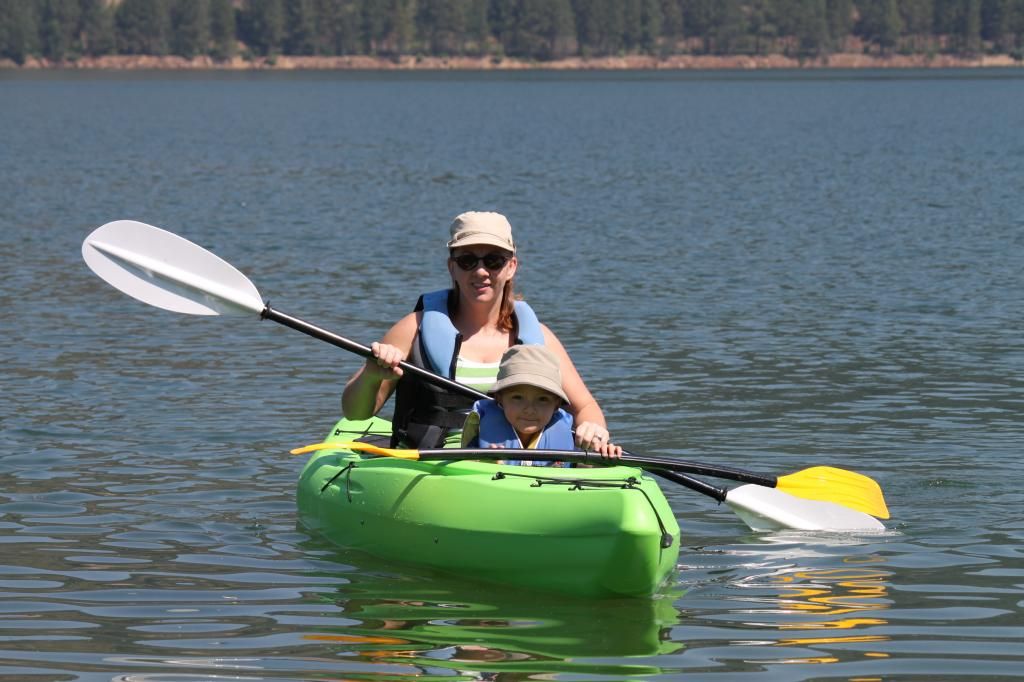 The kids did about 1,000 flips and jumps on the trampoline. Then, we all came inside at noon for a little refreshment. David never naps, except for when we are here. He's out. My Dad is asleep on the other sofa, as is Grandma Suzy. Emily and Noah just went in the bedroom to lay down. Ben and I are the only two awake. Although, I feel a nap coming later for me.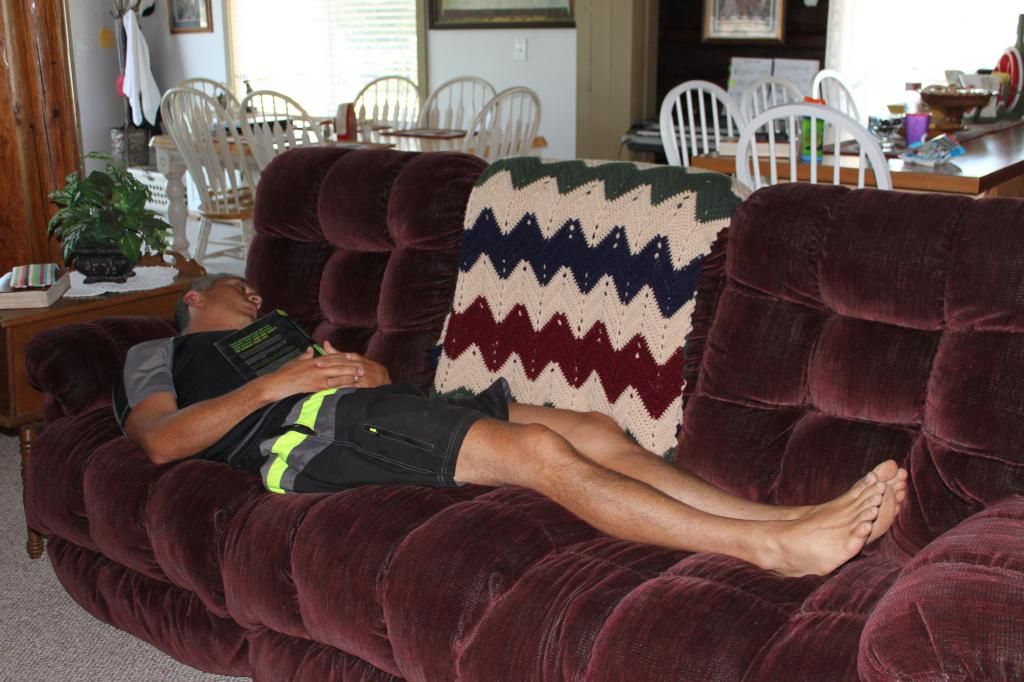 It was hot outside, but the water is cool. We went for a dip. Suzy picked this air mattress up at a yard sale for $1, and since there isn't any fabric on it, my Dad thought we could use it for a raft. I thought this was a true hill billy water bed! You know you are a redneck if you say...Man, I don't need those fancy water beds. I just put an air mattress on the river and call it my own water bed. It was super comfy. I could have laid on it all day.
We had rafts, kayaks, noodles and an air mattress. All the ingredients to stay cool on a hot day.
David launching Ben on the raft.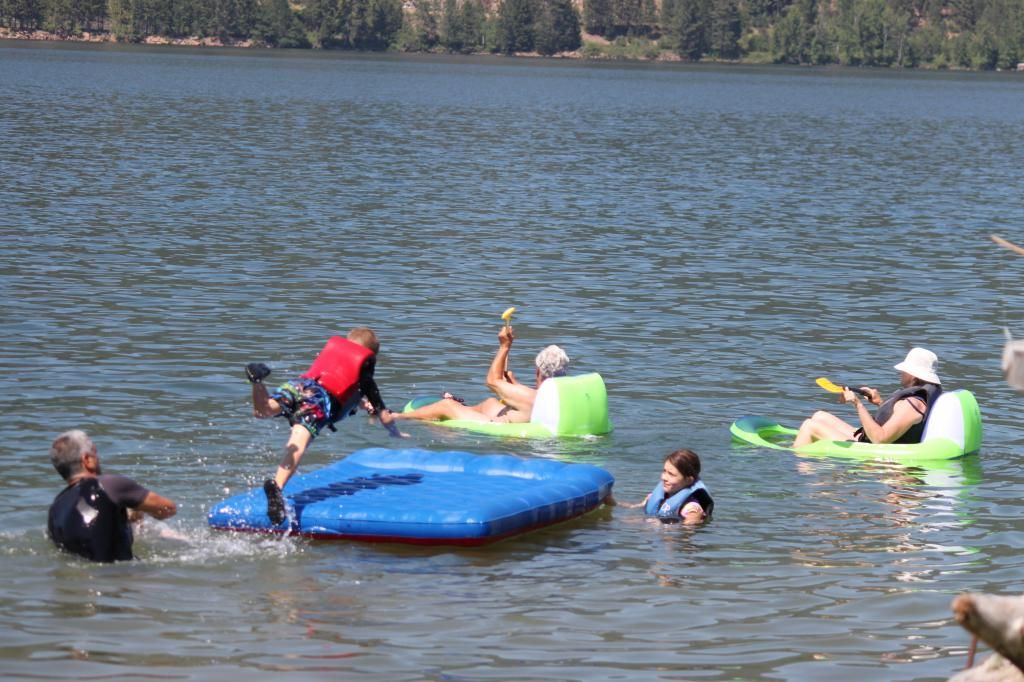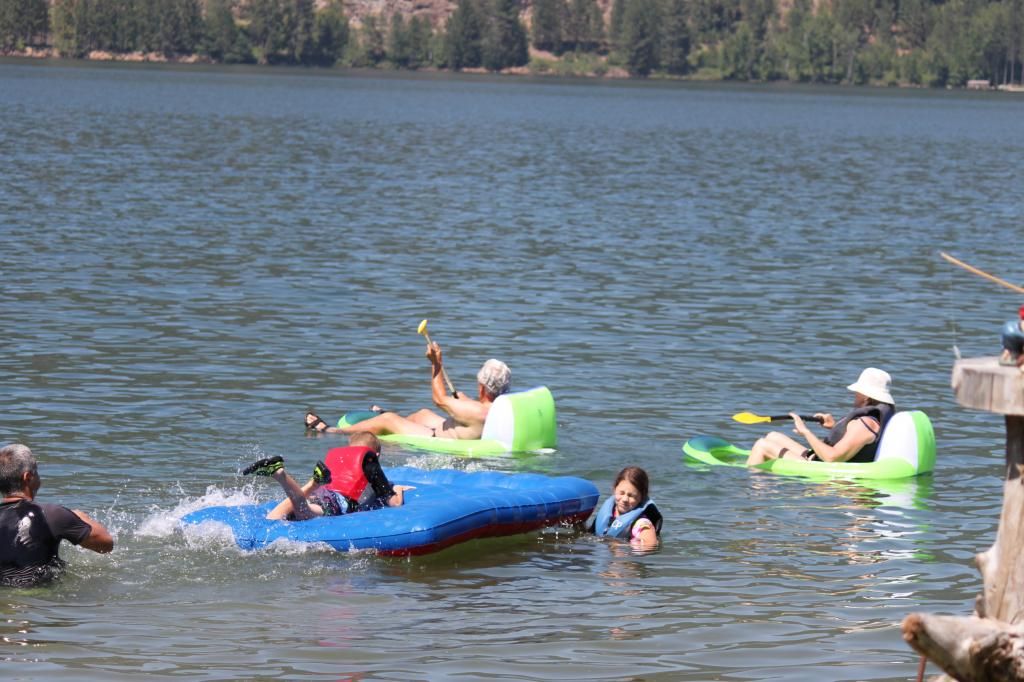 Then, David took another little nap. Seriously??? No seriously, good for him. He never rests.
The little girl next door came over to play with Emily.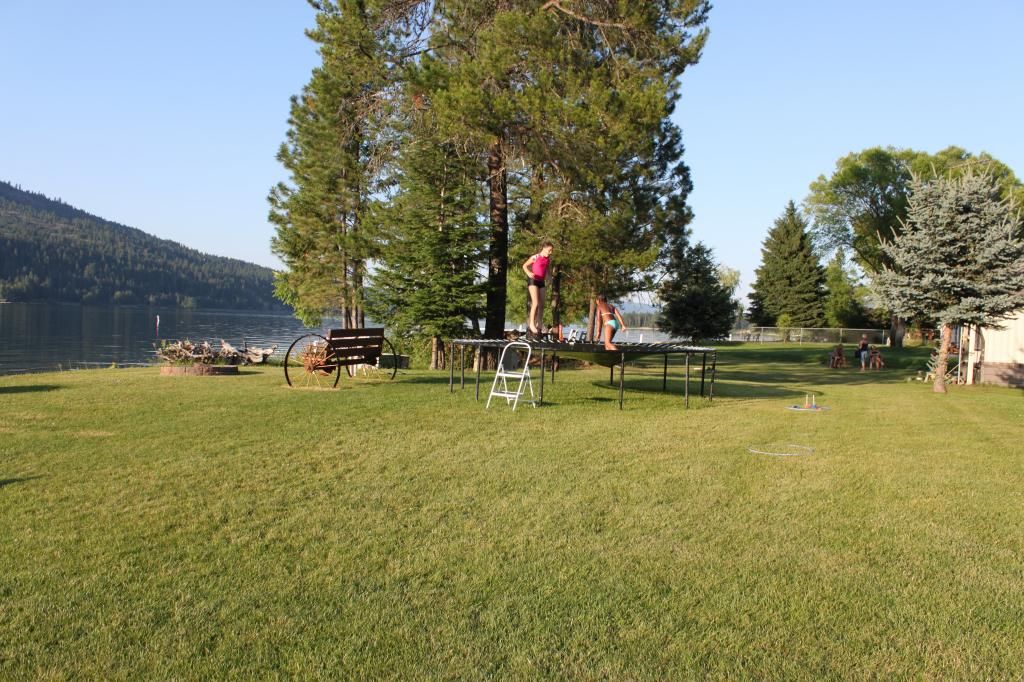 Then, it was time for getting pulled on the raft.
Noah lasted about 30 seconds and was getting splashed in the face.
Then, Justine got a turn. They had a blast.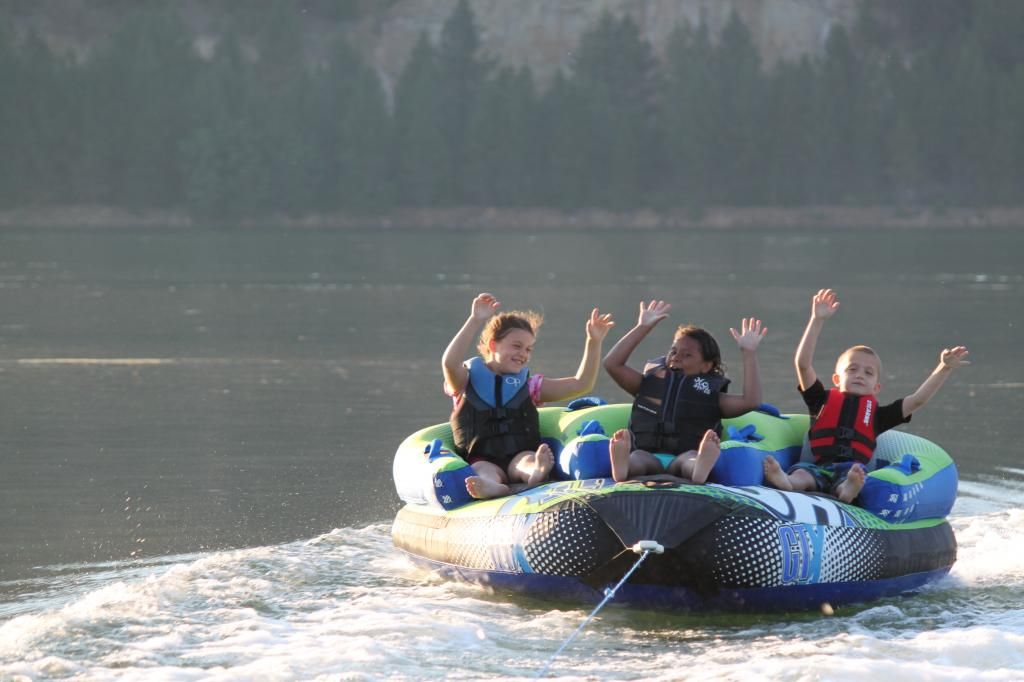 That was enough for Noah. He preferred to watch from the dry safety of his Dad.
He's cute.
Doesn't my girls hair look redish here.
I tried to get a good photo of Ben, but he has the face with 1,000 expressions and most look like he's in pain. I went with the natural no smile look as it was the only decent one.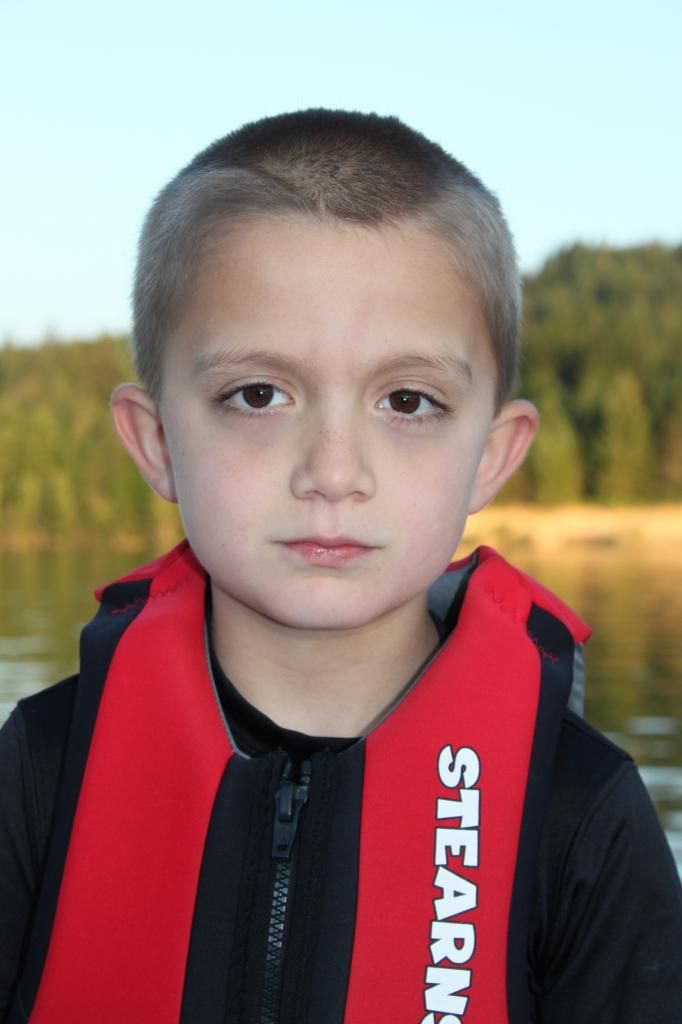 It's almost 9:00 and the kids are still going strong jumping on the trampoline and running around. I'm ready to pass out. How does that happen?
30 minutes later....I got out of the shower and this is what I found on the sofa....
That's how you know it's been a good day.