It was our last day of fun for our vacation. Tomorrow is a travel day.
We headed to the beach we were at yesterday. Emily wanted to jump off the pier. She was a little scared still, but I knew she could do it and I didn't want her to regret not doing it. We warmed up on the beach. You know stretching out for the big jump.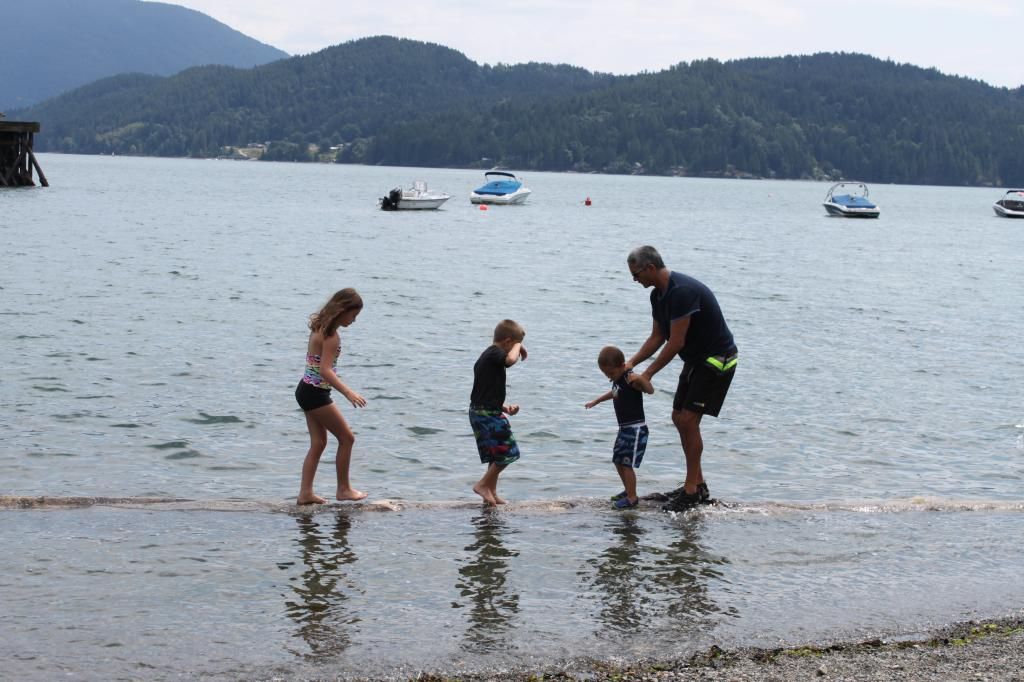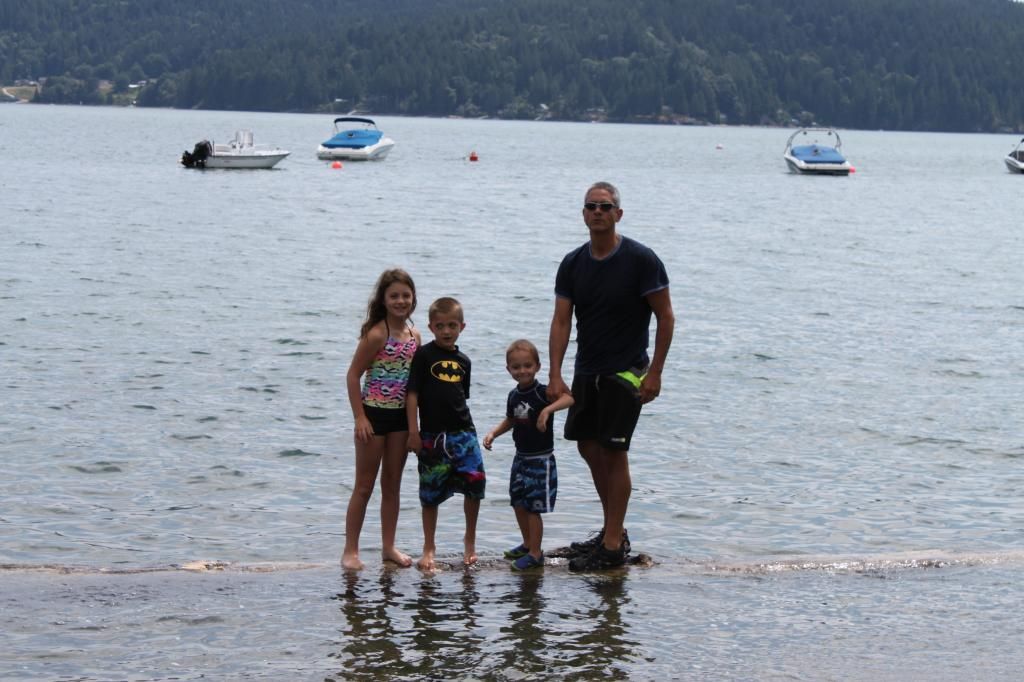 Cousin Amy went first.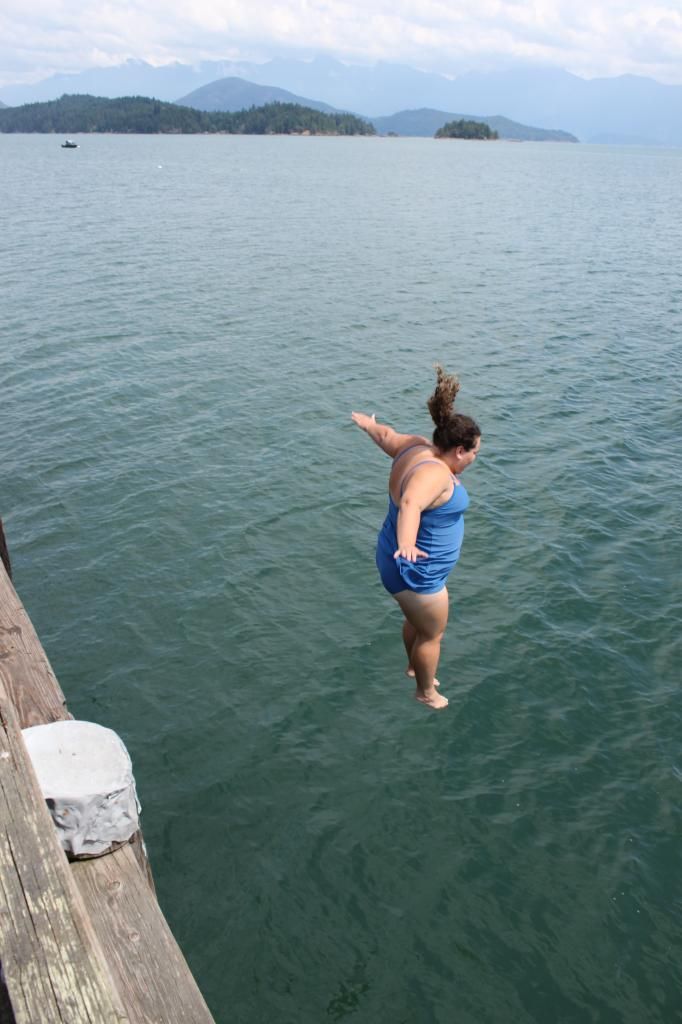 Then, Ben. I love that Emily was clapping for him. She was so nervous. The tide was high though, so it was a good 5-10 feet higher than yesterday when we jumped.
Emily and Ben decided to go together. She was scared.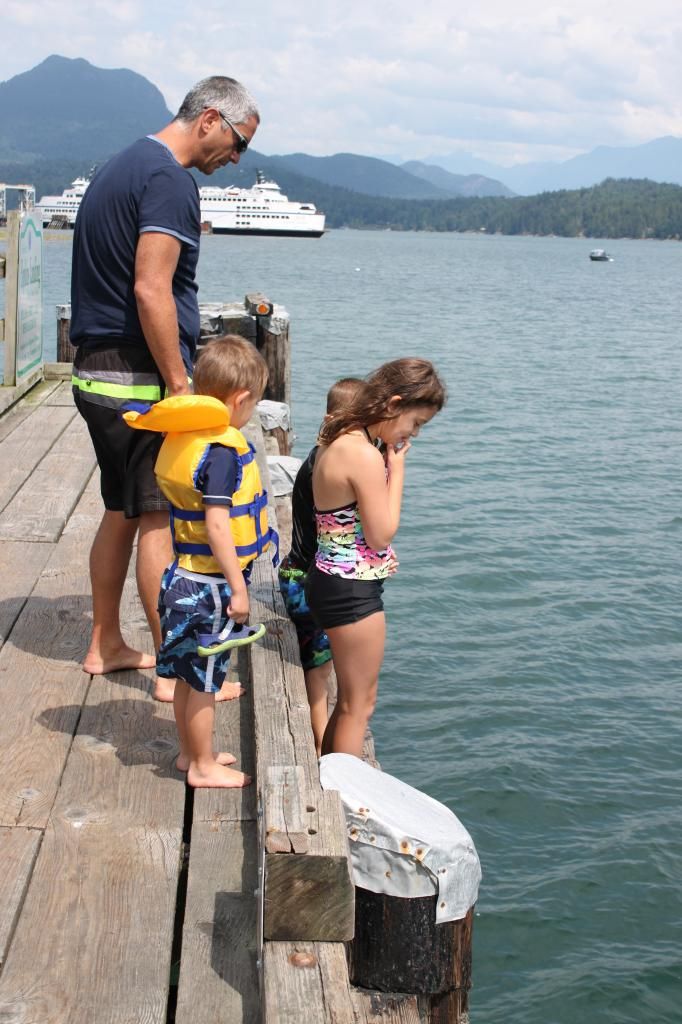 She needed a little encouragement. And by encouragement, I mean a push from her Dad. I love that Ben's arm was going around "help" her too.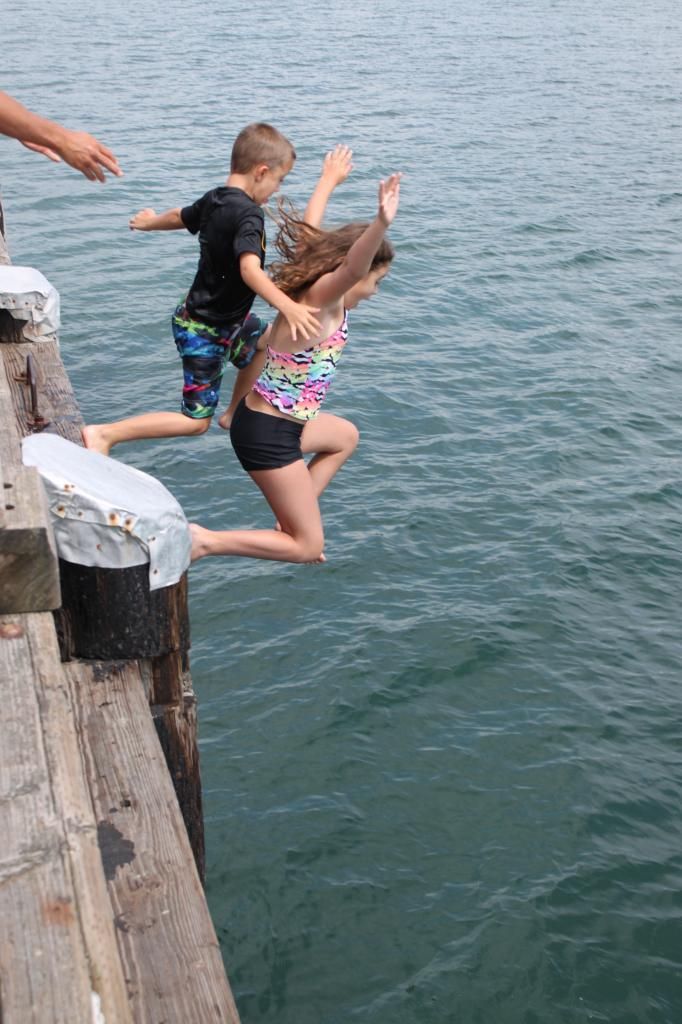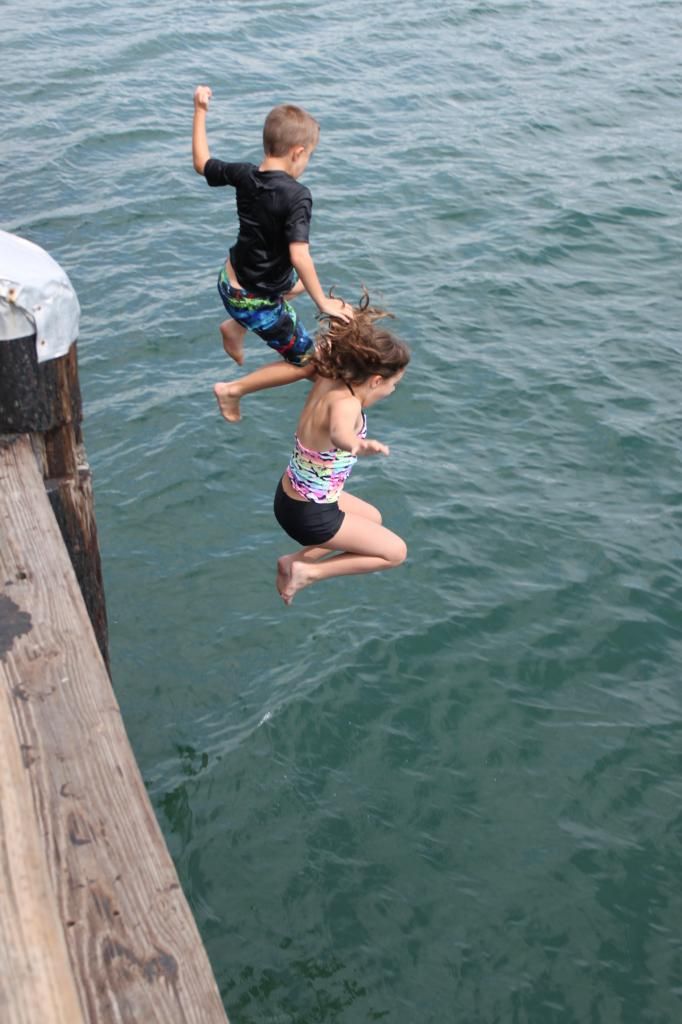 When Emily came up, I thought she would either be crying or happy. She came up and said, "That was AWESOME!" And jumped about 10 more times.
Here's a video of one of her jumps.
Then, all three of them jumped together. This picture makes me laugh. Amy jumped off first and jumped farther, so it looks like she is the size of a lego man and it looks like Emily is pushing her.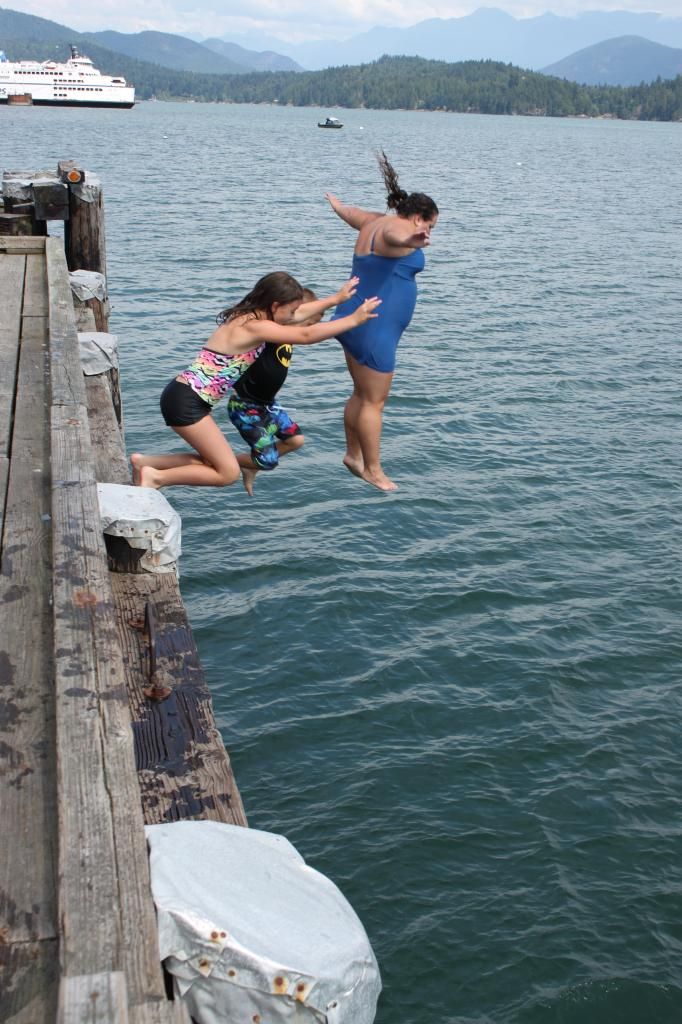 Emily jumped by herself.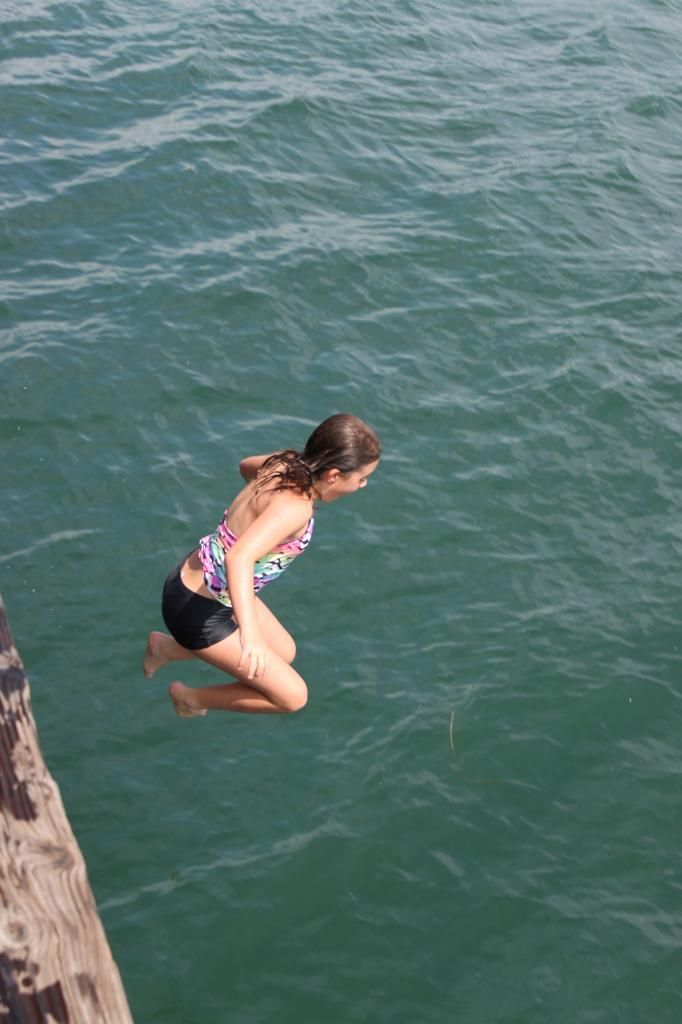 Ben being Batman.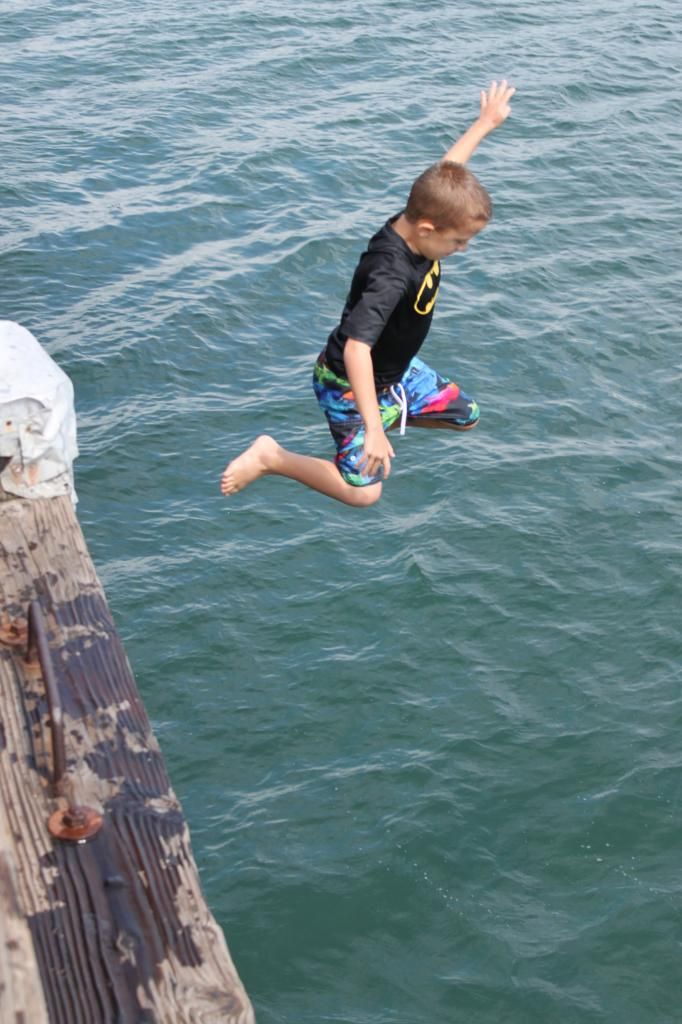 Emily liked jumping from the lower part which is about a foot lower. She finally jumped from the higher part.
Then, Noah kept wanting to swim from the little dock over to the ladder by the pier where we were jumping and climb up. Aunt Paula had a lifevest. And off he went. I couldn't believe he didn't even look back. He just swam out in the ocean all by himself.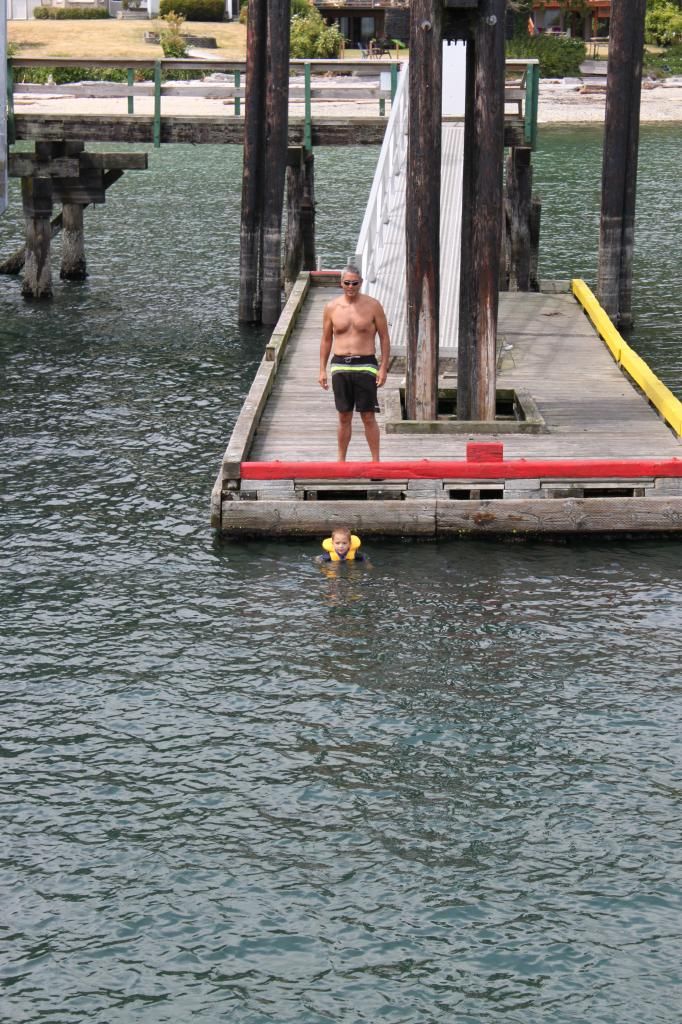 Cousin Amy helped her get through the pier without getting cut on barnacles.
And up the ladder he went.
That's pretty brave for 4 years old!
Then, he was freezing. Ben was freezing before too and I put David's shirt on him followed by my cover up. Since Ben was dry at this point, we got Noah dressed. He looks like Yoda. Cold, I am.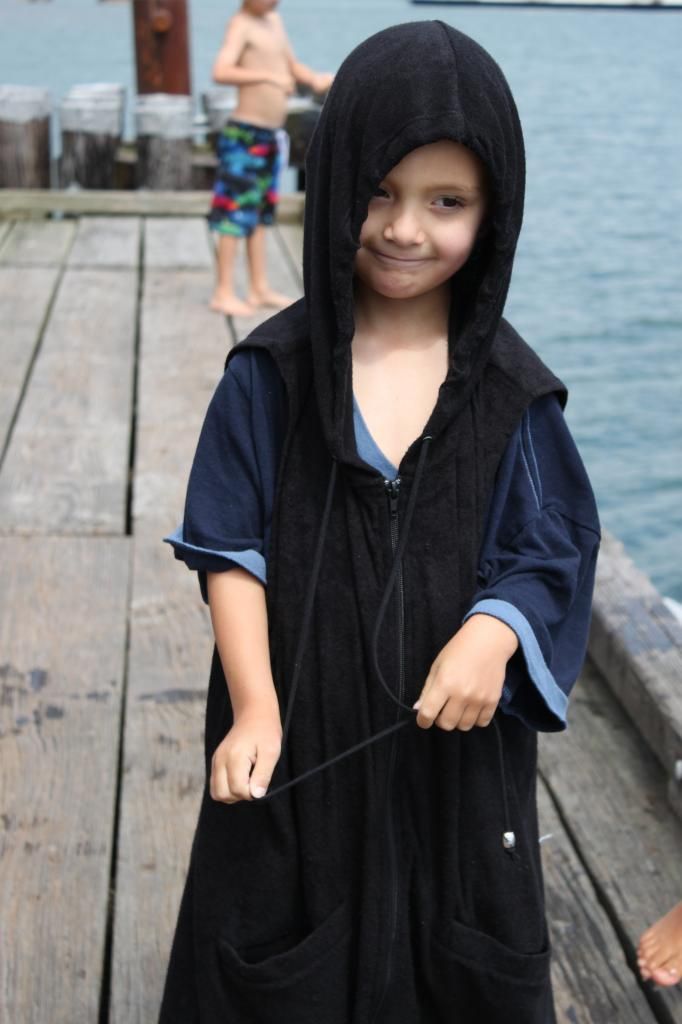 Then, Amy and Emily swam from the pier to the shore. Emily used the lifevest for a little help since it was such a long swim.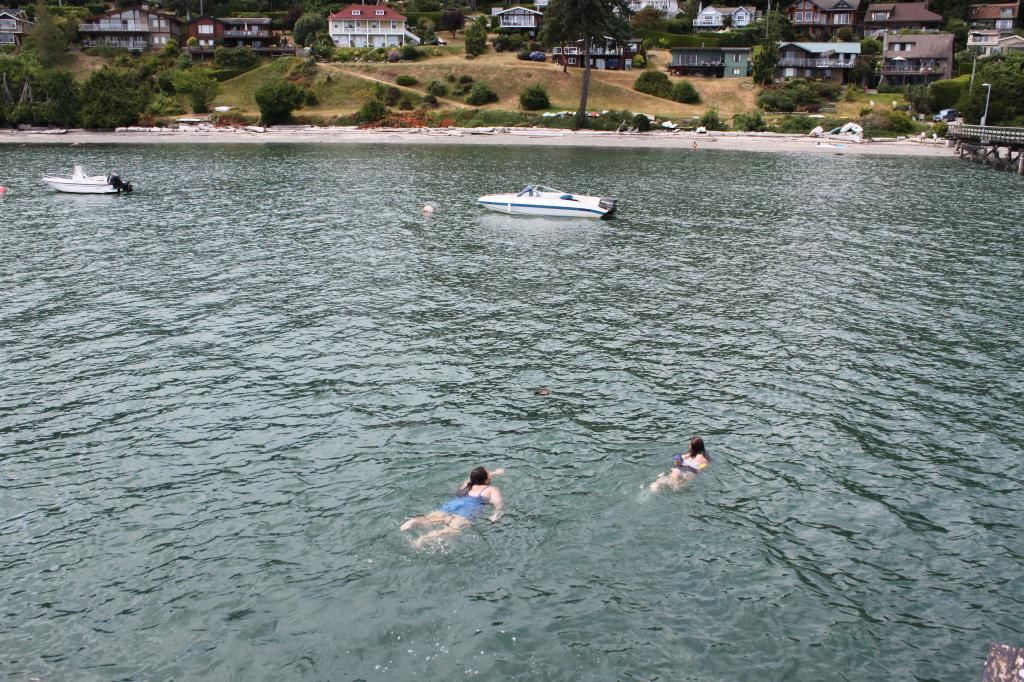 Then, David jumped off the pier and tried to catch them.
He won! Although, they didn't know they were even in a race.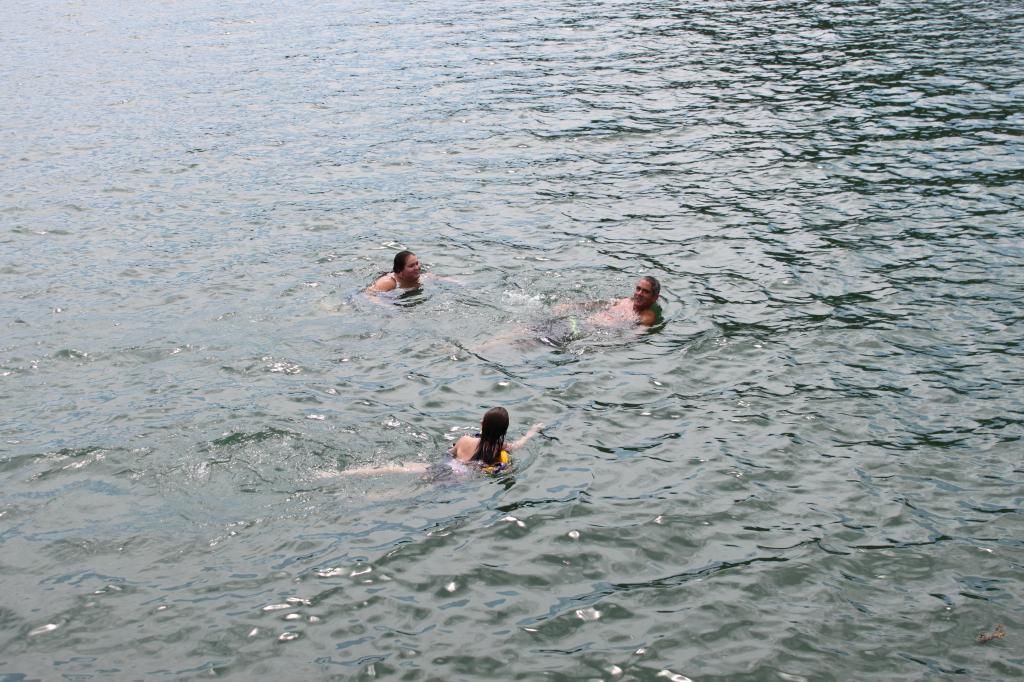 Noah build a sand castle.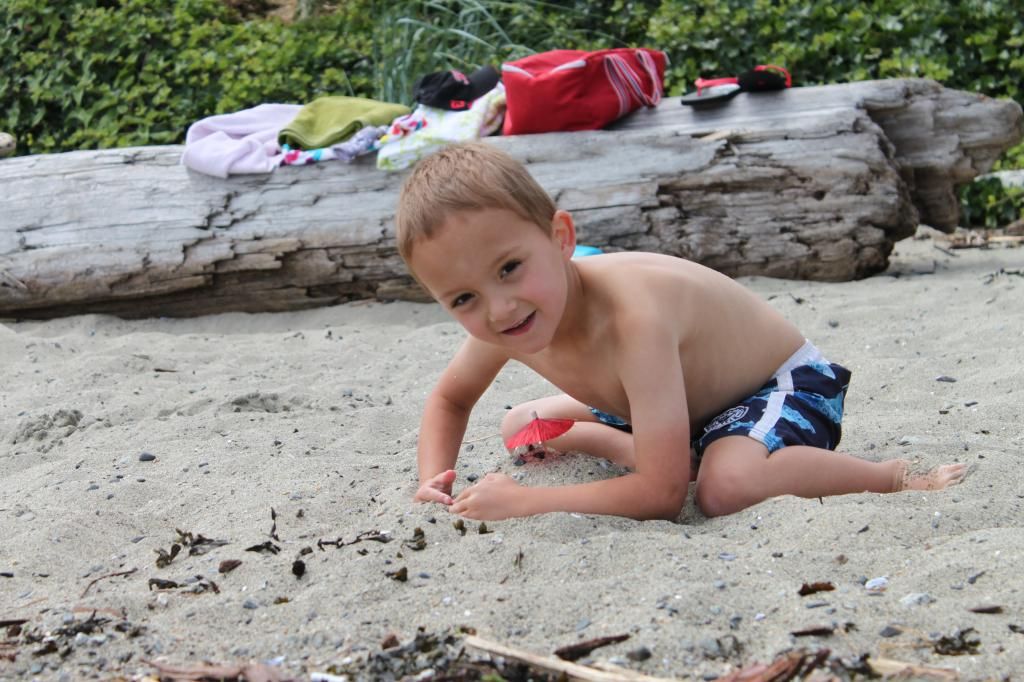 The boys played on the logs. I love the beaches here. This long wasn't there yesterday, but anything can come in with the tide.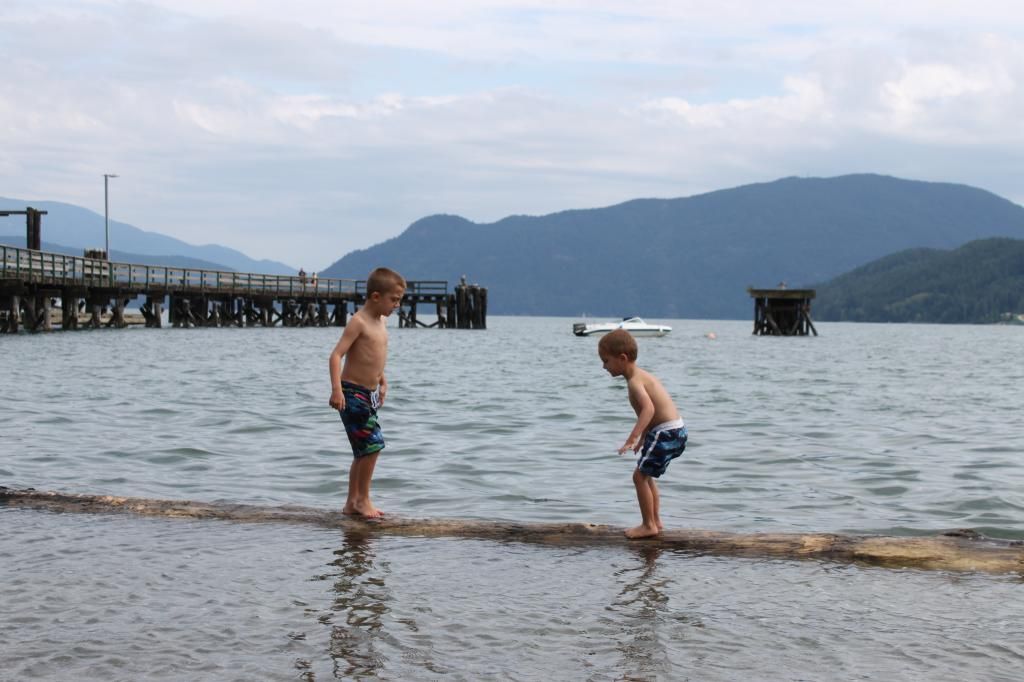 Emily and Amy went back out and I thought Emily was going to jump from the super top. But, she didn't.
Then, David and Noah joined them.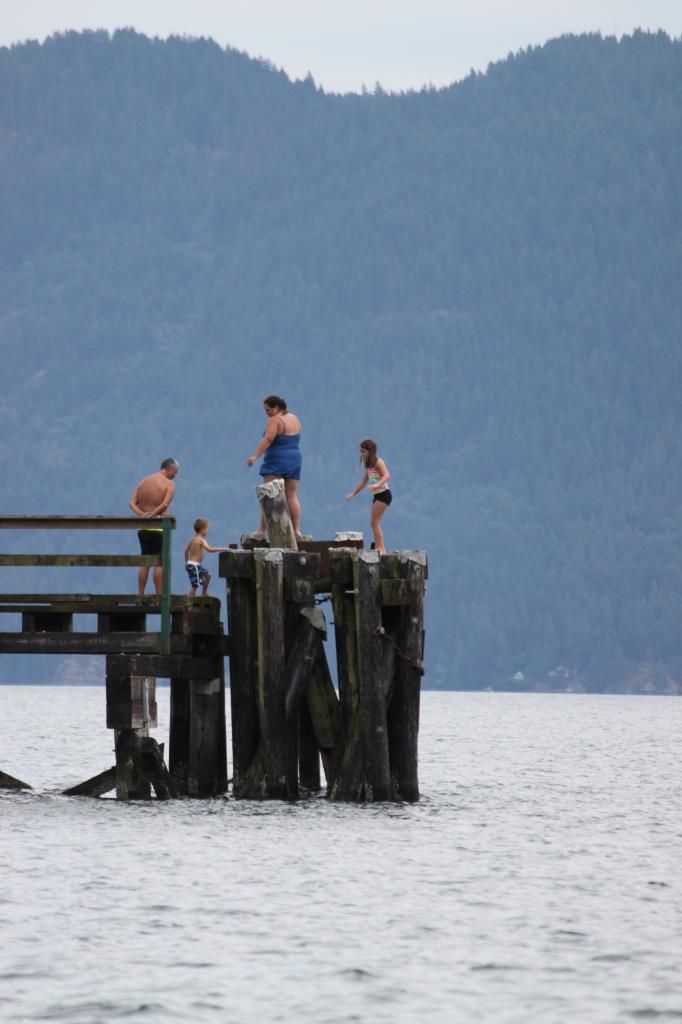 A Momma and her ducks.
Then, we went out for one last gelato. Yum! We stopped at a different beach just to check it out tonight. The beaches here are all so different. This one had crashing waves and smooth pebble rocks everywhere.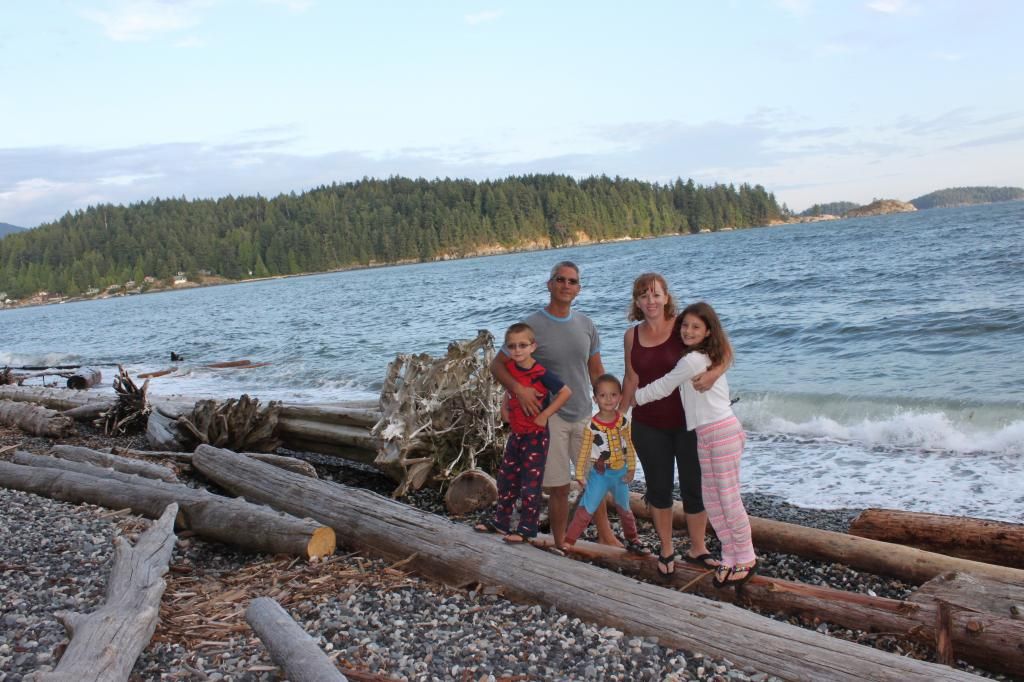 And that wraps up our big vacation of 2014. We have a 14 hour travel day tomorrow. Leaving by 7:45 to catch an 8:30 ferry. Then, on to a three hour drive to Seattle as well as crossing the border, which can sometimes take hours. Then, we have a 5:00 flight and then land in Phoenix. Then, get our car and drive the 90 minutes home. We should be there around 10:00 at night. Whew, I'm tired already. It's been a great trip and who know, if we aren't at the border for long, we may have time for something fun in Seattle!