Here's what has been going on in our house the past week, in addition to David's birthday and Father's Day. And I wonder why I have no time to post anything...
Emily went to piano camp for 3 days. On the last day, we get to join them for making piano cakes. Making and eating! :)
Here are all the piano girls...
-----------------------
We've gone to our new pool every day. Sometimes, twice a day. It's all about hanging out with friends and having fun.
-----------------------
We've been going to the movies every week. Our theater does a nice deal of summer movies, 10 for $7. They are older and stuff we've already seen, but popcorn and a movie is never rejected by my kids.
We were watching a movie about an alien coming to Earth. He lands and he's at a 7-eleven. I chuckle.
Ben whispers to me: What is that?
Me: It's a convenience store.
Ben: What's a convenience store?
Me: It's were you go and get snacks and things.
Ben: Oh, cool.
He's 8 1/2. How does he not know what a convenience store is? I try to plan ahead. We bring water and snacks where ever we go, so we are not tempted to stop somewhere for overpriced snacks. Has he really never been inside a convenience store? His Papa used to own one for Pete's sake. I was there every day, but that was before Ben. Then, I remembered, he goes to one every year! We drive to California and we stop at the last spot for gas before you hit the California state line and gas jumps up $1 a gallon. So, we always stop at this Chevron to use the restroom and fill up on gas in Quartzsite, Arizona. But, we never buy anything. I guess it isn't too memorable.
Whew...my kids aren't that deprived. One convenience store a year!
-----------------------
Emily tried to teach Noah some yoga and gymnastics. My kids spend most of their days in pajamas unless we go somewhere, which isn't often. I filled up my gas tank after our Memorial Day camping trip on May 27th, and it's just getting to 1/4 of a tank over 3 weeks later. I like that!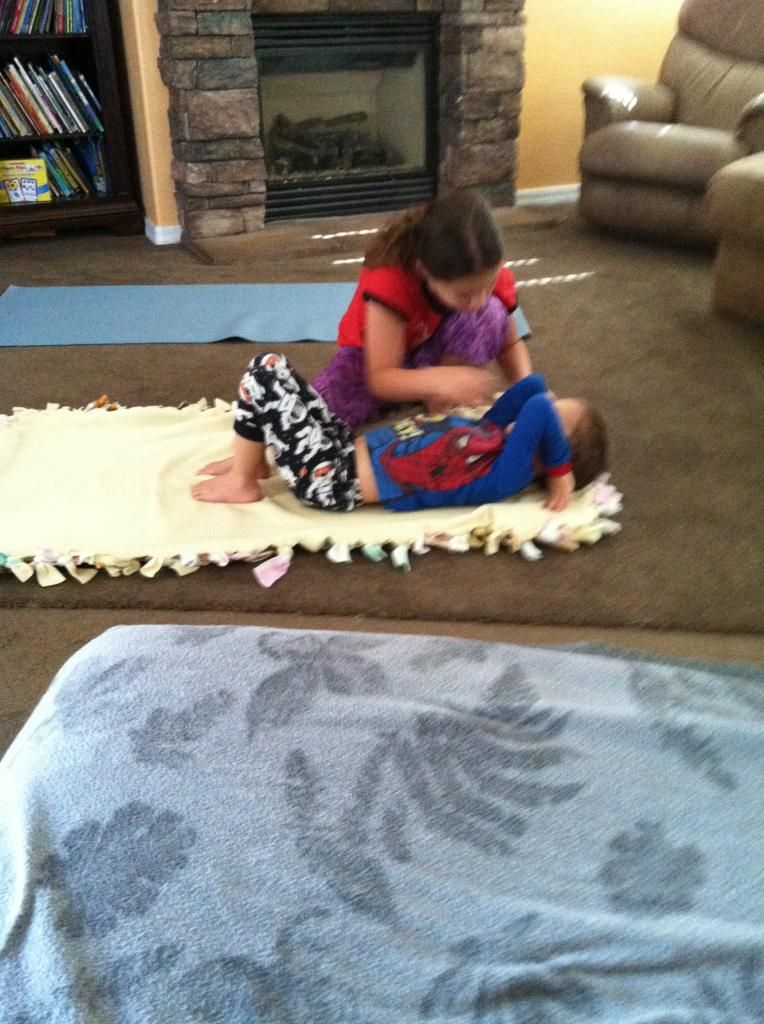 She's demonstrating.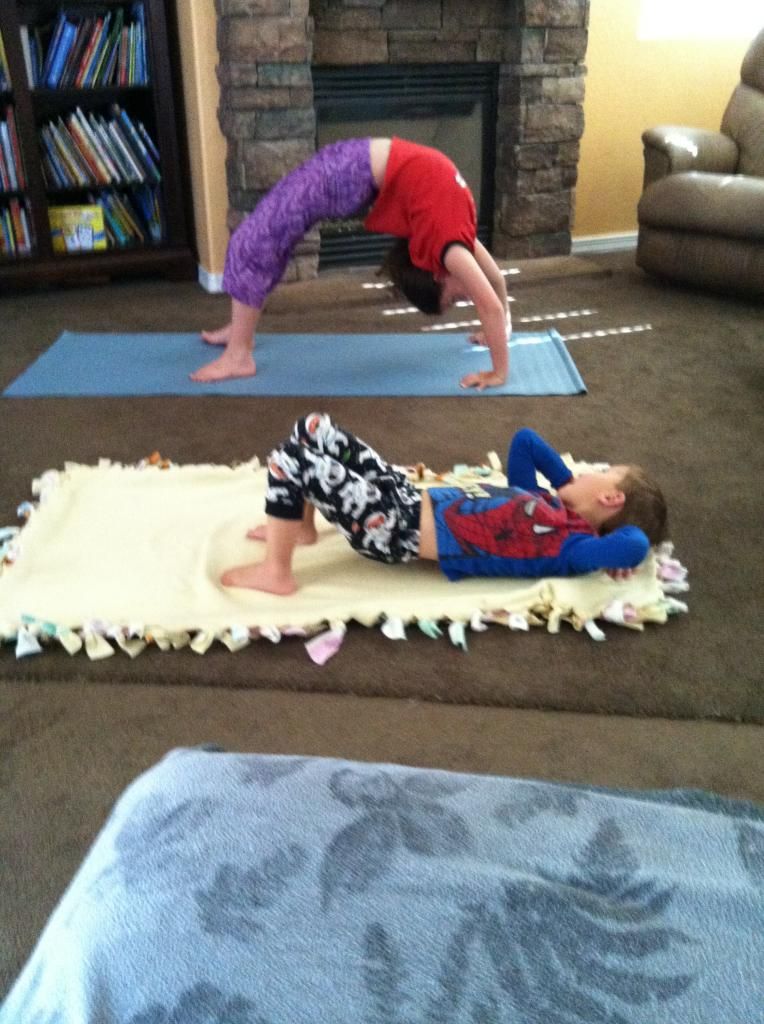 She's assisting. It was a fail, but God love him for trying!
-------------------
My best friend Pam and her sister, Katie, came up with Katie's new baby, Keegan.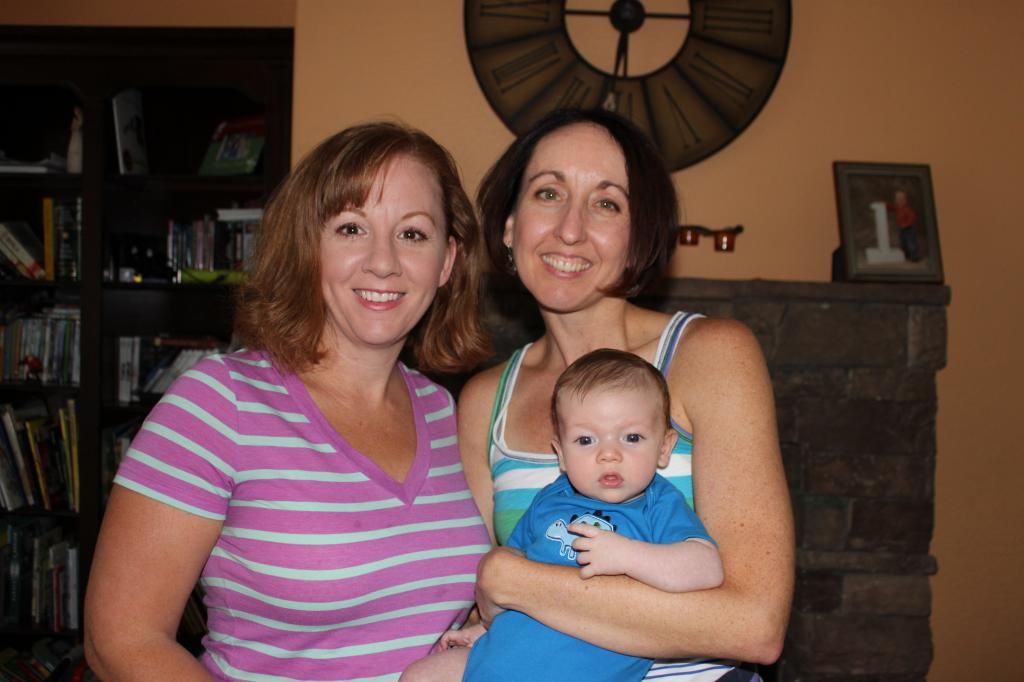 He is quite possibly the cutest baby ever.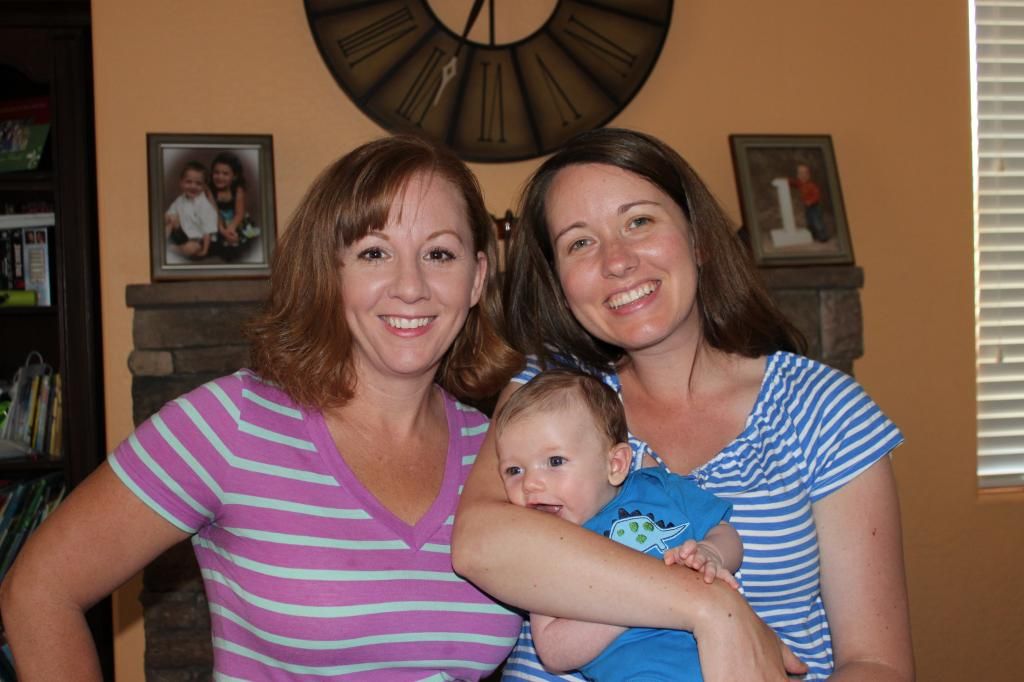 Emily was smitten.
Noah thought he was great.
Ben, well, Ben didn't want to hold him. I think he was too little.
This picture makes me laugh. I think this baby is loved by many!
Noah said he wants to be a Daddy one day. Emily said maybe she'll be a Mommy. Ben said I dunno.
-------------------
We head camping again in 4 days. This time to a cabin. A very rough cabin as in bring your own towel. But, hey, it has a shower and flushing toilet! We are going with a great group of friends from Phoenix. Then, we go camping again the following weekend. This time in a tent, but the campsite has flushing toilets. I feel like these next 2 trips will be luxurious compared to what we are used to!
Then, in less than 3 weeks, we head on our 15 day adventure to Idaho, Banff and Vancouver! The summer is flying by.