David started the day with another canoe ride. Since there is really only room for one passenger, I thought he could take 1 kid a day. Emily was first.
We decided to drive about an hour northwest to Spokane and go cherry picking. We walked through the little store first and found Ben helping himself to blackberries. The boy couldn't stop and was shoveling them in as quick as he could. Um, you can have 1 or 2 to sample Ben, not a pint! So, we bought him the blackberries. He was happy.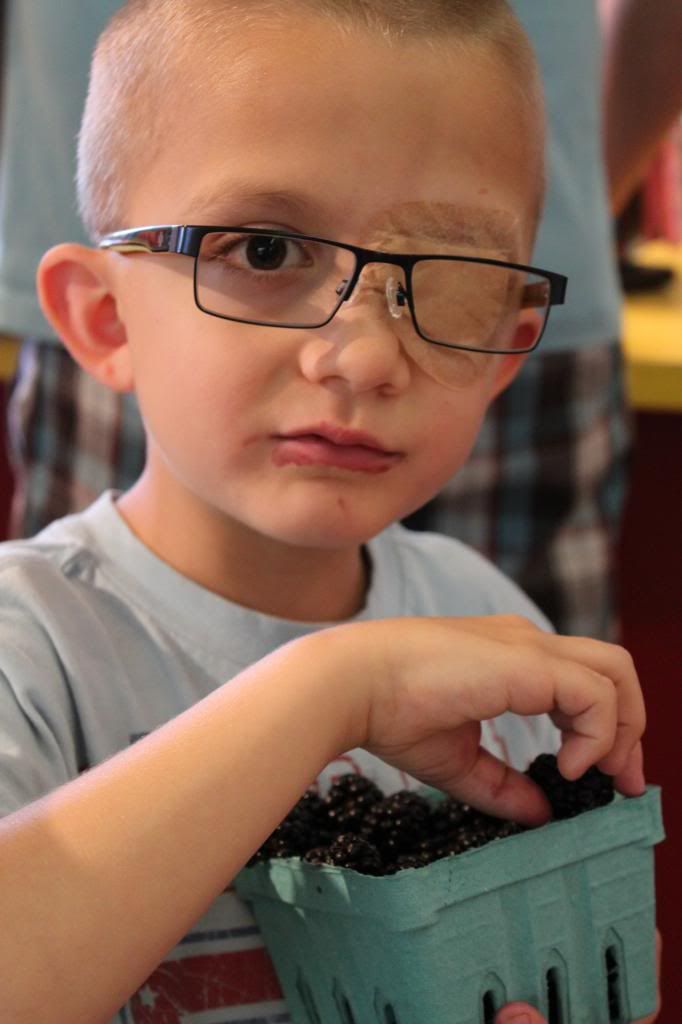 We went picking at Cherry Hill, appropriately named. The kids have never picked fresh fruit before. Neither had I really. Sometimes, we used to pull over at the orange groves at what is now Arrowhead Mall in Phoenix and we'd steal a few oranges. My Nana would also makes us stop if she saw an olive tree. But again, that was illegal. So, this was my first real legal fruit picking experience and the kids too (legal or otherwise)!
They had rainer, bing and pie cherries.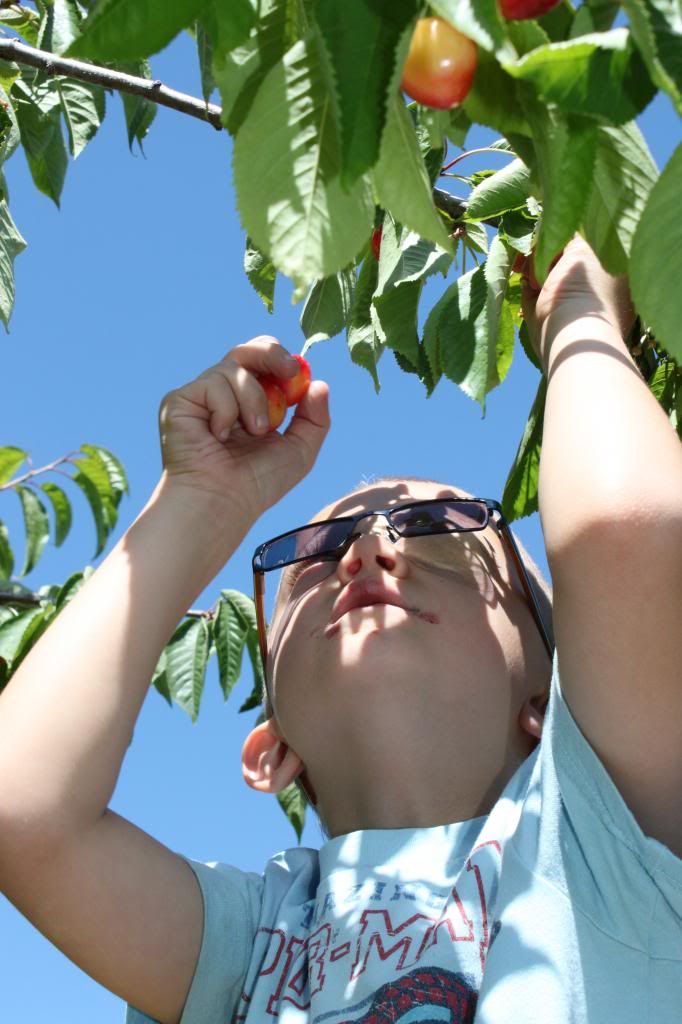 We were all eating them, one for the bucket, one for our mouth. Everyone except Noah would only took the smallest bite and spit it out. He's crazy!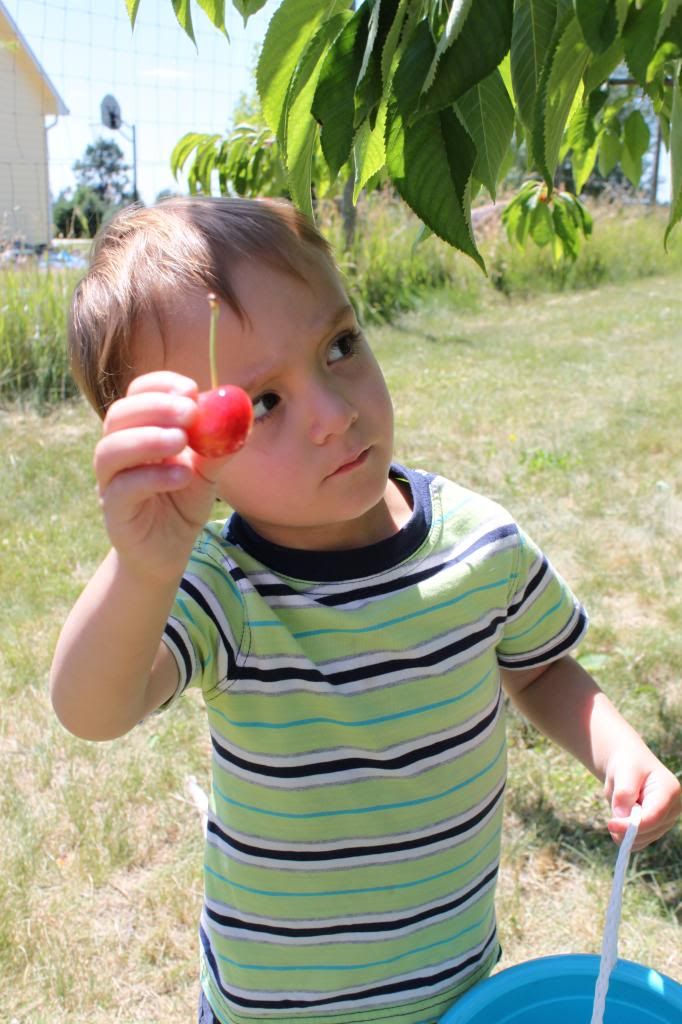 Surprisingly, the Bing were better than the Rainer. We found a tree at the very end that was loaded with Bing cherries.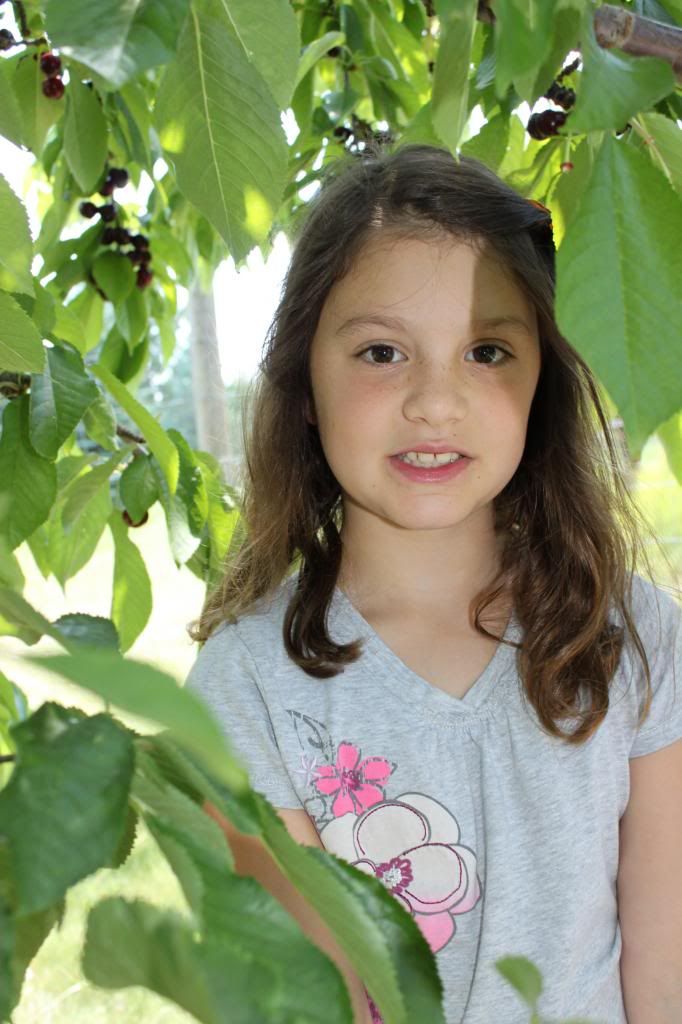 My Dad got up on a ladder and went to town!
Ben went over and picked some little ones. When I saw them in his bucket, I told him we had to through them down as they aren't any good. He said, "can't we just enjoy them?" He's got a point. Fine, we'll pay $1.79/lb for the 10 baby (not ripe) cherries you put in your bucket. Then, David told him to try one. They were so sour he spit it out. And said, "Where did I go wrong?" I think we made our point.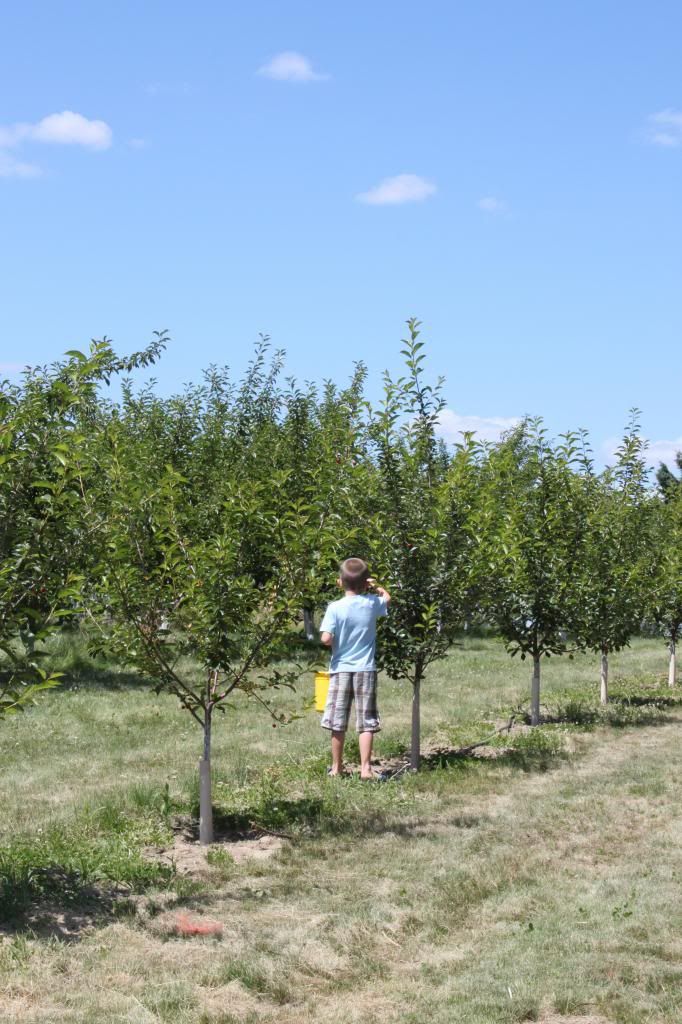 We had quite a haul.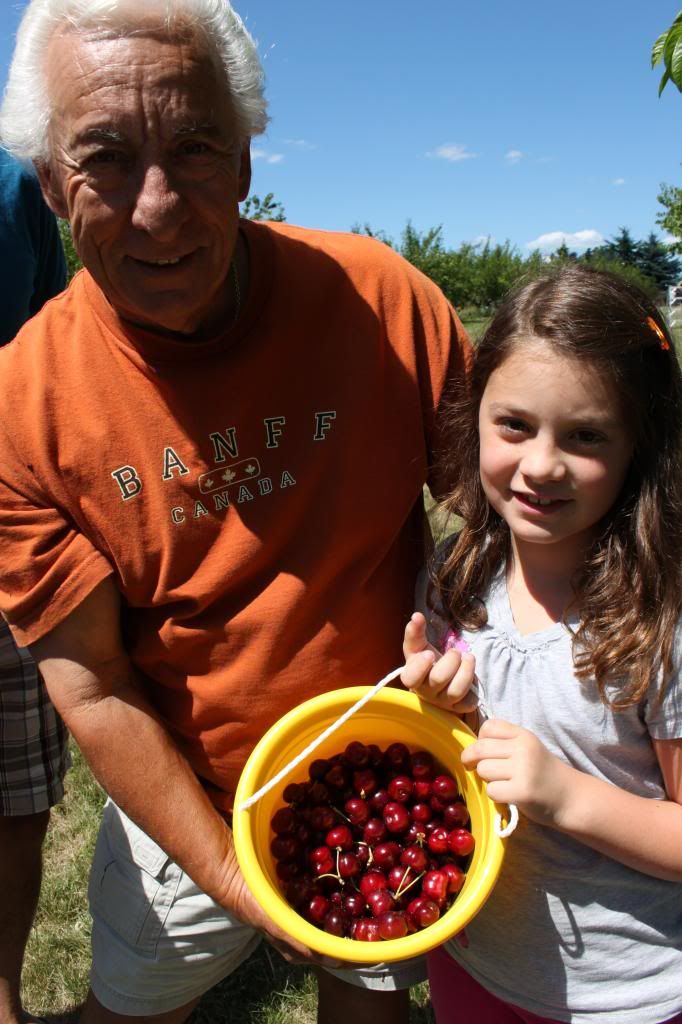 As we were leaving, my Dad spotted some good ones on the highest branch and David had to get them.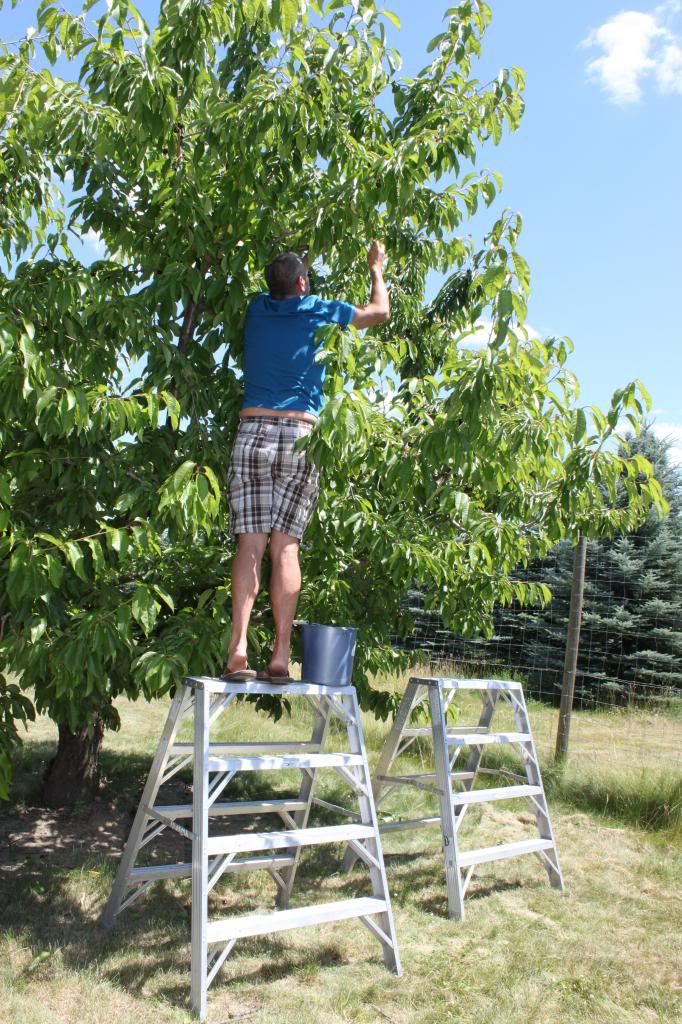 You have 5 buckets and everyone fills it up a little. The next thing you know, we are checking out with 13 pounds of cherries!!!! My Dad and Suzy have some friends to give some to, so that's all good. Plus, I'm sure we'll eat lots!
We left and headed to the movies. The kids wanted to see Despicable Me 2. It was a really cute movie. We left there and headed straight to a Mexican restaurant. Wow, was that good! It hit the spot. We all left stuff.
Now, it's 8:00 and my Dad and David are both passed out on the sofa napping. Emily is dying to go on the jetski, but we are all so full, we can't hardly move let alone get on a jet ski. Tomorrow, we'll have to make it up to her.
When the sun starts to go behind the mountain, I try to get some photos of the kids. I didn't have any close ups of Ben yet, so tonight was his turned. Of course, he was thrilled as most 7 year olds boys would be at the idea of a photo shoot.
This is serious Ben.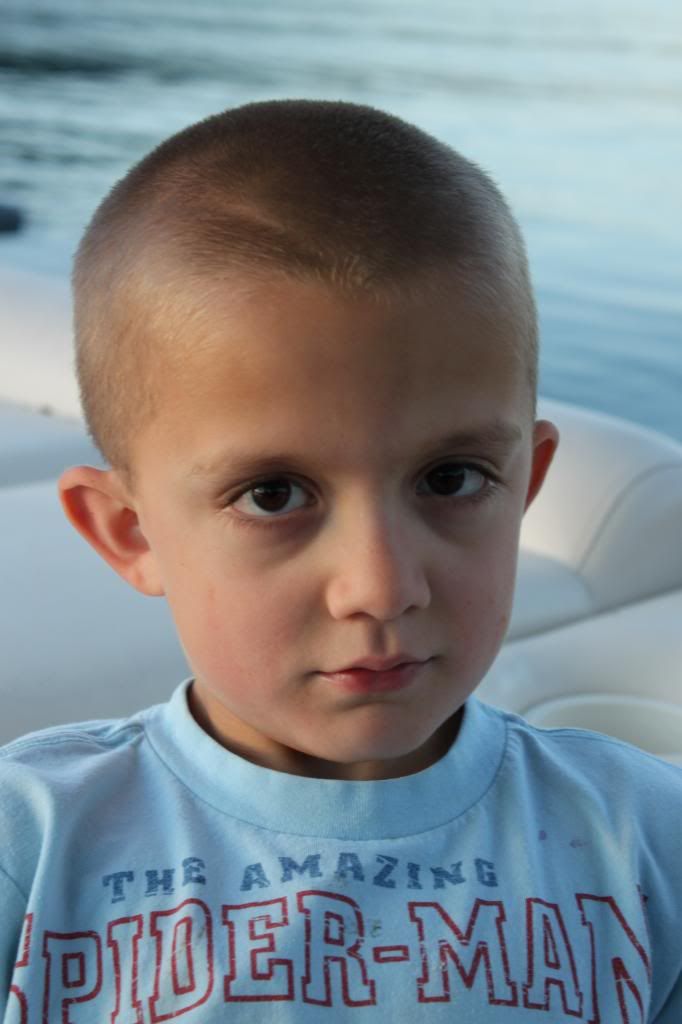 Ben looking handsome.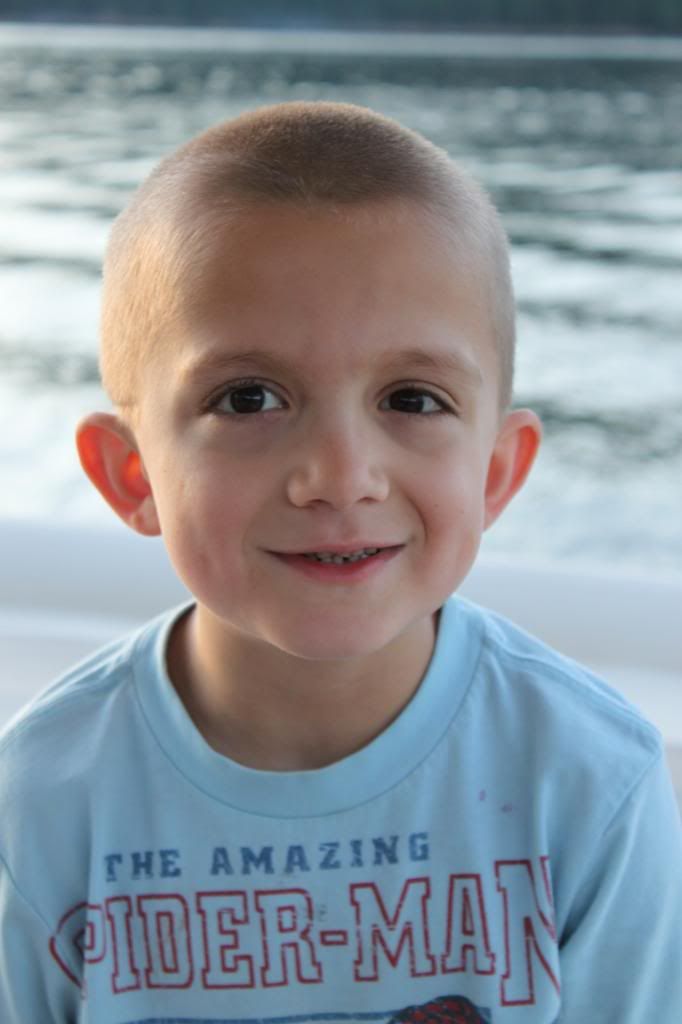 Ben with a big smile.
But, this ones my favorite.... au natural.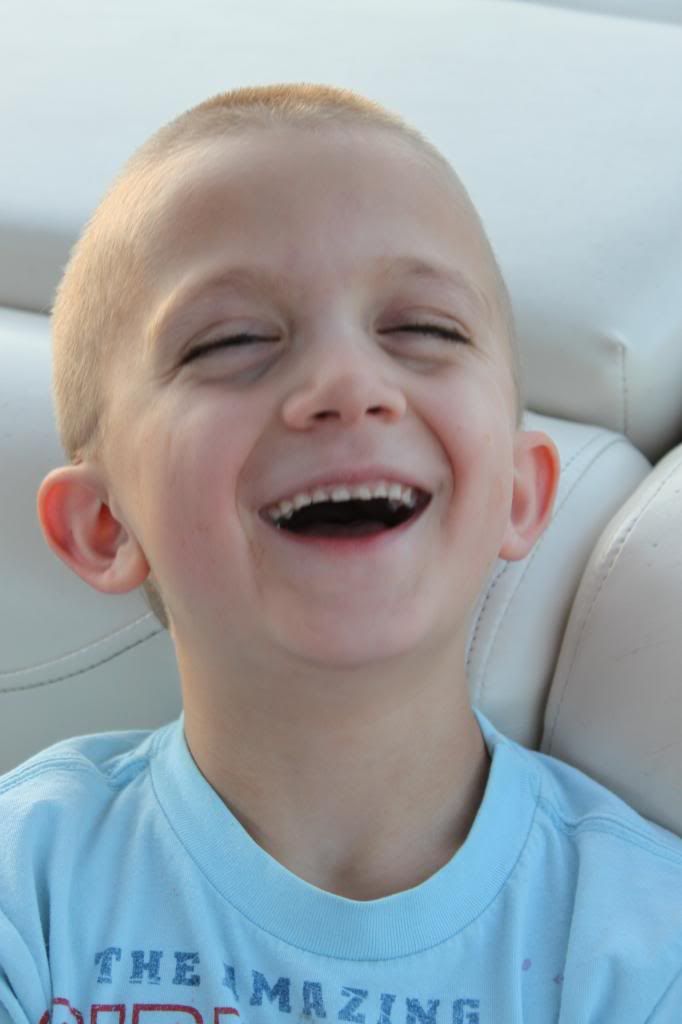 Tomorrow, we are going to make sure Emily gets her fill of watercraft. But, we'll do it on an empty stomach.