Ben turned 7 yesterday. Seven. I can hardly believe it. He truly is one of the greatest kids ever. He is smart and so thoughtful. He thinks of others before himself. He'll ask me how my day was just because he wants to know. David always asks him if he had a good day or a great day. He always says great. It's great because he makes it great. He is a joy to be around and it's my privileged to be his Mom. I don't know how I got so lucky to have him as a son. I must have done something right in this life.
All I was hoping is that we'd make it through these few days without getting sick. It seems we've hardly had any illness these year and everyone around is dropping like flies. I was dreading a replay of Ben's birthday last year where he said later, "I can't believe I puked in the middle of my birthday party." We made it...whew...
Ben's birthday fell on a Friday. So, we got him up and ready for school. I made him his favorite breakfast of Honey Nut Cheerios served on a TV tray while he watched Ben 10. Speaking of Ben 10, earlier in the week, Noah got a package from his younger cousin who sends him hand me downs. He got Ben 10 pajamas in a size 3T. Ben loved them, so he tried them on and was slightly too big for them. Not by much though!
Okay, back to his birthday...
I went to his school to eat lunch with him. I made his favorite salami sandwich with BBQ chips, fruit and a Reese's cup. He was happy.
After Ben tried on Noah's Ben 10 pajamas, we ordered him a pair online. They came just in time for his birthday. He put them on after school and waited for his Dad to come home so we could open presents. He was happy to see his Dad.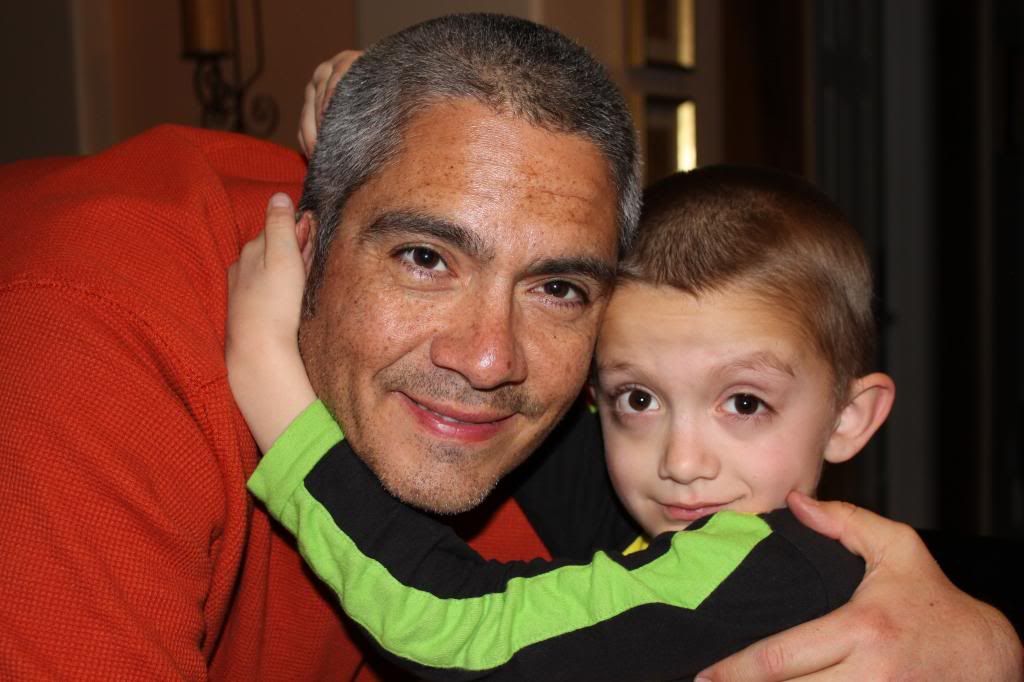 We got right to presents...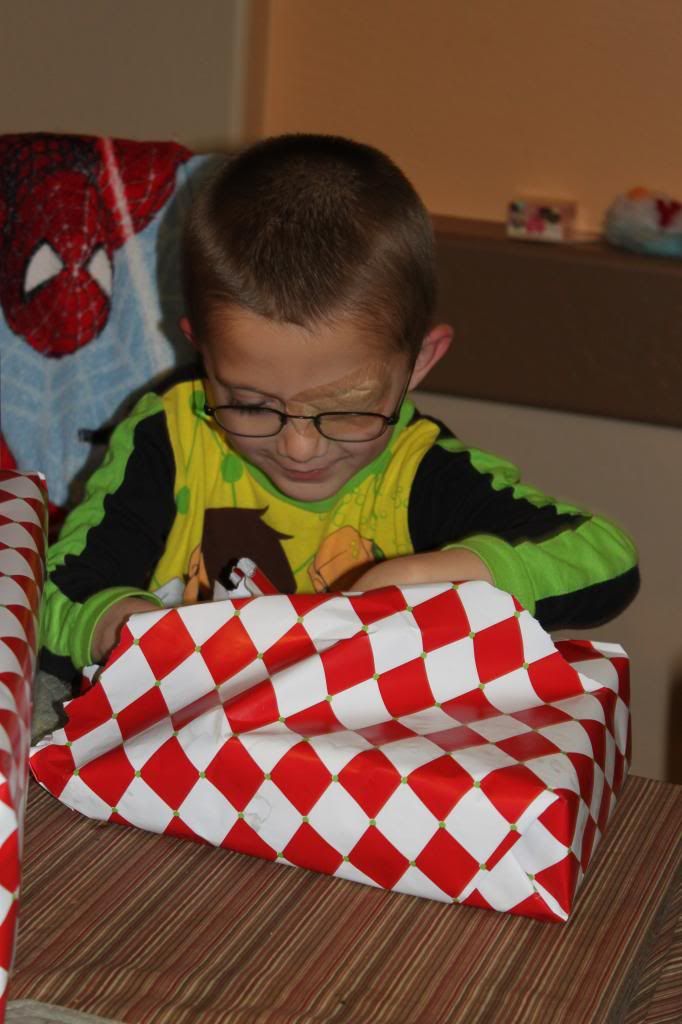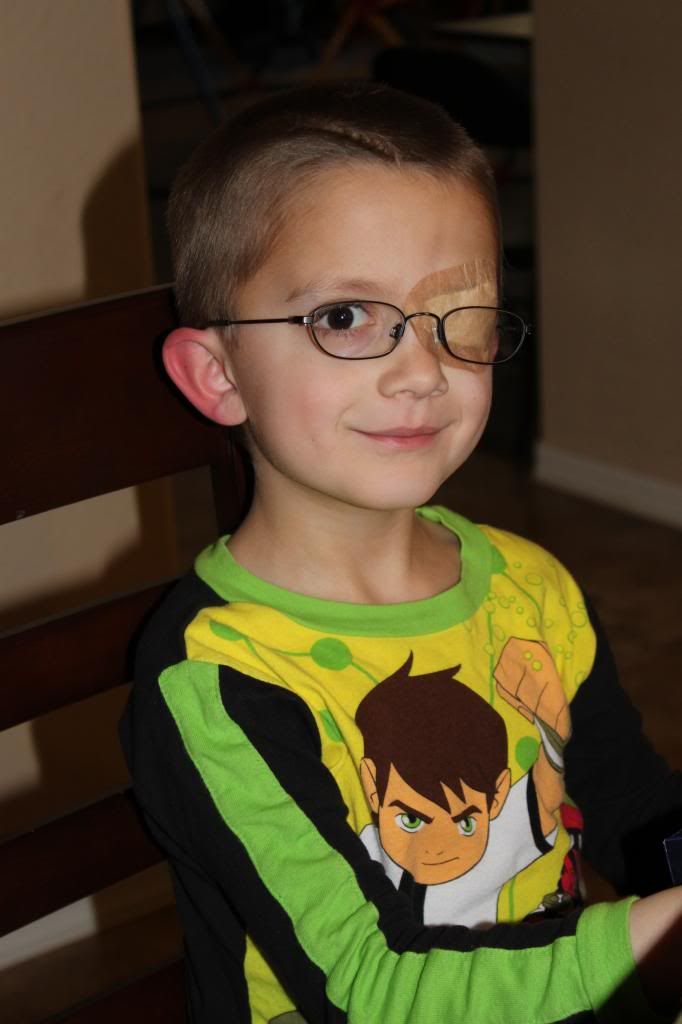 We had dinner. Ben requested his favorite dinner of spaghetti, meatballs and bread. Then, we got to dessert. He originally asked for me to make pumpkin cookies, but I knew I was spreading myself thin. I asked if he'd like pumpkin cookies or lemon bites from Costco. He said lemon bites would be good too. So, we went that route.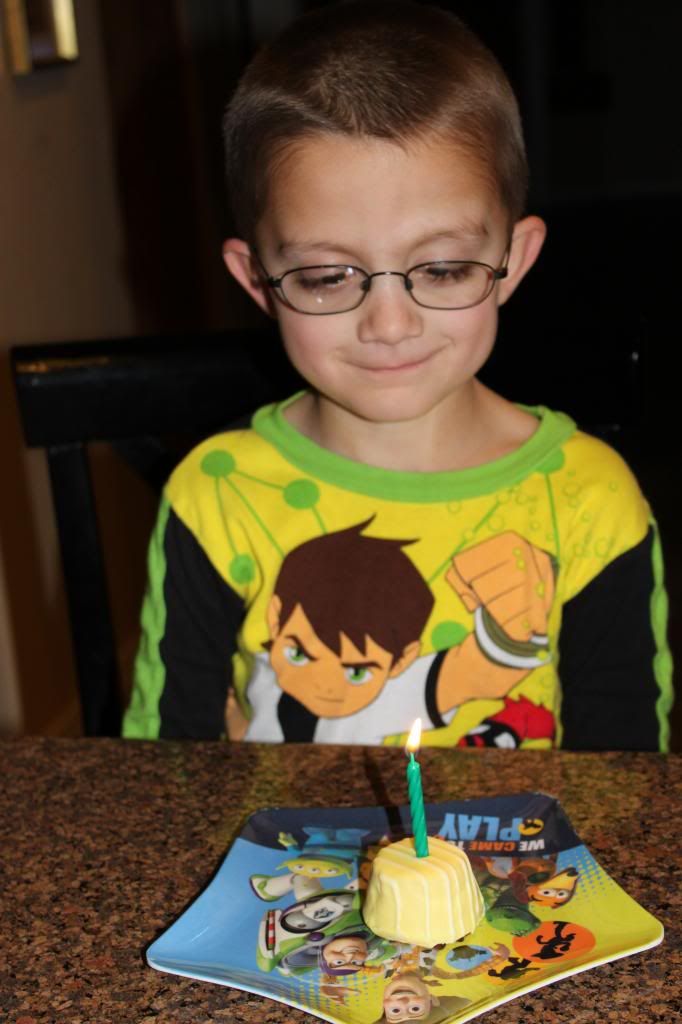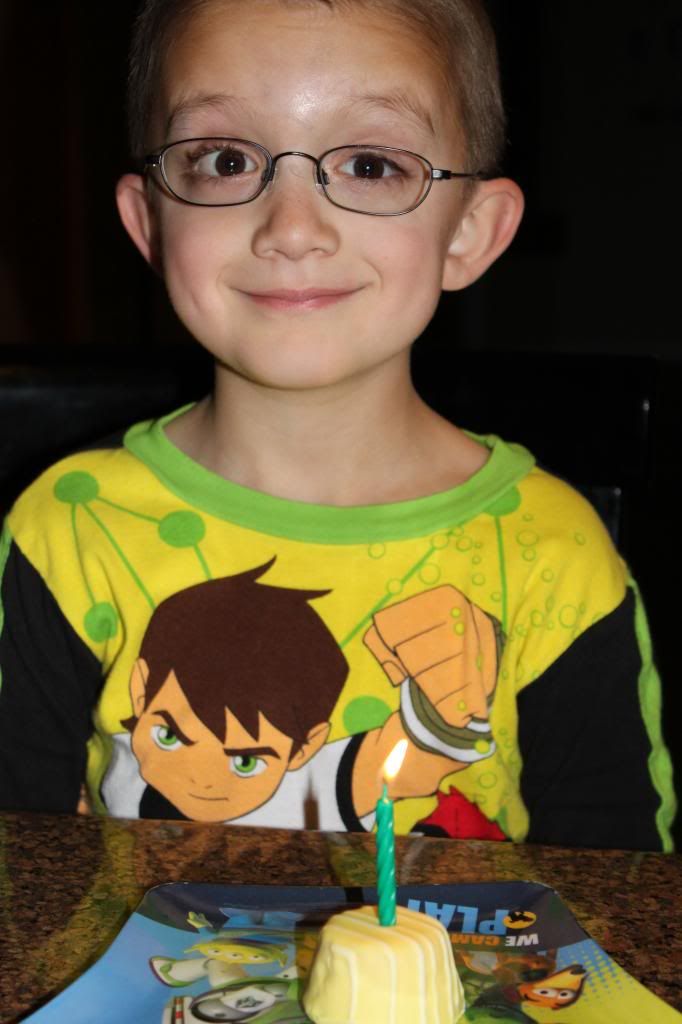 He was thinking about his wish.
Thinking really hard...
I don't know what he wished for, but I hope he gets everything he ever wishes for.
Today we had his birthday party. He wanted to have 4 friends over to play. So, that's what we did. Miles, Bubba, Andrew and Caleb came over and I think they all had fun.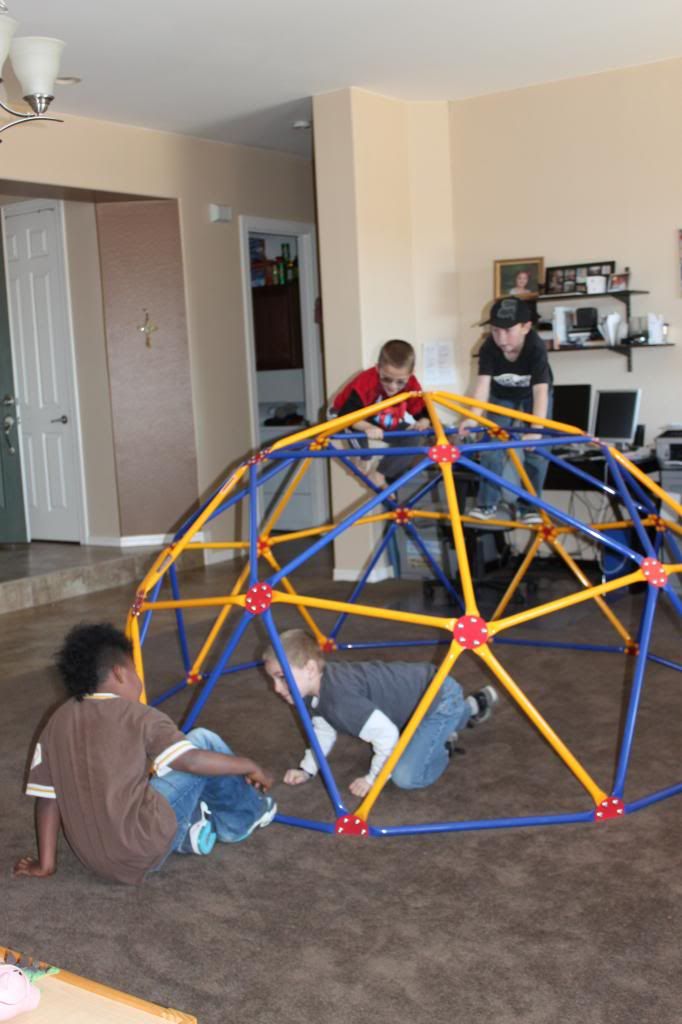 They were all looking at Miles karate gear. The boys all played so well and were running around screaming and having a great time.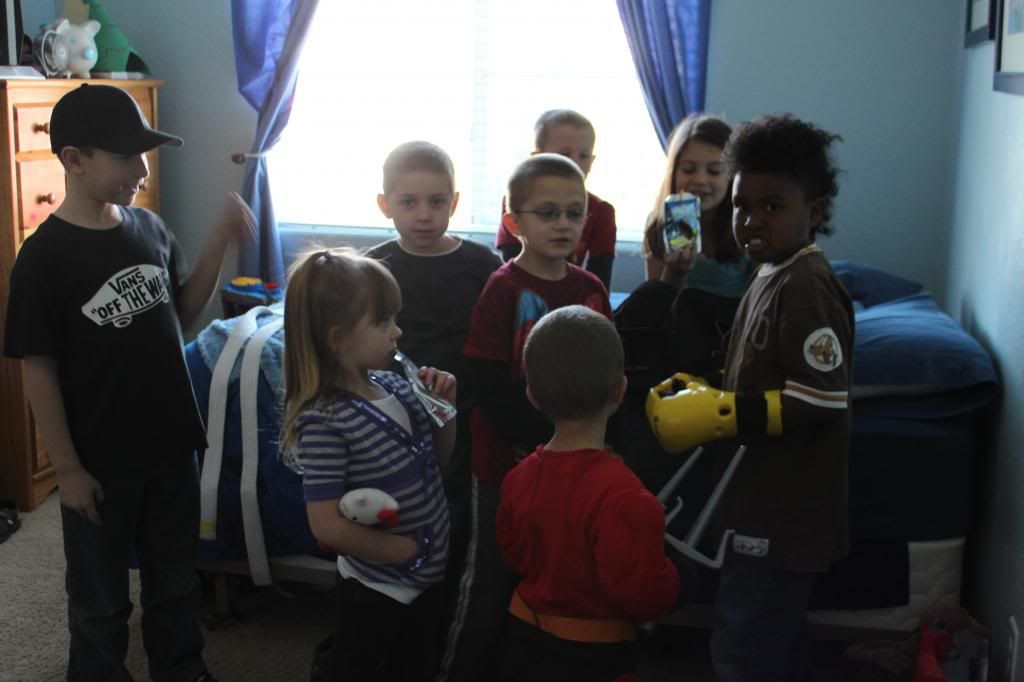 I think David was just as excited about the gifts as Ben was.
Ben wanted Spiderman cups and napkins, but an Angry Birds cake. So, that's what he got.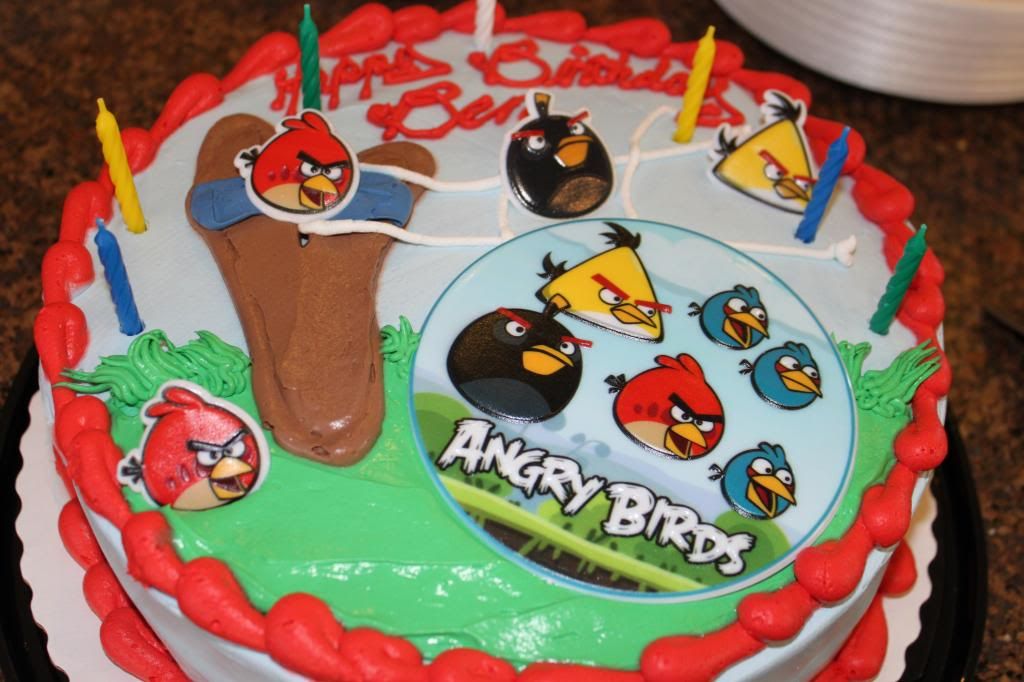 Then came time for another wish.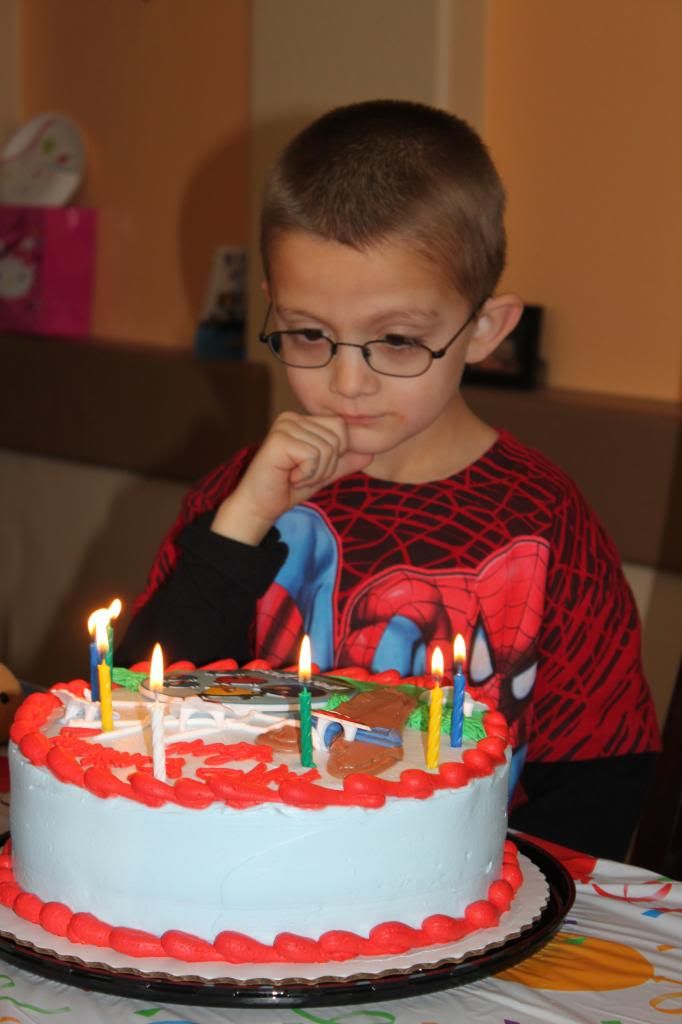 He blew out the candles one by one, so maybe he made 7 wishes.
The white one was stubborn and didn't go out the first time.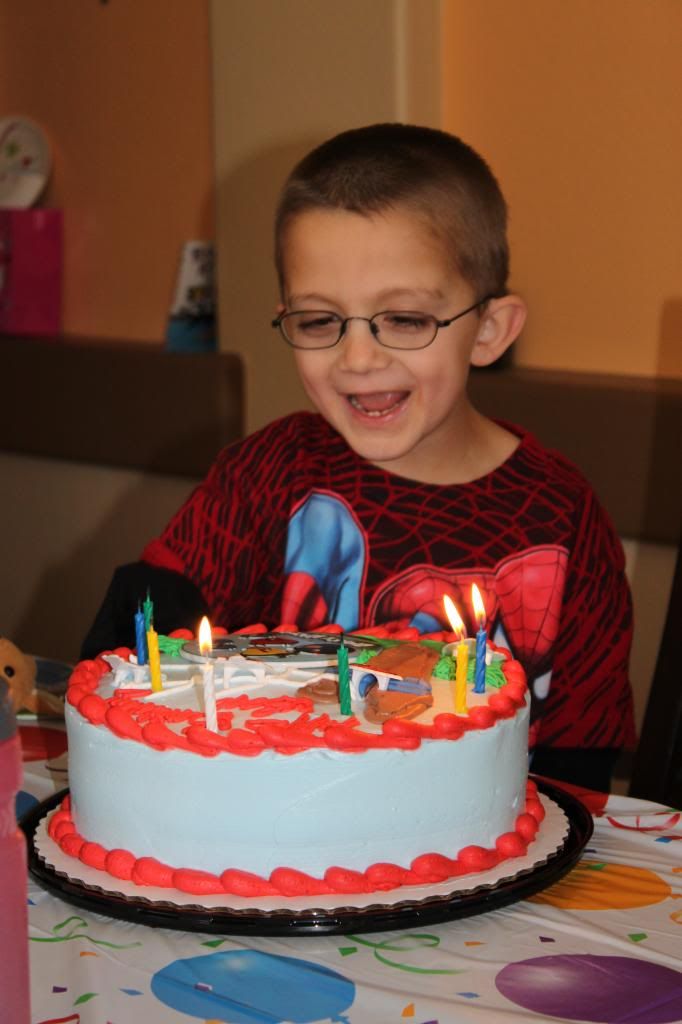 And that's exactly how I like to see Ben, with a big smile on his face. I think he had a great birthday celebration and he didn't puke this year!
David was talking to him yesterday and told Ben that David wishes that he could be more like Ben. It's so true. We love him so much and are better because of him. Happy Birthday to the best 7 year old out there.