Another Valentines has come and gone. This one was different than others in the past. I'm exhausted. Literally, wiped out.
It started last night with some flowers. David and I have learned over the years a few things about flowers. Ben (not Dad) gives the biggest bouquet to me. And David has to get Emily her own bunch of flowers. It's just how things need to roll or the kids get jealous. Boy, did Emily's face light up when David gave her these flowers. It was classic.
On to this morning, David had to leave early for work, like 2 hours early. That meant I had to take them to school. David is really spoiling me with that. He takes them almost every day. I HAD to wake up before 7:00. So, I made the kids some monkey bread for breakfast.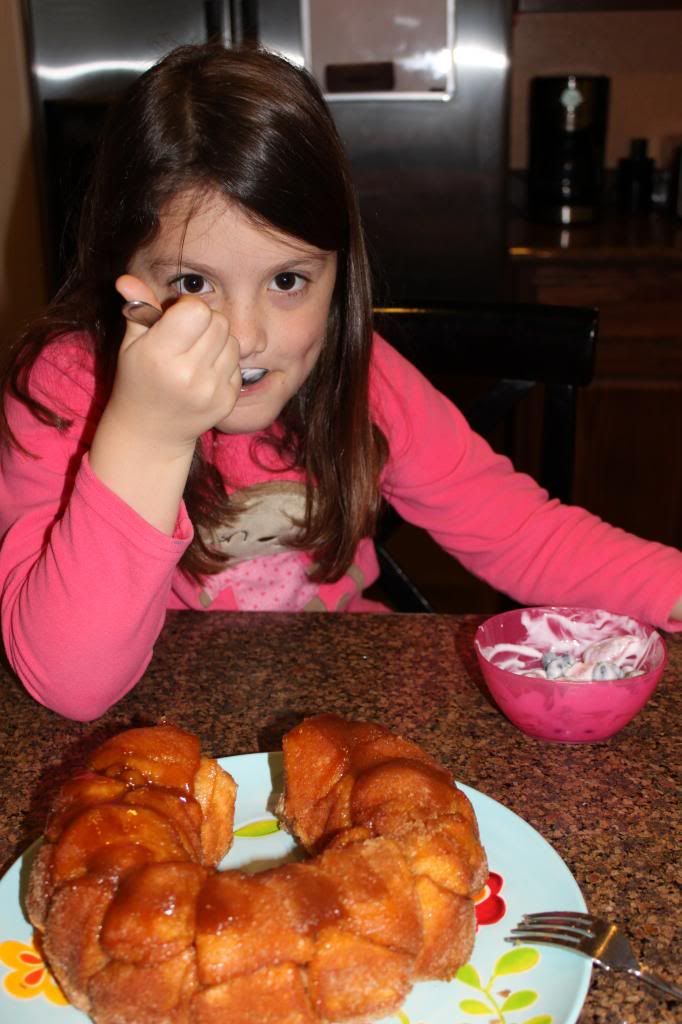 Well, they were allowed to have a few pieces and a bowl of fruit with yogurt. I didn't think the monkey bread alone was a good breakfast.
I got the kids off to school and came home for a few minutes. Then, Noah and I were off to a friend's house who was having the mom's with little ones at home over. I'm not sure why Noah is scowling at me like that, but whatever.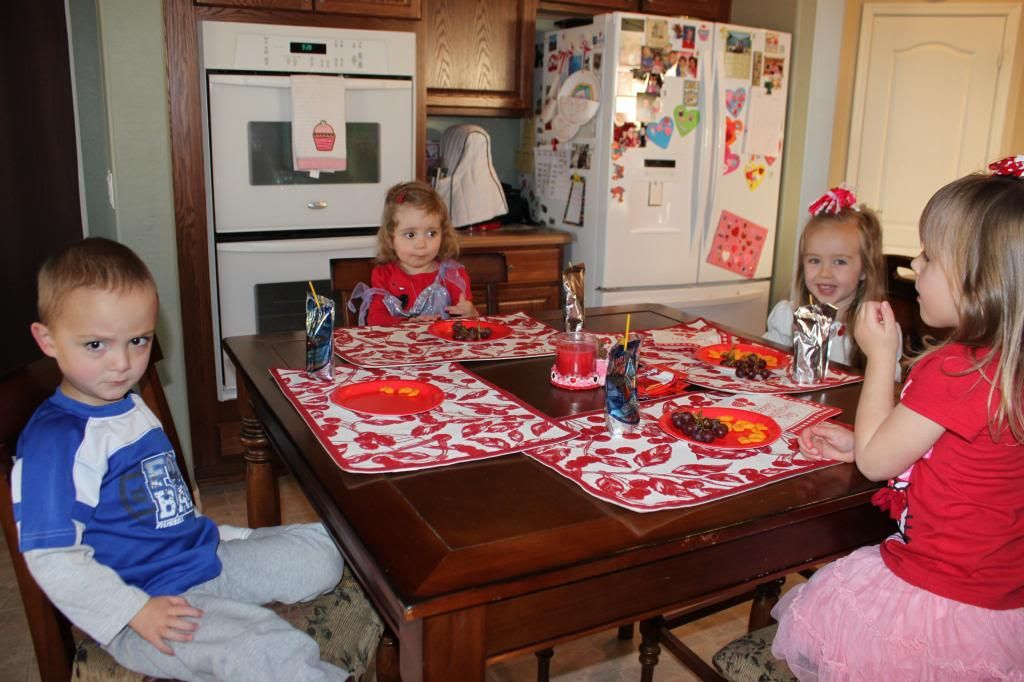 We made some crafts.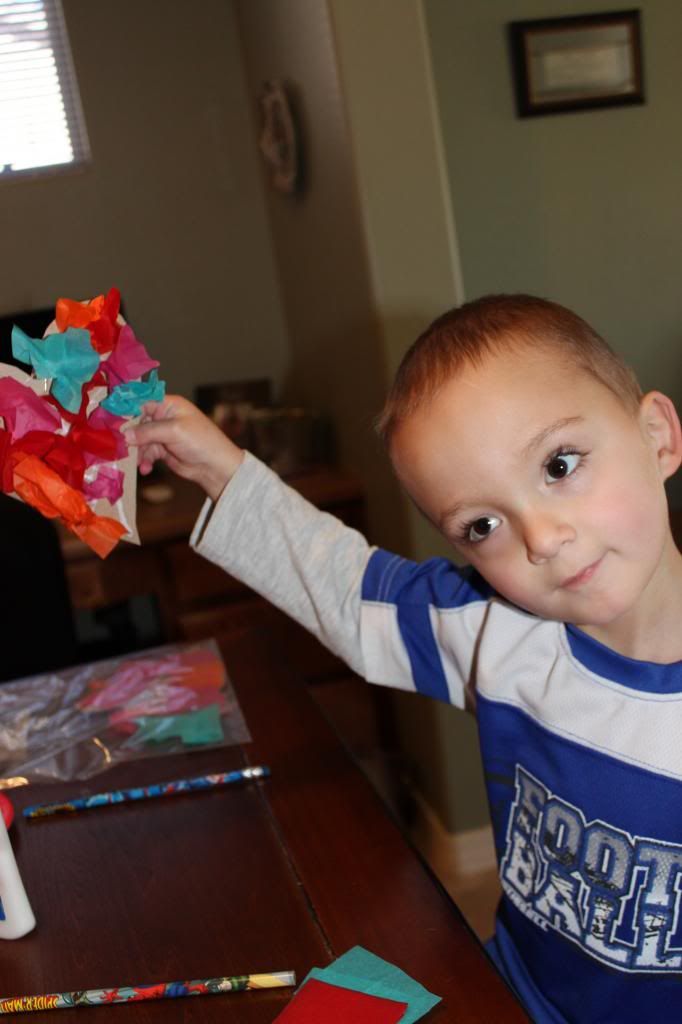 And we posed for a group picture. We joke that it's Noah and his harem or sister wives since he's the only boy.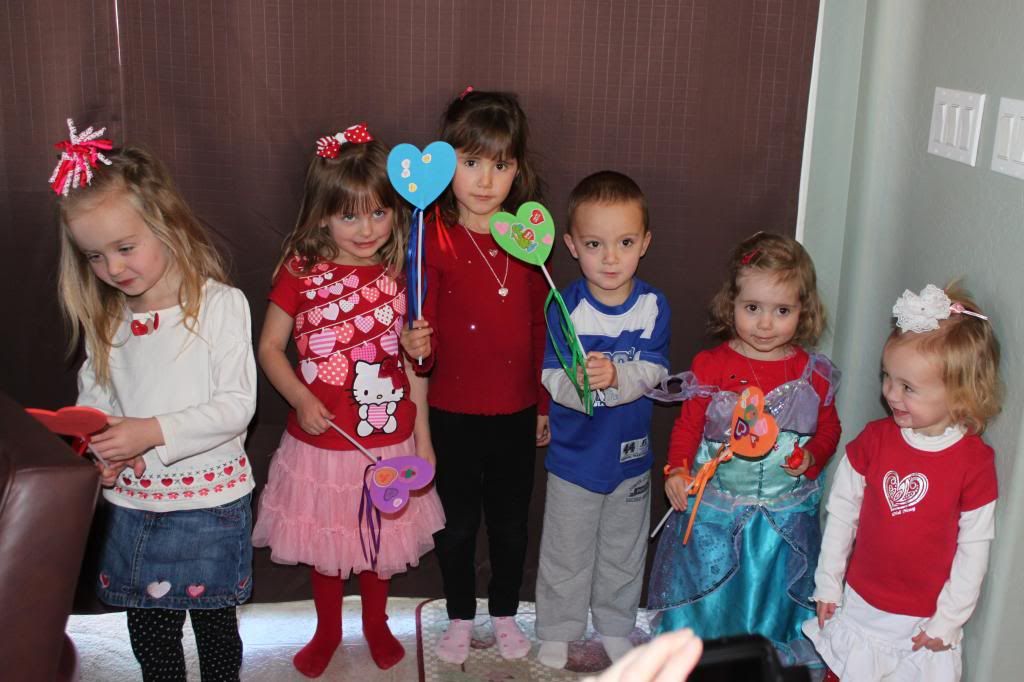 We came home and I had less than an hour to regroup. Then, I was off to the school for the other kid's parties. Luckily Noah stayed with my Mom. Ben's class exchanged Valentines.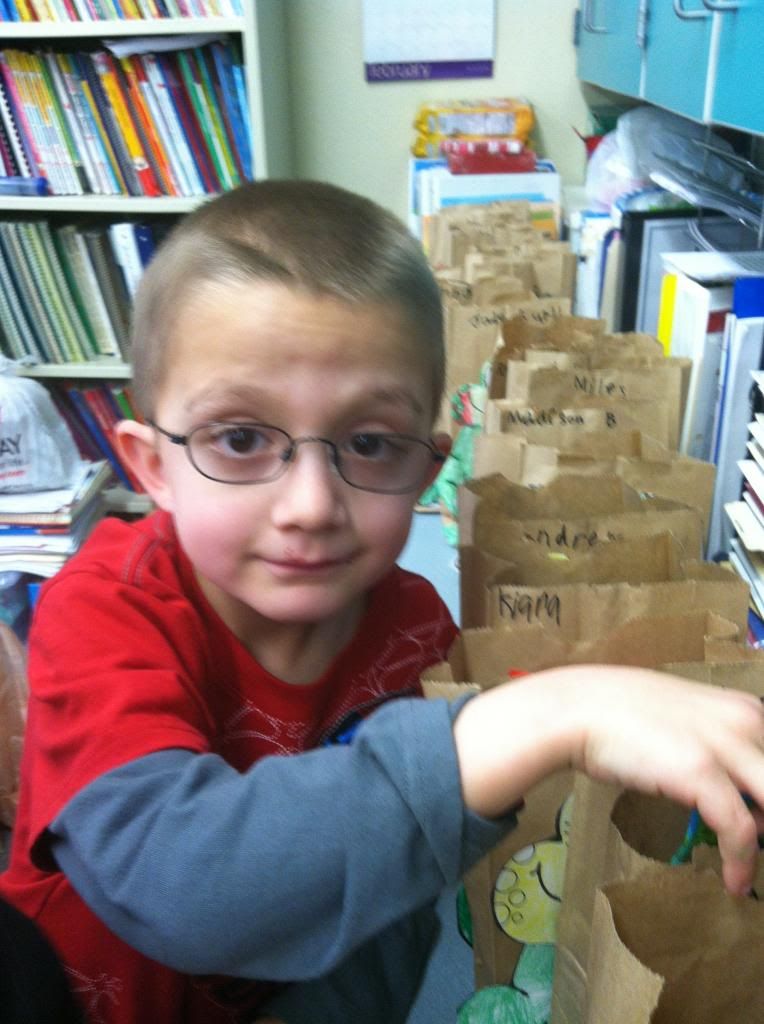 You'd think this would be easy, but they were told not to fill out the "to" part and more than half of them did. My station was the Valentine station. I had to help the kids get the cards in the bags. Oh brother it was chaos. Kids couldn't read the names on the bag. They couldn't read their own handwriting. Then a little girl I've never seen before ask me something in Spanish. Um, no habla Espanol. Luckily another little girl was there and translated for her! Turns out, the teacher got an only Spanish speaking student a few days ago. Um, how does that work out?
At this point, I was longing to be at a nice easy station, like Twister.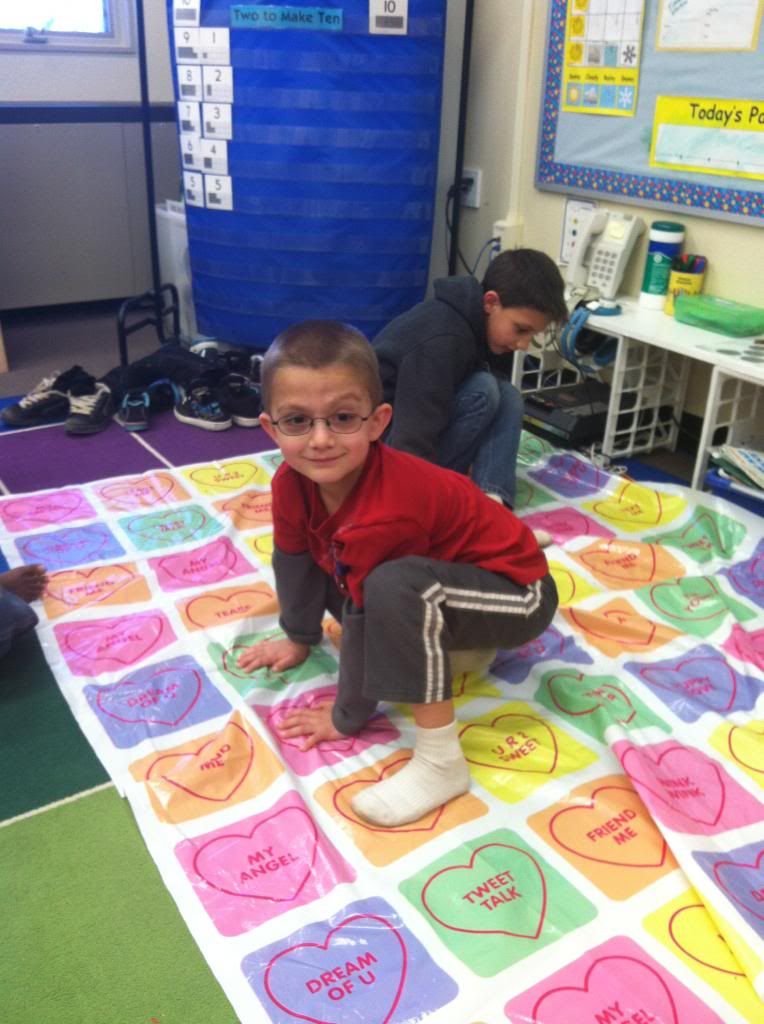 Oh man, those kids were amped up. I snapped this one last photo as I practically ran out of the class.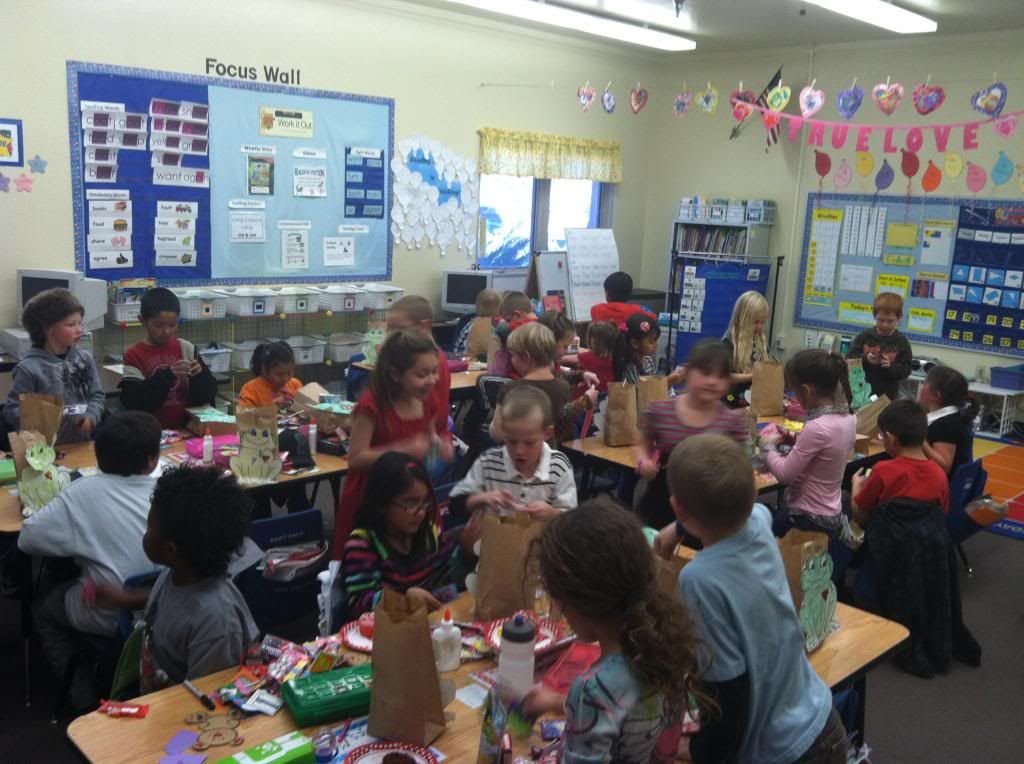 I seriously don't know how teachers do it. My boss told me party and field trip days are the worst, so that makes me feel slightly better, but it's still a job that I know I could never ever ever do. Like ever. (I said that in my best Taylor Swift voice.)
On to Emily's class. I somehow lucked out and got the cookie and juice box station. You would think it would be easy, but that meant talking to the kids. Let's see, I met Malibu Barbie who got a necklace from a boy for Valentine's Day which she showed me. She also refused to eat any cookies. Really? You are 8! Eat the freakin' cookie! Then, there was the pleasantly plump girl who wished she got a necklace for Valentine's and asked if she could eat Malibu Barbies cookies since she wasn't having any. There was the kid who tapped my shoulder at least 20 times to tell me when every member of his family's birthday is. And the other kid who showed me how he can eat with his mouth open. About this time I was wishing I took the craft station.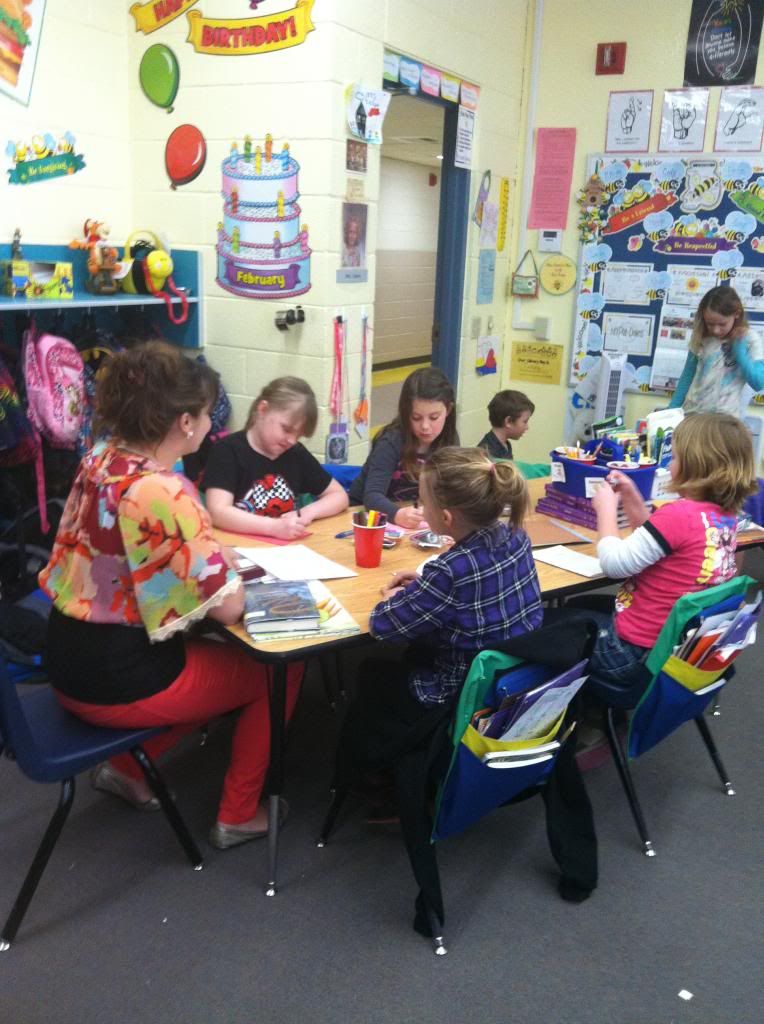 They didn't even need a helper at the Valentine station in 3rd grade.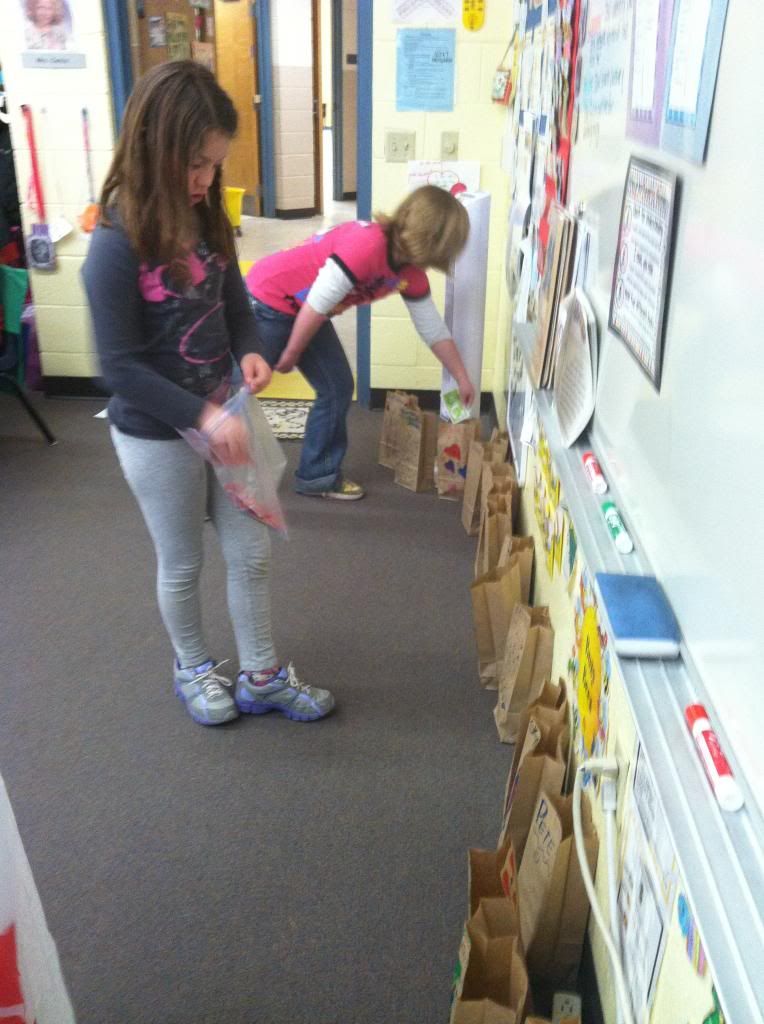 It was fun, but I kissed Emily and told her I'd see her in 10 minutes at the pick up area. I needed to regroup.
As it turns out, the damage would not be easily repaired. I needed way more than 10 minutes. We got home and I sat on the sofa for the next hour trying to figure out just what those kids did to me. Luckily, dinner was in the crock pot and one of the best part of my day walked through the door. My husband. Thank God.
We had dinner and I decided I was going to take a bath. I think I've taken 2 in the 6 years we've lived her. I got in the scalding hot water, had Dave Matthews on my ipod and 4 minutes and 12 seconds later, this was staring at me.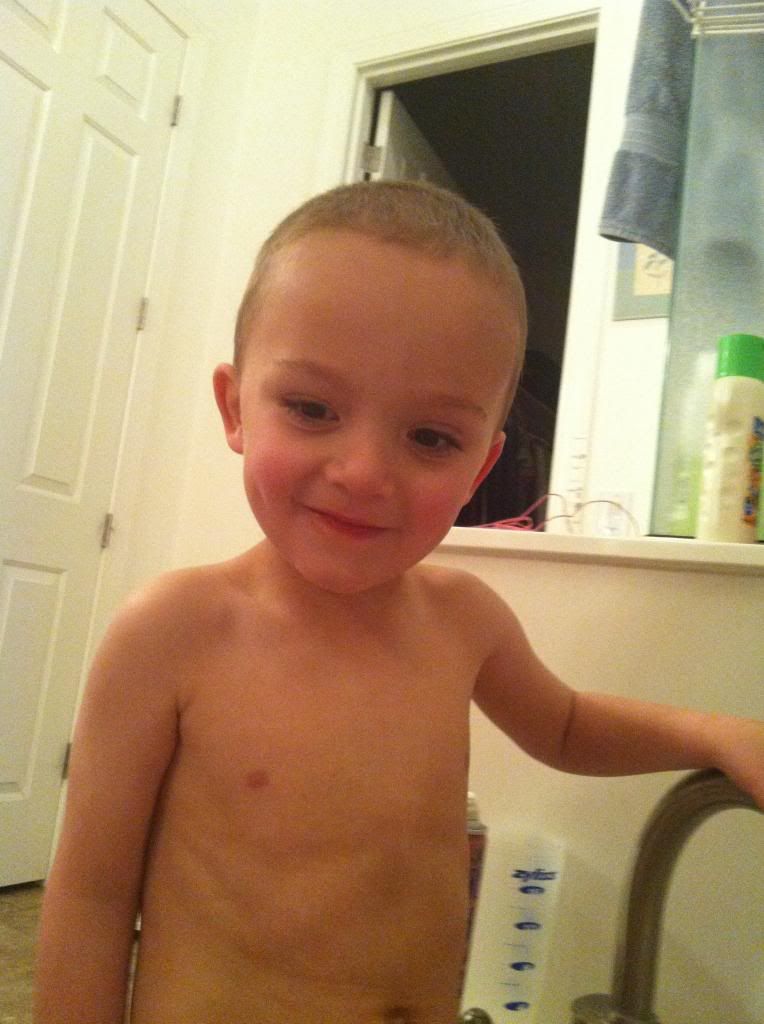 And there went my peace and quiet. Emily came in and started doing her version of Project Runway with my scarves and boots and some sort of dance. Ugh, really? Really?
At one point I asked Noah what happened to my nice quiet bath. He replied, "well, you gots 3 kids". Yep, I do. So, I'll enjoy them (even in my bubble bath) and I'll get to take a bath alone in 15 years.
Now, it's bed time and I can't wait. I can go lay down with my husband and we will read each others cards which we haven't had a chance to do all day. Oh, we'll lay down with Noah between us because that's how we roll right now.
And I wouldn't want it any other way...