On recommendation from a friend, David and I started watching the TV series 24 back in September. It was on 10 years ago, but David and I were too busy making babies, having babies and being sleep deprived to pay much attention to TV. It was on for 8 seasons. 24 episodes per season. 192 episodes total. We watched them all back to back and finished the series last night.
Man was it good. Jack Bauer is a total bad ass, and we both enjoyed every episode. There is supposed to be a movie out sometime. It obviously can't come soon enough. This occupied much of our spare time on weekends and at night. We both couldn't wait to watch just one more episode. We are already going through withdrawals when looking at our DVR and we can pick from American Idol or Biggest Loser. Really, if you have never seen 24, start with season 1 and enjoy each and every episode. We got some seasons from a friend, others we checked out from the library.
I knew we had watched too much of a crime fighting show when the other night I was telling David something that I heard that wasn't really true. He said, "well, your intel must have been bad." Yeah, we were slightly obsessed for 4 months.
In other news, we saw a coyote in our neighborhood this morning. Damn coyotes. I know they ate our cat Max 3 years ago. This guy was about 8 houses down from us and crossed right in front of my car. He was looking for breakfast in the form of a cat I'm sure.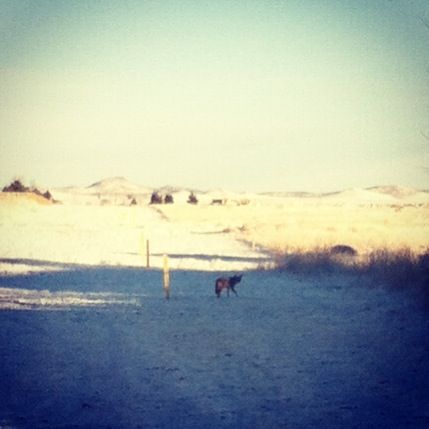 Noah is 100% potty trained. I say that today and tonight he will wet the bed and tomorrow he'll poop in his underwear. He's done so well and hasn't had a single accident in about a month. Bribing him with toys from the dollar store was the key to his success. And after giving him toys for 2 months when he did his business, he's finally stopped asking for them. I actually recycled the toys and would put dinosaurs and army men back in his poop bucket. I guess he finally caught on and the toys aren't a big deal anymore.
Ben has always enjoyed drawing and will often spend hours on something. He came home from school today and got right to work on this comic strip. I was looking at it tonight when I noticed the last guy was saying "shit!"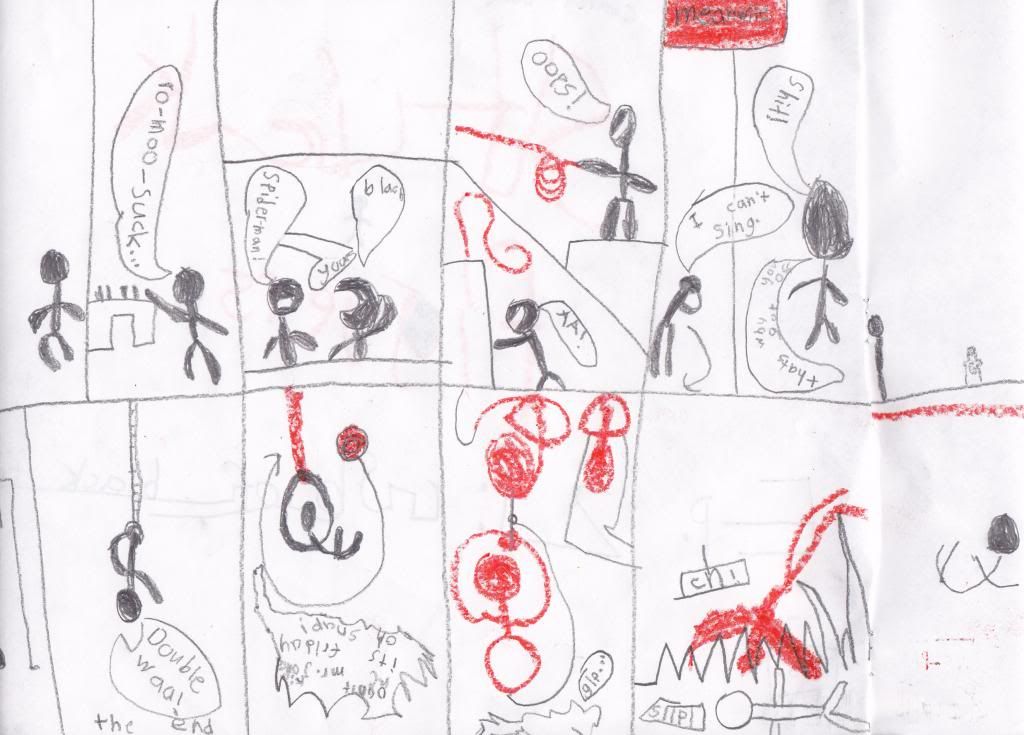 It's Spiderman auditioning for American Idol of some sort. And while I wasn't thrilled he's using expletives in his stories, I'm happy he spelled it correctly.
The second page showed a guy getting hurt on sharp rocks.
The last clip says "State Farm, it's that important".
Seriously, where does he get this stuff from?