Today was Disneyland. We were all so excited that we were up a good hour before I planned. We went to breakfast early with our friends and walked to the shuttle. We are about a mile from Disney, but only a 5 minute walk right to their shuttle bus in one of their lots. So, we walk in and take the bus over. Much easier. Here are all the kids. Everyone is bright eyed and bushy tailed!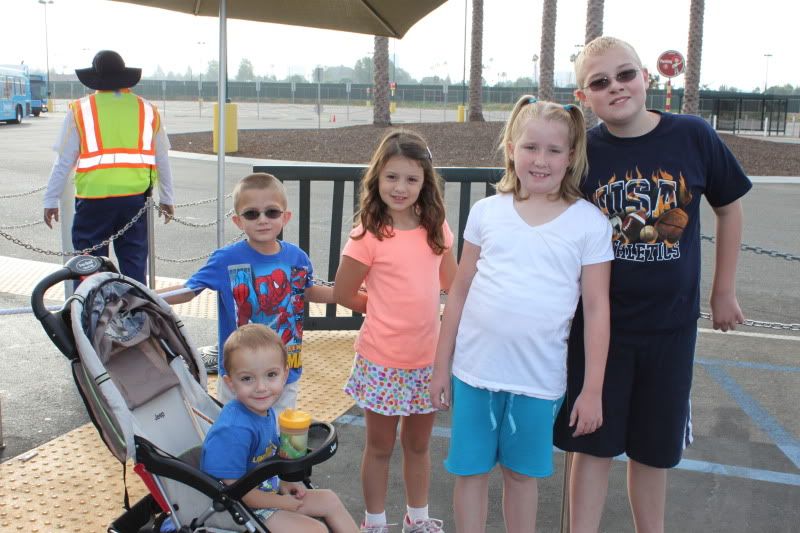 Dakri took this photo of us on the bus. I thought this would be the only picture I was in all day and I wanted to get a picture while my hair was still great. Humidity + Splash Mountain = Bad Hair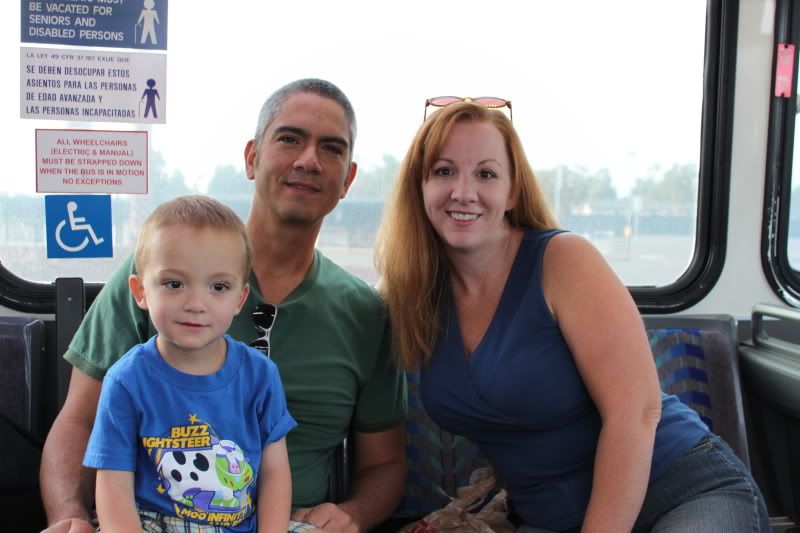 We actually got to Disneyland early. They let us in, but corral everyone in an area. Ben and Josh were scouting out our day on the map.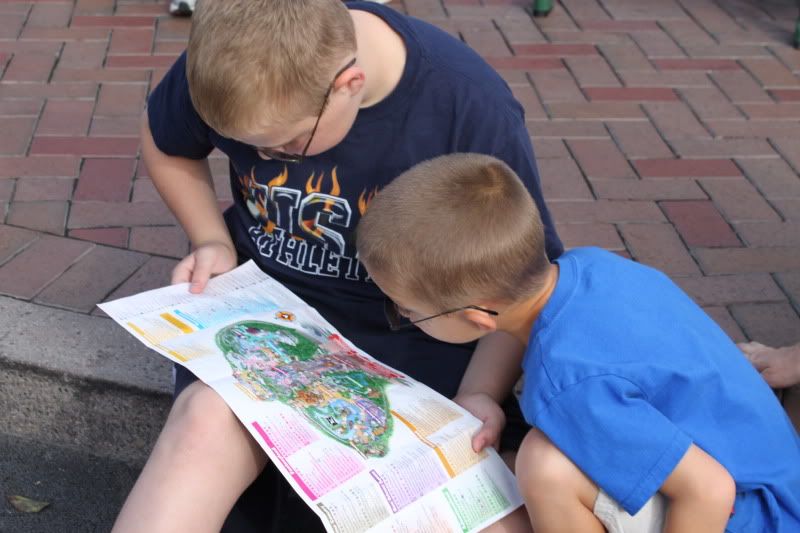 We headed right to the Matterhorn. And this was the last time we saw our friends for 11 hours. We have to do baby swap. Since Noah can't go on most rides, I ride it with the kids while David takes care of Noah. Then, we swap the baby or in the case, 3 year old. Well, 2 year old because we are lying or he isn't free, and I'm not paying $158 for Noah to ride Winnie The Pooh. In any case, we did our own thing and headed to Buzz Lightyear ride next.
Noah was just in awe. We turned the corner where he saw a huge Buzz and he had no words, and this kids always has words.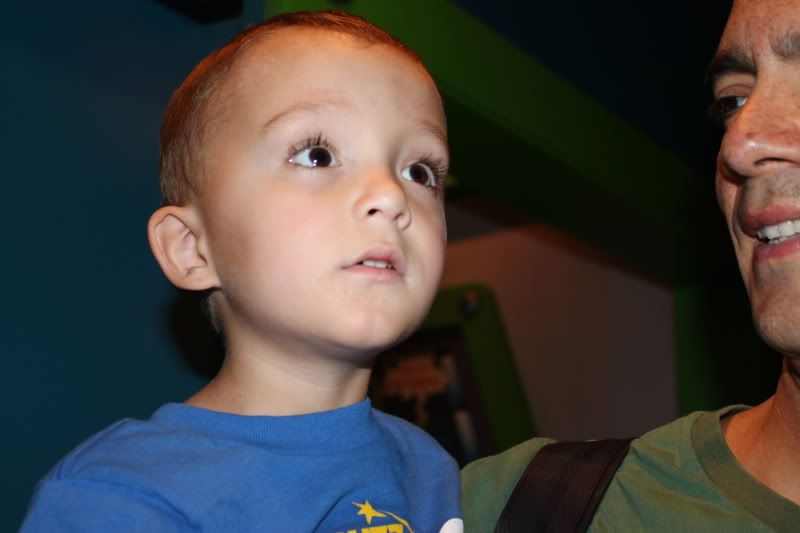 This was the end. We defeated Zurge. Yes!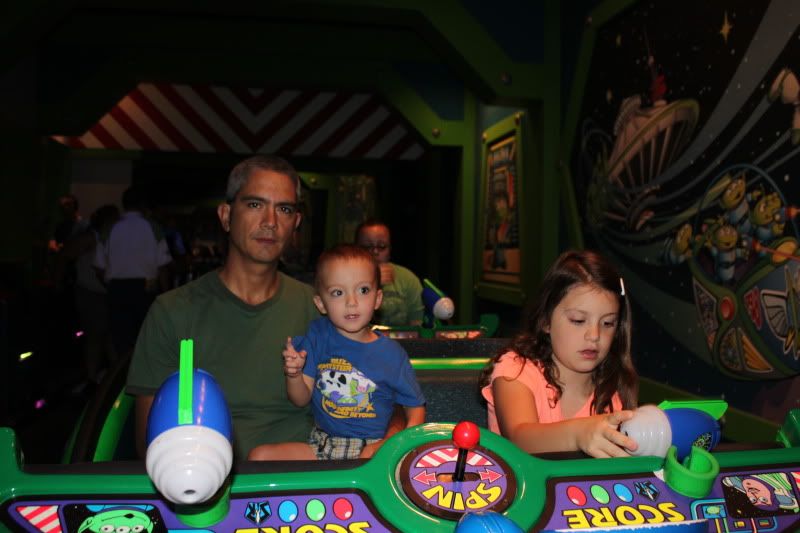 Emily and I headed to Space Mountain. Ben didn't want to go. He went last year and was crying when it was over. They redo it for Halloween and it's a little spooky. Ben calls it the "fire ghost" and wanted nothing to do with it. Emily was game.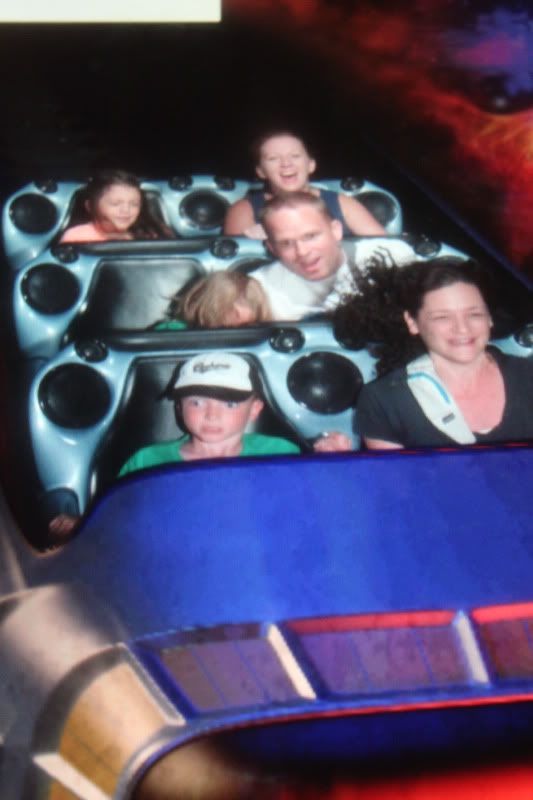 David took the kids on this ride and about puked when it was over.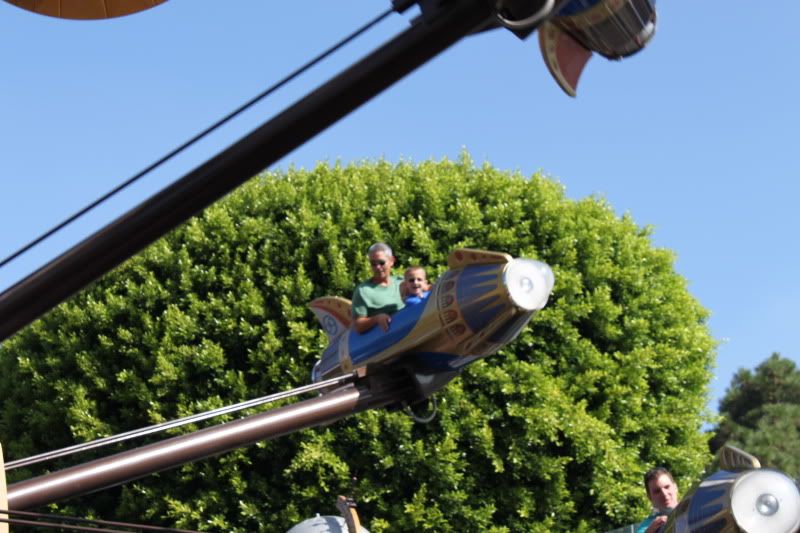 Going round and round isn't good when you are over 35.
While they were on that ride, I ran into these chicks. Their a little overdressed, don't ya think?
Then it was off to our favorites, Pirates of the Caribbean and the Haunted Mansion. We are waiting for David to retrieve the stroller.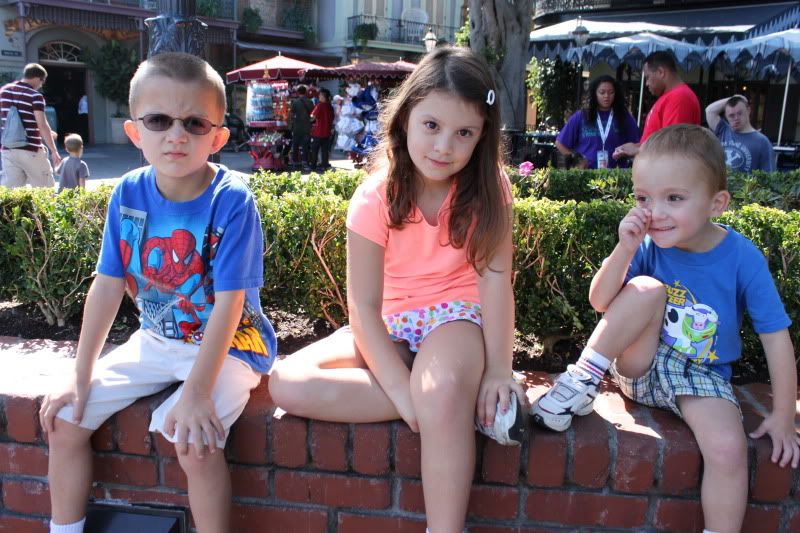 Next up was Splash Mountain. It was warm out and I wanted to get a little wet, but I got soaked. This is the photo that they take going down the big drop. Let me just say, if I'm ever feeling sad or in a bad mood, I will look at this picture for the rest of my life and laugh. HYSTERICAL!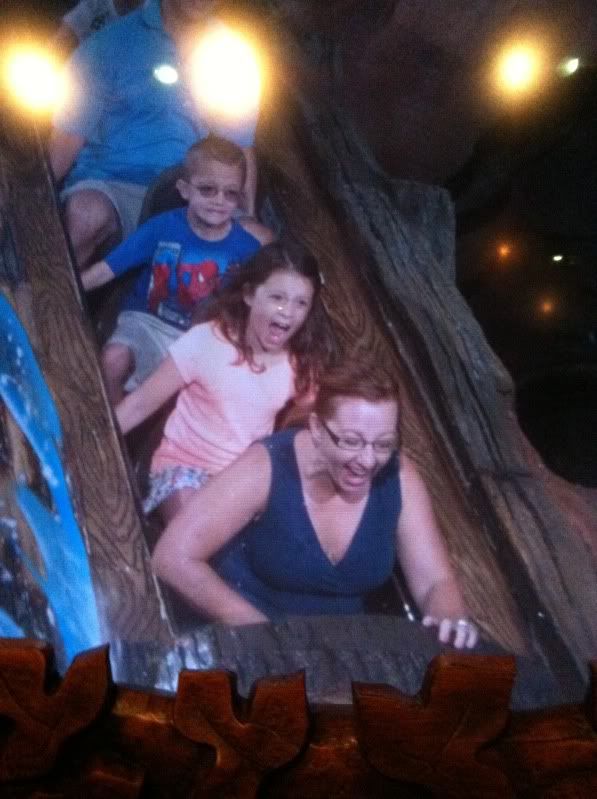 I seriously can't stop laughing.
We just happen to stumble upon Woody. I thought Noah would've been more excited, but he seems to have a little cold and I think he was tired all day. But Ben made up for Noah's lack of enthusiasm.
This is one of my favorite pictures. That smile is worth the $656 for 2 days at Disney.
Ben was trying to find his string so he could talk.
He's a characters worst nightmare with 100 questions. Why can't you talk? Where's your horse? Let me pull your string... Oh brother. I think Woody was happy to pose for a photo and get us out of there. I love Emily's little popped out leg. She's posing.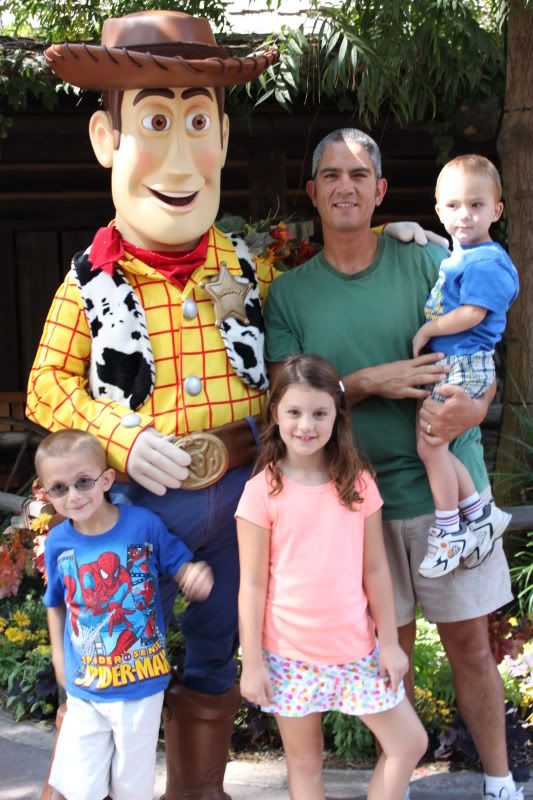 Oh gosh, the teacups. The kids wanted to do the teacups and they make David and I both sick. But they make him sicker, so I went. It wasn't that bad. I kept the spinning to a minimum.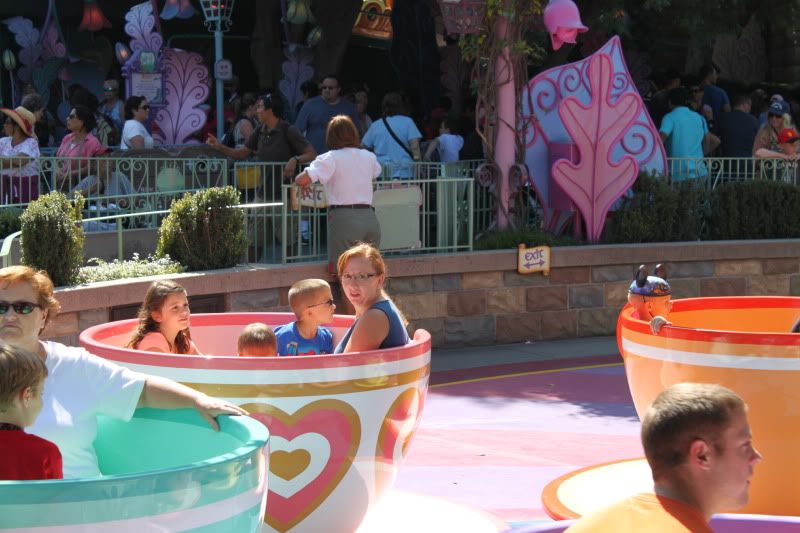 Here's Noah and I on It's A Small World. He loved it!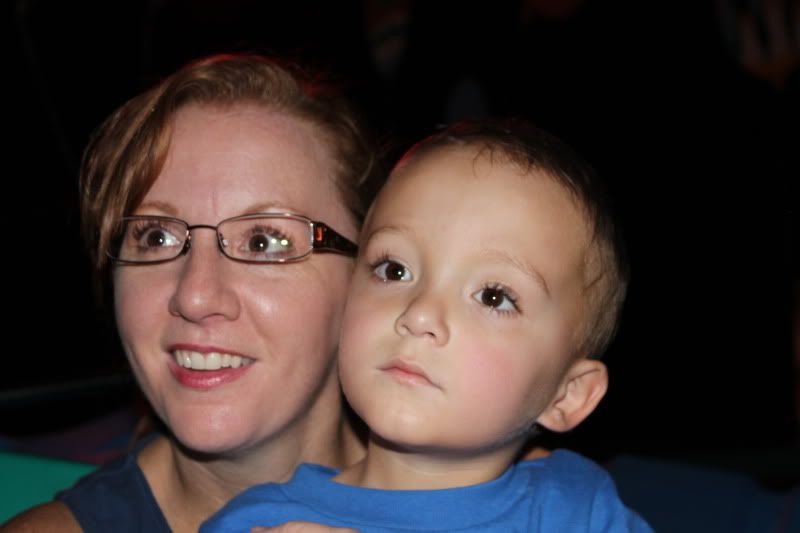 Then we went on Autopia and had the greatest time. Emily drove and let's just say we'll all need to get off the roads in 8 years.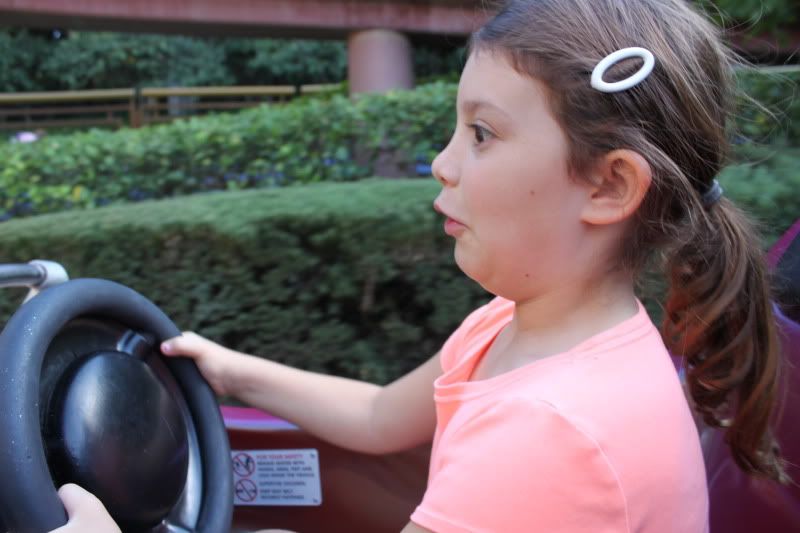 "Look Ma, no hands!"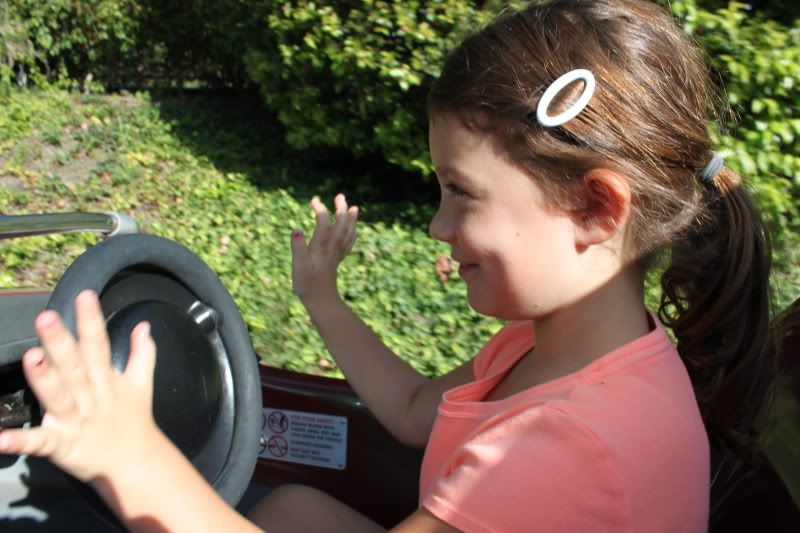 I didn't care. I was too busy checking out the hot guys behind us.
They got closer, so I gave them my number. I hope they call, especially the one in the middle. He kept looking at me.
Emily and I stopped in mini car traffic, so we took a picture. Yep, traffic in L.A. even in Disneyland, I shouldn't be surprised.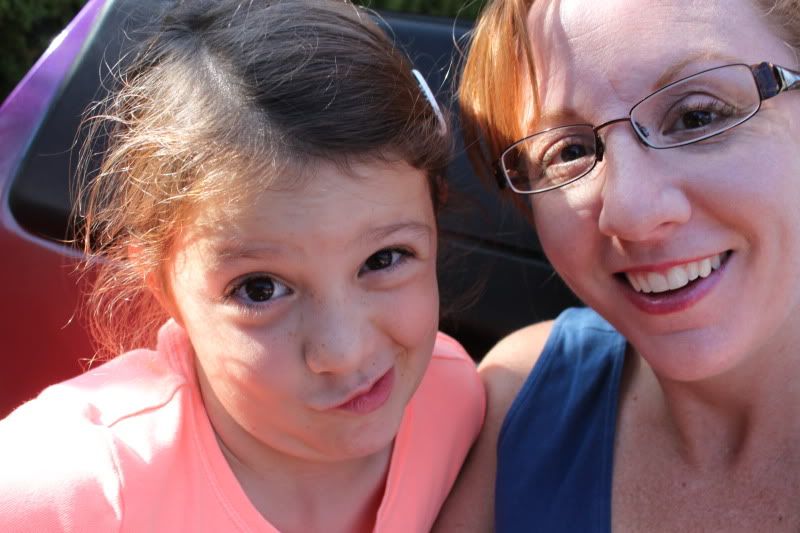 This little guy finally had enough, but only slept for about 10 minutes.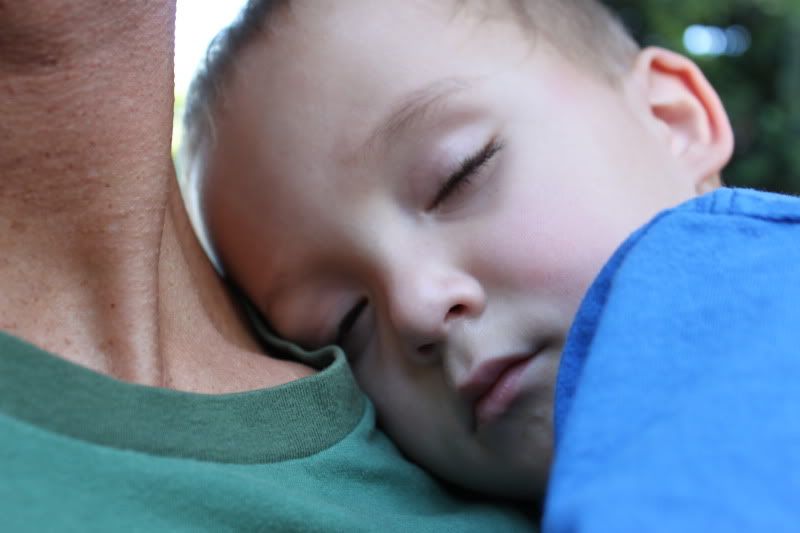 Grandma Suzy said they could pick out a souvenir on her. The kids LOVE the haunted house this time of year because it is redone with a Jack the Pumpkin King theme. The love, love, love him. Ben got a big Jack. Noah got a little Jack and his dog, Zero. Emily got a Rapunzel from Tangled doll, but I don't have a picture.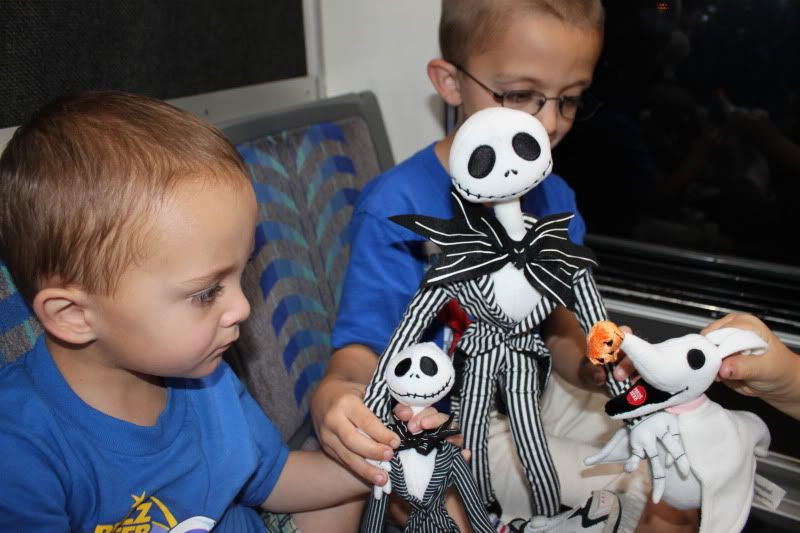 On the short walk back to the hotel, Noah was still pretty happy.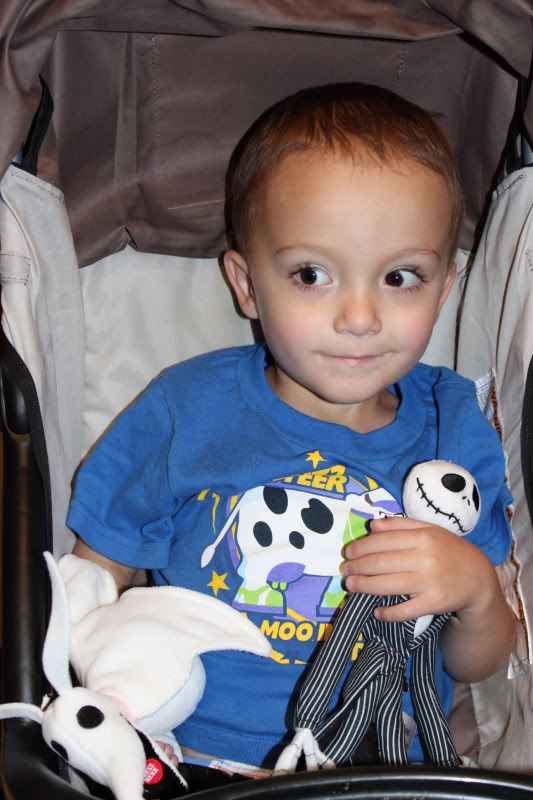 Emily's feet were hurting, so after a day of carrying a backpack and Noah through all the lines, David carried her. And Ben decided to give Jack a ride in case his feet were hurting also.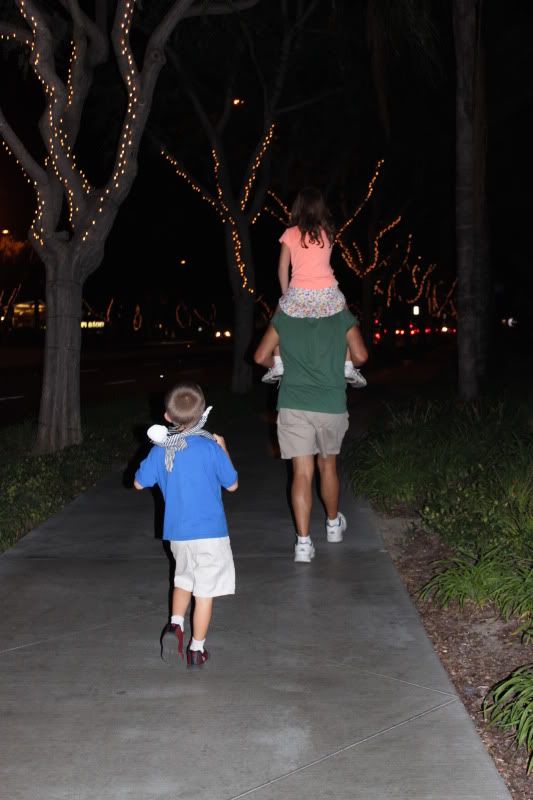 The kids did so good today. Emily complained a few times that her feet hurt, but other than that, they were total troopers. The crowds were very mild, 15 minute waits for most rides. We got to do everything we wanted and our favorites a second time. I call that a successful day at Disneyland.
We are headed to California Adventure tomorrow. Let's hope for another great day.