We are starting to get into the groove of school again. Everything is different this year. I have a part time job from home. My Mom is living with us. Ben isn't home with me all day. It's a lot of adjustments, but we are learning our new daily routine. Although, it changes daily. Go figure.
**********************
Emily and Ben started a drama class last week. Yep, drama. No surprise on Ben's part, but Emily chose that over ballet which did surprise me a little. Here they are learning about expressions with Mister John the teacher and a cowboy puppet.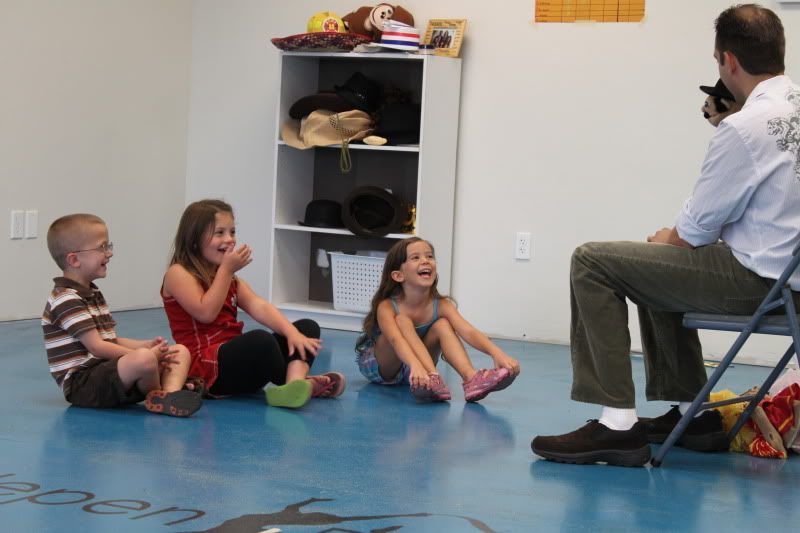 He's pretty funny (Mister John, not the puppet, well both really). The kids have a great time and are really enjoying it. They acted out The Three Little Pigs and Ben was the wolf of course. Here he is blowing down Mister John's house.
The class size doubled this week and the kids ask everyday if we are going to drama. I think they could do it everyday and love every minute of it.
**********************
Noah had his well visit at the doctor this week. He is 27 pounds (36%) and 35 inches (66%). The preemie will probably end up being my biggest kid. He spends his days playing and diapering Spiderman.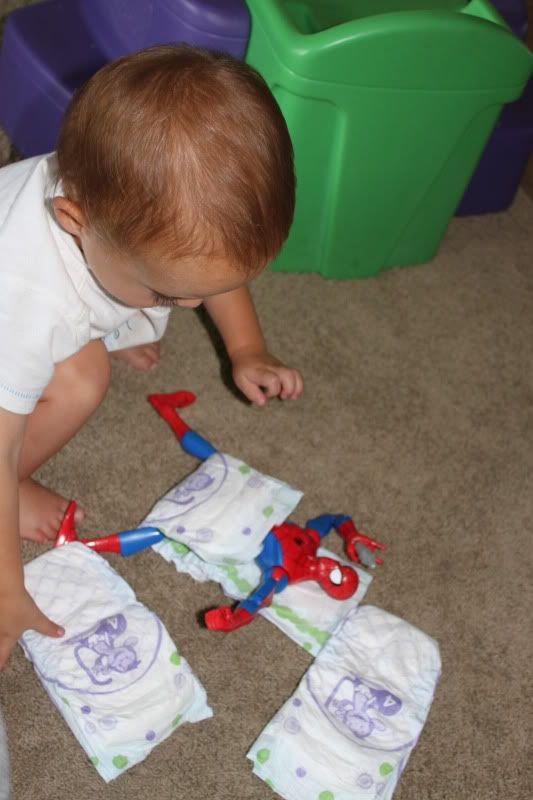 I'm pretty sure Spidey wouldn't enjoy that, but whatever keeps Noah happy and quiet is fine by me.
*********************
Our garden is a mystery. We have some tomatoes growing that I'm not even sure are tomatoes.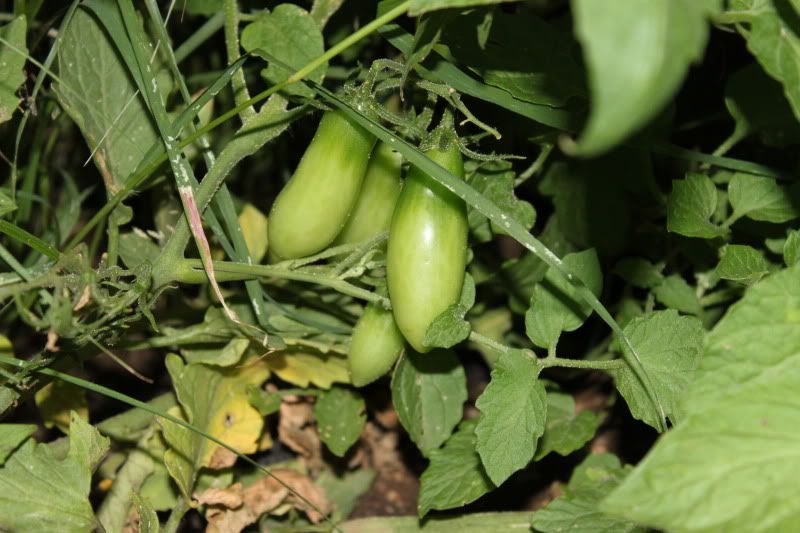 I'm not sure if this is a Roma/Grape hybrid or what. They got to the size in the picture and are now turning red, so they are what they are. Let's just hope once they ripen up that they taste good.
********************
Our garden is kind of wild. Stuff grows where we didn't plant it and what we did plant doesn't grow. And what was in our compost that didn't break down, mixes with other seeds and makes fingerling tomatoes. I can't explain it. And sometimes, we don't even notice something is growing until it reaches a size that could be seen from outer space. I'd like everyone to meet Super Zucchini.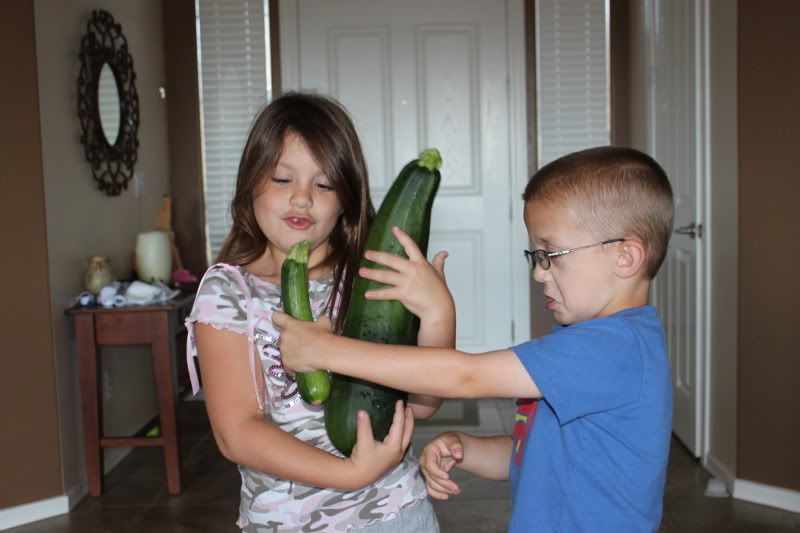 How did I miss that thing? I don't know. But, I weighed it and it's 5 pounds. That was bigger than Noah was as a 1 month old.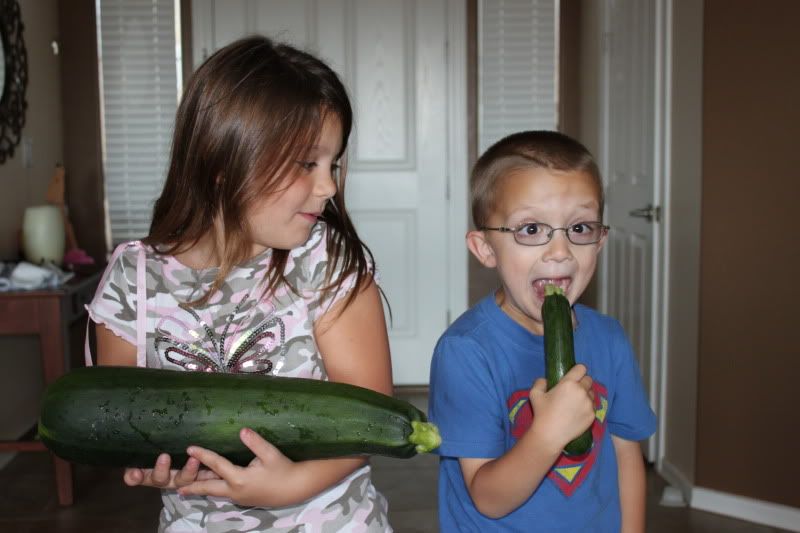 I think Super Zucchini will make some super tasty muffins.
And while we think Super Zucchini is impressive, Noah is not so sure.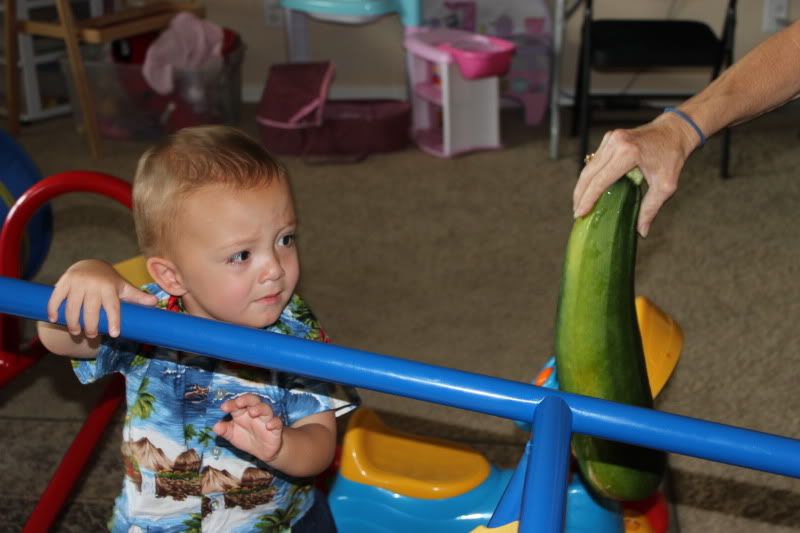 He was seriously freaked out by it.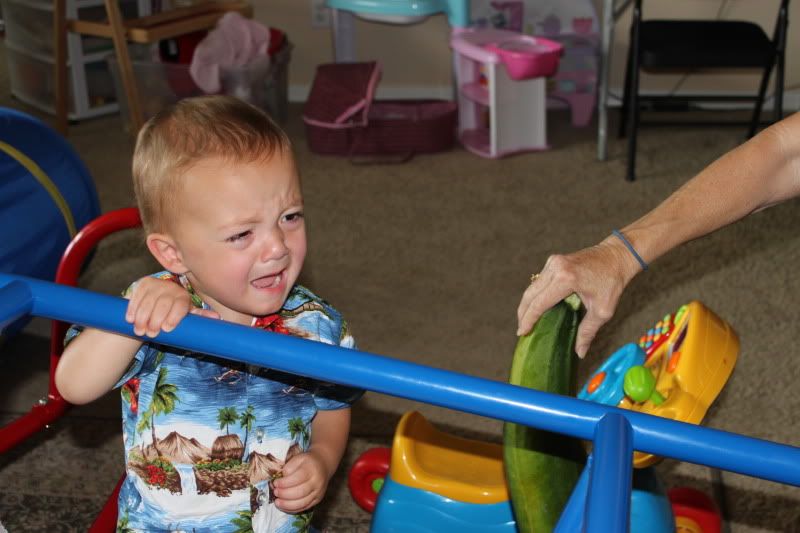 I shouldn't laugh when my baby is scared, but I do and I grab the camera. Just the kind of Mom I am. I'll throw a few extra bucks in his therapy fund. I wonder if he will forever have a dislike for zucchini.
Anyone have a good zucchini muffin recipe? I'm going to make a quadruple batch tomorrow morning.